Archive: December, 2009
Les Bowen, Daily News Staff Writer
Eagles coach Andy Reid said the concussion tests on running back Brian Westbrook are "better, but not all the way there."
Asked if he were planning to play without Westbrook on Sunday against San Francisco, Reid said, "I am today ... It's a day-to-day thing."
Westbrook practiced with scout team again, Reid said. The team listed him as a limited participant.
Daily News staff
As the online fan balloting for the Pro Bowl heads into its final week, we know two things: Asante Samuel is the only Eagle leading at his position, and people in Minnesota spend a lot of time on their computers.
Samuel is the leading vote-getter at cornerback, with a narrow edge over Green Bay's Charles Woodson. Samuel, who has seven interceptions, has 258,751 votes to Woodson's 251,505.
The more amazing stat is that of the 19 NFC positions, a Vikings player is leading at 11 of them. Of course, the fan vote only counts for one-third of the total, with the players and coaches representing the other two thirds.
Mike Mazzeo
DeSean Jackson tied an NFL record against the New York Giants with his eighth touchdown of the season of 50-plus yards.
In that same game -- a game in which Jackson had 261 all-purpose yards and two TDs -- he also became the first Eagles player ever to chest bump head coach Andy Reid...or so he thinks.
"Probably," responded Jackson when asked tonight about potentially making history with Reid at the eighth annual Philadelphia Sports Fan Choice Awards, an event which benefits Children's Hospital of Philadelphia.
Les Bowen and Daily News staff
The Eagles added tight end Martin Rucker from the practice squad to the 53-man roster and released running back P.J. Hill.
Releasing Hill, a running back, would suggest that the Eagles are confident that Brian Westbrook will return this week to face San Francisco. Hill was not active during his time with the Eagles, as the third running back behind LeSean McCoy and Eldra Buckley.
Rucker has been on the practice squad since Sept. 24, signing with the Eagles two days after he was waived by the Browns. Rucker was a fourth-round pick in 2008 and caught two passes for 17 yards in five games as a rookie.
Paul Domowitch, Daily News NFL Columnist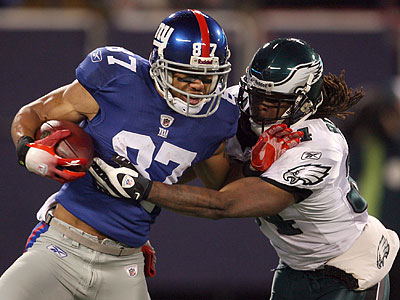 Some day-after observations of Sunday's game after looking at the tape:

After-Thoughts
* I'm not sure what's more noteworthy – all of the missed tackles by the Eagles in Sunday's game or the fact that few of them involved Asante Samuel. The biggest culprit was free safety Sean Jones. He got stiff-armed by tight end Kevin Boss on his 23-yard catch and run at the end of the third quarter. He failed to wrap up Brandon Jacobs on an 8-yard run in the third quarter. And he and linebacker Will Witherspoon both blew chances to bring down Giants wide receiver Domenik Hixon on his 61-yard TD catch and run in the third quarter.
* Quintin Mikell didn't have one of his better games. On one Giants scoring drive early in the second quarter, the Eagles strong safety got beaten badly down the field by wide receiver Hakeem Nicks, who dropped what should have been an easy touchdown, was called for back-to-back illegal contact penalties and then missed a tackle on Nicks on a 68-yard touchdown catch-and-run. Later in the game, he also was flagged for an out-of-bounds hit on Giants tight end Kevin Boss.
Les Bowen, Daily News Staff Writer
Nobody puts on pads and tackles in practice in December in the NFL, and the Eagles aren't going to, even after their tackling-challenged 45-38 victory over the New York Giants Sunday night. Largely because of short plays that became long plays through the magic of "oops!" arm-waves at ballcarriers, the Birds allowed 512 yards in total offense, the most any Eagles team has ever allowed and won a game. And there have been 72 years worth of Eagles teams.
Even though the Eagles are 9-4, lead the NFC East, control their playoff destiny, and have won 4 in a row, tackling dominated head coach Andy Reid's day-after news conference. Reid said that even though tackling in practice is impractical, 13 games into the season, it might be time to "break out the mats" and teach slow-speed fundamentals Wednesday when the team begins preparing for the 49ers.
"As you teach it, you've got to be very specific," Reid said. "Whatever the coaching point is -- eyes down, wrapping up, running through the tackle, whatever that weakness is, identify it, teach and move on. Maybe it's leverage, maybe with a corner, you're driving the inside shoulder instead of the outside shoulder. All the little fundamental things that need to take place there."
Daily News staff
The Eagles game against the Denver Broncos on Dec. 27 has been moved to a 4:15 p.m. start, the NFL announced today. The game will be aired by CBS.
The game was the only one changed for the holiday weekend under the flex scheduling plan for Week 16.
Dallas at Washington will remain the Sunday night game on NBC, as planned. Rather than a Saturday game, as is usually the case, San Diego at Tennessee will play Friday.
Daily News staff
TALKING POINTS
What we're talking about following the Eagles' victory over the Giants last night:
1. Wildcat specialist Michael Vick played quarterback in his first touch of the night: He rolled right and threw back across his body, a bit, 32 yards to DeSean Jackson to set up the Eagles' first touchdown. Vick also ran in from the 1 in the second half, his third touchdown of the season.