Archive: December, 2008
Les Bowen, Daily News Staff Writer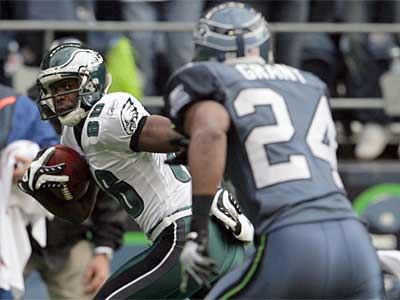 With Hank Baskett (knee) apparently unlikely to play, and Kevin Curtis (calf) also hobbled, Eagles offensive coordinator Marty Mornhinweg said Thursday that Reggie Brown will be dusted off and used in Sunday's game at Washington -- perhaps as a starter.
Brown, a starter going into the season, has been inactive the past two games and hasn't caught a pass since the Nov. 16 tie at Cincinnati. He said he doesn't know what sort of role he might expect.
"Play ball," he said. "Hopefully, try to contribute to the cause around here."
Les Bowen, Daily News Staff Writer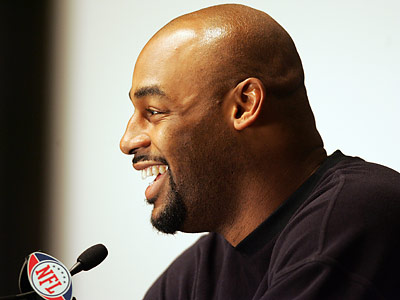 Donovan McNabb seemed to be feeling a lot like another guy from Illinois Wednesday, a guy who once was asked how he liked being President. No, not the fellow that McNabb registered to vote so he could cast a ballot for last month -- the other guy from Illinois. Older guy. Jamie Moyer probably voted for him.
"I feel like the man who was tarred and feathered and ridden out of town on a rail," Abraham Lincoln once said. "To the man who asked him how he liked it, he said: 'If it wasn't for the honor of the thing, I'd rather walk.' "
So it was Wednesday when the Eagles' quarterback was asked about the fact that other players have said his benching galvanized the team, taught them that no one was untouchable, and played a role in the Birds' subsequent three-game winning streak.
Daily News staff
If you are waiting to find out whether the Eagles game against Dallas in Week 17 will be a Sunday night affair, you will have to wait a little longer.
The deadline for a decision is usually 12 days before the game — which was yesterday. However, the NFL allows for more time when it comes to the finale.
A league spokesman said the NFL would prefer to make the decision after Sunday's games, but if Monday's Green Bay-Chicago result factors into the NFC playoff race, the decision would come after that game.
Daily News staff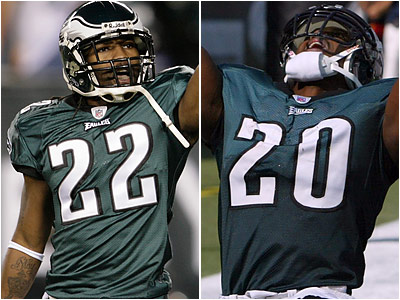 Two members of the Eagles secondary are heading to Hawaii for the Pro Bowl.
Brian Dawkins and Asante Samuel were both selected to the NFC team.
In his 13th season with the Eagles, Dawkins joins Hall of Famers Chuck Bednarik and Reggie White as the only three players in team history to earn seven Pro Bowl selections. Bednarik was selected eight times, while White made seven Pro Bowl appearances.
Paul Domowitch, Daily News NFL Columnist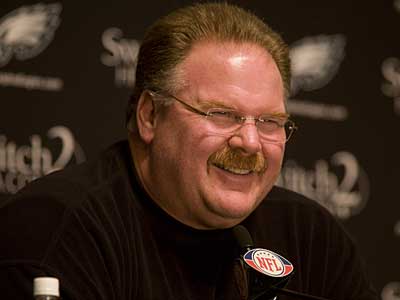 On Asante Samuel dropping the football before he crossed the goal line on his interception return:
What Andy said: ``We'll address that tomorrow. You've got to make sure that you score before you let the ball go.''
What Andy meant: ``Starting immediately, we're instituting a new incentive program. A player who scores a touchdown will get an extra $5,000 if he brings the ball directly over to me. The only thing I'm a little ticked about is Joe Banner said the money's got to come out of my own pocket.''

On his oft-maligned wide-receiving corps, which combined for 18 receptions and 2 TDs against the Browns:
What Andy said: ``They seem to be playing well. They've all got 1 or 2 redeeming qualities. At one point this year, we were leading the league in drops. Guys are doing a better job of focusing in and catching the ball.''
What Andy meant: ``The guys over at the Laser Eye Center gave us a terrific group rate. Jason Avant said that until he had the surgery, he never knew Kevin Curtis was a white guy.''

On whether he's concerned about Kevin Kolb, who threw another interception that was returned for a touchdown:
What Andy said: ``I'm not that worried about that. That play would've happened to anybody when somebody comes free like that from the backside.''
What Andy meant: ``Damn right I'm concerned. If we can get him out of jail, we want to bring in that Iraqi reporter who threw his shoes at Bush for a workout this week. I was really impressed with the velocity he had on those size-10s. Needs to work on his accuracy though.''
Paul Domowitch, Daily News NFL Columnist
Here are our grades for the Eagles' win over the Browns:
RUSHING OFFENSE
Brian Westbrook's streak of 100-yard rushing performances ended at 2. He rushed for just 53 yards on 16 carries against the Browns. Grade: C
Les Bowen, Daily News Staff Writer
The opening drives were very similar, the difference being that the Eagles got a pretty 14-yard touchdown pass from Donovan McNabb to Kevin Curtis at the end of theirs, and the Browns got a third-down drop from Darnell Dinkins and a 27-yard Phil Dawson field goal. The Eagles drove 64 yards in eight plays, the Browns 63 yards in nine.
The Eagles' next drive went 51 yards on 12 plays; the Browns snapped a streak of four successive Eagles third down conversions when they got pressure on McNabb on third and goal from the 6, and he couldn't hit L.J. Smith in the back of the end zone, McNabb throwing across his body while rolling away. David Akers' 24-yard field goal made it 10-3 Eagles with 49 seconds remaining in the first quarter.
Updating: The Eagles' third drive should have yielded points, but Andy Reid's love of trickery intruded. On third and goal from the Browns' 7, the Birds lined up in their wildcat formation. Now, it's unlikely DeSean Jackson is going to try to run it in from the 7. So Cleveland did not look shocked when Jackson tried to pass it softly (softly!) across the middle. Sean Jones intercepted.
Les Bowen, Daily News Staff Writer
No huge surprises in the Eagles' inactive list for tonight's game. Kyle Eckel is active again at running back, but with Correll Buckhalter back, Lorenzo Booker will sit.
Just as he was last week, wideout Reggie Brown will be by far the most prominent healthy Eagle not in uniform. Brown's steady decline has been one of the season's puzzles.
The Browns announced that Kris Griffin, a linebacker, is inactive. Apparently, Brian and Stewie are playing, though.