Archive: September, 2012
Les Bowen, Daily News Staff Writer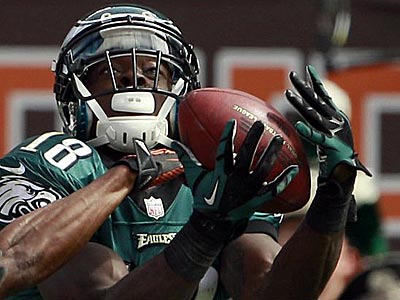 Eagles coach Andy Reid said left tackle King Dunlap (hamstring) and wideout Jeremy Maclin (hip) would not practice today, as the Eagles began preparations for Sunday's visit to Arizona.
Reid again indicated it would be unlikely for Dunlap to play Sunday. He did not give an indication either way for Maclin.
The 2-0 Eagles have a lot in common with the 2-0 Cardinals. Both teams have won close games back-to-back weeks, and in both cases, the opponent scored a late touchdown that was called back by a penalty. The New England Patriots then missed a field goal that would have beaten the Cardinals.
Les Bowen, Daily News Staff Writer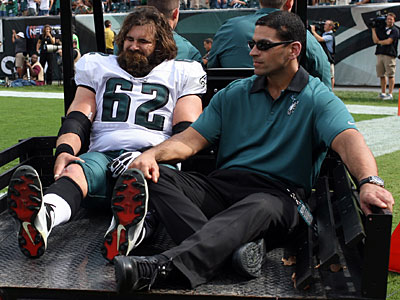 The Eagles announced Tuesday that center Jason Kelce will go on full-season injured reserve. The team has signed veteran offensive lineman Steve Vallos. Kelce suffered MCL and ACL tears in Sunday's victory over Baltimore.
Kelce told the Daily News Tuesday that he is "looking forward to watching this team the rest of the way. I truly believe they have the talent and the coaching to achieve the highest reward."
The Eagles had hoped Tuesday's exam by team orthopedic surgeon Dr. Peter DeLuca would show Kelce's ACL tear was minor enough that he could play with it braced, after the MCL tear healed on its own. Obviously, that did not prove to be the case. Dallas Reynolds, who stepped in for Kelce Sunday, will make his first NFL start this week at Arizona.
Paul Domowitch, Daily News NFL Columnist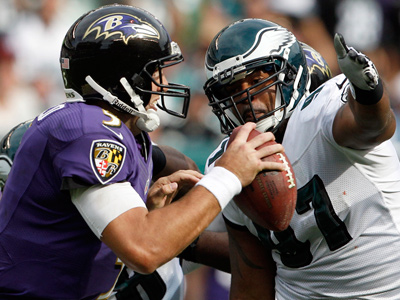 Breaking down the Eagles' 24-23 win over the Ravens while wondering how much time Ed Hochuli is spending in the weight room during the officiating lockout:
--In Week 1, the Browns, who don't usually blitz a lot, blitzed a lot against Michael Vick. The strategy proved to be very effective. Vick had a 49.9 passer rating when the Browns blitzed, completing just 8 of 17 passes for 135 yards, no TDs, one interception and two sacks. On Sunday then, it seemed logical to expect the Ravens, who do blitz a lot, to blitz an awful lot. Curiously, they didn't. They sent extra rushers after the Eagles quarterback just nine times the entire game. When they did, Vick and the Eagles handled it much better than they did the week before. While both of Vick's sacks came against blitzes, he completed 5 of 7 passes for 82 yards and had a 110.4 passer rating on the few occasions that the Ravens sent extra rushers. His numbers when the Ravens didn't blitz: 18-for-25, 289 yards, 1 TD, 2 INTs.
--If it seemed like rookie defensive tackle Fletcher Cox was on the field a lot Sunday, it's because he was. He played 51 of 65 snaps, which was the most by any Eagles defensive lineman. The snap counts for the Eagles' other three defensive tackles: Derek Landri (37), Cullen Jenkins (32) and Cedric Thornton (22). Trent Cole (48) and Jason Babin (44) took the lion's share of the snaps at defensive end, followed by Darryl Tapp (23), Phillip Hunt (15) and Brandon Graham (9).
Philly.com Sports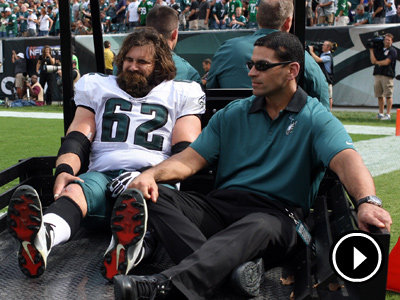 Video: The Daily News' Les Bowen reports from the NovaCare Complex as the Eagles face the possible loss of center Jason Kelce in the wake of their one-point win over the Ravens on Sunday.
Les Bowen, Daily News Staff Writer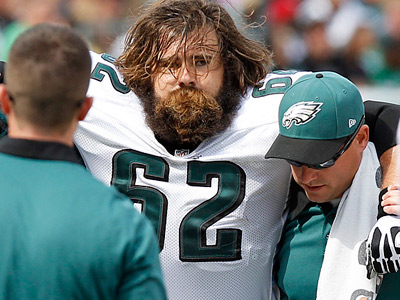 Eagles head athletic trainer Rick Burkholder said Monday that center Jason Kelce has an MCL tear and a partial ACL tear in his right knee. Burkholder said the injury isn't necessarily season-ending; he said team orthopedic surgeon Dr. Peter DeLuca will do an arthroscope Tuesday and assess the state of the ACL. If it doesn't need repair, the Eagles might decide to brace the knee and let it heal on its own, in which case Kelce might be sidelined only 4 to 6 weeks.
Burkholder said around the league, treatment of similar injuries has been a "mixed bag." If DeLuca determines the ACL tear requires surgical repair, Kelce will be sidelined for the season.
Eagles coach Andy Reid said Dallas Reynolds will continue as Kelce's replacement. The team would seem to need to make a roster move to add a backup (Julian Vandervelde? Jamaal Jackson?) but until it is sure what the prognosis is for Reynolds, that's a tough call. Reid raised the issue of the new IR designation, which allows for one player to go on IR and return that season. But you don't want to use that slot for Kelce now and have DeLuca find tomorrow that there is no way Kelce is coming back in 2012. So, bottom line, there almost certainly won't be a roster move today.
Philly.com Sports
Video: The Eagles topped the Ravens, 24-23. Michael Vick threw two interceptions, but had a completion rate over 71 percent. The Daily News' Les Bowen reports from Lincoln Financial Field.
Daily News staff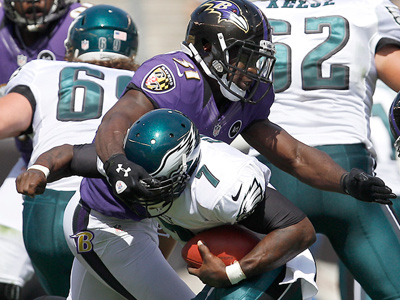 Andy Reid, after the Eagles' 24-23 win over the Ravens on Sunday afternoon, lamented his team's turnovers but was happy with the final result.
"Well, I'd like ot see what it loks like when you don't have turnovers," Reid said. "We could be a very explosive team. The turnovers are the things that get you. You can't do that. We all know that. We got to eliminate that and get better."
Reid paid a compliment to his offense, too. "Michael [Vick] and the whole offense continued to battle," Reid said. "This was aa good football team John [Harbaugh] has. This was a good win for us. We know we're playing a good football coming up in Arizona.
Les Bowen, Daily News Staff Writer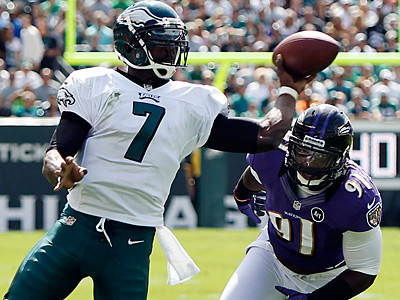 Turnovers were again the story as the Eagles finished the first half of their home opener trailing Baltimore 17-7.
Michael Vick set the tone on the first possession, when he led the team downfield, completing his first five passes, then scrambled and threw an interception to Bernard Pollard in the end zone, on second and 9 from the Ravens' 12.
The Eagles got the ball back on a Joe Flacco fumble and scored on a LeSean McCoy 1-yard run. but the lead didn't last long. Baltimore never faced third down in driving 58 yards in seven plays, fullback Vonta Leach scoring.