Archive: September, 2010
Les Bowen, Daily News Staff Writer
Rookie tight end Clay Harbor joined the list of Eagles inactives today, a list headlined, of course, by quarterback Kevin Kolb and middle linebacker Stewart Bradley, who are recovering from concussion.
Harbor's inactive status means Garrett Mills, promoted from the practice squad this past week, will be the lone backup to Brent Celek.
Other inactives are rookie corner Jorrick Calvin, rookie DE Dainiel Te'o-Neshehim, rookie OT Austin Howard, rookie LB Keenan Clayton and veteran DE Darryl Tapp, for the second week in a row.
Daily News staff
LES BOWEN'S PICK
I'm taking the Eagles, pretty much on faith here. That, and I like the possibility of Ernie Sims breaking his 29-game personal loss streak against the team he played for in 28 of those games.
Don't really know what a full game of Michael Vick will look like. Don't really know if the defense can stop even Lions backup QB Shaun Hill, without middle linebacker Stewart Bradley. Don't know how much better the Lions are from the 2-14 team of last season or the 0-16 team the year before.
The Eagles will tell you the Lions are much improved. But no team goes into a game downplaying the opposition. Certainly, they are a team that lost its opener on a technicality, which is more than the Eagles can say. The big danger here is that Detroit's formidable defensive line might dominate the Eagles' ever-changing, struggling offensive line. But I don't think this Lions defense is great on the back end, and Calvin Johnson notwithstanding, I sure don't think they are the equal of the Packers offensively.
Daily News staff
Here are Paul Domowitch's NFL rankings heading into Week 2, including record and ranking from last week listed in parentheses:
1. Packers 1-0 (1)
2. Saints 1-0 (4)
3. Texans 1-0 (5)
4. Ravens 1-0 (9)
5. Colts 0-1 (3)
6. Patriots 1-0 (10)
7. Bengals 0-1 (2)
8. Vikings 0-1 (6)
9. Titans 1-0 (17)
10. Giants 1-0 (16)
11. Dolphins 1-0 (12)
12. Cowboys 0-1 (8)
13. Steelers 1-0 (18)
14. Eagles 0-1 (13)
15. Cardinals 1-0 (20)
16. Jets 0-1 (11)
17. Chargers 0-1 (7)
18. Falcons 0-1 (15)
19. Bears 1-0 (21)
20. Redskins 1-0 (27)
21. 49ers 0-1 (14)
22. Chiefs 1-0 (28)
23. Lions 0-1 (25)
24. Jaguars 1-0 (29)
25. Seahawks 1-0 (32)
26. Bucs 1-0 (30)
27. Browns 0-1 (23)
28. Bills 0-1 (22)
29. Broncos 0-1 (26)
30. Panthers 0-1 (24)
31. Raiders 0-1 (19)
32. Rams 0-1 (31)
**

Les Bowen and Daily News Staff
Quarterback Kevin Kolb and linebacker Stewart Bradley did not practice Friday and are both listed as out for Sunday's game against Detroit, Eagles coach Andy Reid said.
Both players had left the facility before practice began.
"They feel really great," Reid said of Bradley and Kolb. Reid said they have shown no signs of lingering symptoms. He said the players have done exercise, which is part of the evaluation process.
Daily News staff
The talk surrounding DeSean Jackson's contract situation has died down with the start of the season, and other issues taking precedence.
Despite his presumed unhappiness, Jackson told fans last night that he is hopeful of a long tenure with the Eagles.
"I put in a lot of hard work and dedication in my team and my play and hope to be an Eagle for my career," Jackson wrote in a session in which he answered fans' questions on Twitter.
Paul Domowitch, Daily News NFL Columnist
Daily News football writer Paul Domowitch tells you the things he will keep his eyes on during the Eagles-Lions game Sunday:

1. Effectiveness of those three- and four-wide receiver sets: The three-wide receiver, one-running back, one-tight end set was the Eagles' formation of choice even before fullback Leonard Weaver went down with a season-ending knee injury. Now, it will be a way of life, particularly this week against a Lions secondary that is runway model-thin at cornerback. Detroit is going to have trouble matching up with the Eagles when they spread them out with DeSean Jackson, Jeremy Maclin, Jason Avant and Riley Cooper.
2. Stopping the run without Stew: The Lions averaged less than a yard per carry in last week's loss to the Bears, but that doesn't mean they won't try to run against the Eagles, who likely will be without middle linebacker Stewart Bradley. Their rookie running back, Jahvid Best, is a game-breaker. The Eagles struggled against the run after Bradley went down with a concussion against the Packers. His replacement, Omar Gaither, doesn't bring the physicality to the MIKE position that Bradley does.
Les Bowen and DN staff
Quarterback Kevin Kolb and linebacker Stewart Bradley were able to sit in on team meetings today, the Eagles said.
Neither will take part in practice, as they attempt to make progress from concussions suffered in Sunday's loss to Green Bay. Both players would need to be cleared by an independent specialist before they can return to the practice field, according to the league's guidelines.
As reporters left the locker room just before practice Thursday, Bradley was visible in the weight room, running in place, under a trainer's supervision.
Daily News staff
New Eagles fullback Owen Schmitt is getting a crash course after arriving late Sunday night and signing with the Eagles on Monday.
But not the type of crash course that damages himself. In October last season, Schmitt hit himself three times in his forehead with his own helmet when he was introduced as a starter. That opened a gory cut that bled down his face. That was a reprise performance, since he bonked himself in the same manner when he botched a pooch punt while at West Virginia.
Schmitt said Eagles fans won't have to worry about that. His days of self-flagellation and Mohawk haircuts are over.
Les Bowen, Daily News Staff Writer
Eagles wideout DeSean Jackson was asked today about how the offense might be different if, as expected, Michael Vick starts this week's game at Detroit in lieu of concussion victim Kevin Kolb.
"I think they're just kind of keeping it a lot simpler," Jackson said after practice. "Just going out there and doing the base stuff, trying not to have it overly complex for him. Just do things that he's comfortable with doing."
Jackson said last week's effort against the Packers "helped (Vick) get his feet under him, as far as timing and everything else."
Les Bowen and Daily News staff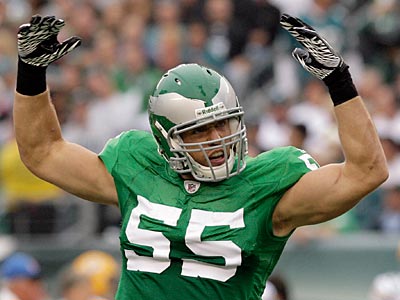 Michael Vick will take the first-team snaps in practice today and tomorrow as the Eagles prepare for Sunday's game against Detroit, Andy Reid said today.
Reid would not commit to Friday. "We'll take Friday as it comes," Reid said.
Reid said neither Kevin Kolb nor Stewart Bradley passed the second phase of concussion testing this morning, but both have "made progress" since Monday.