Archive: August, 2011
Les Bowen, Daily News Staff Writer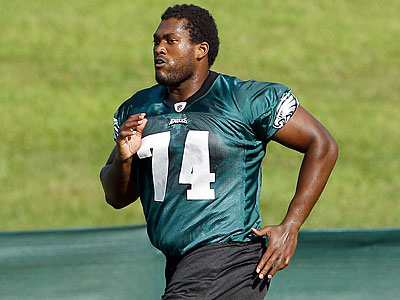 Winston Justice said he wasn't aware that the return of Reggie Wells had to do with the Eagles wanting Wells to compete for the right tackle spot, until a reporter asked him about that today.
"Didn't know that," Justice said. A reporter observed that there are more than a few competitors there. "Yeah," Justice said.
The unexpected signing of Wells, a deep sub guard for last year's team, adds another layer of uncertainty to the right tackle situation, where Justice is the returning starter. Justice confirmed today that he still experiences pain in his repaired knee, which Eagles coach Andy Reid said Justice can't plant on as well as he can his other knee.
Daily News staff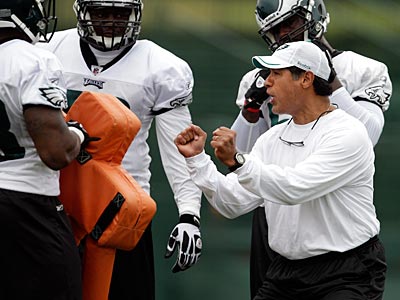 Despite the struggle against Pittsburgh, the Eagles have not made any personnel changes with the linebackers as they resumed practice this weekend.
Rookie Casey Matthews remains the middle linebacker, second-year man Jamar Chaney remains on the strong side with third-year man Moise Fokou on the weakside.
Defensive coordinator Juan Castillo is clearly taking the long view, focusing on the linebackers getting their work in and getting better.
Daily News staff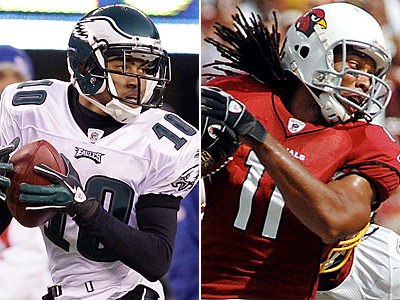 The massive contract that Arizona receiver Larry Fitzgerald has agreed to did not go unnoticed by a certain Eagles receiver seeking a new contract.
As word filtered out about Fitzgerald's deal, DeSean Jackson posted this message: "Congrats to my Big bro LarryFitzgerald!! Well deserved.. Wideouts ballin!!"
Fitzgerald's deal is for 8 years and $120 million with $50 million guaranteed. The $15 million average would tie him for the fifth-highest salary in the league, with four quarterbacks topping the list. It is by far the highest for a wide receiver. Carolina's Steve Smith is second at $10.9 million average annual value.
Daily News staff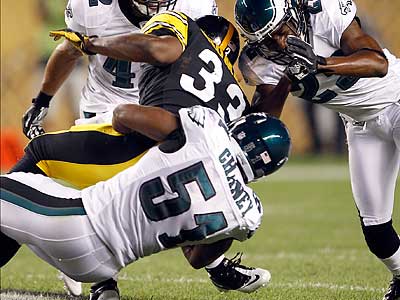 Eagles linebacker Jamar Chaney is upset with Pittsburgh offensive lineman Ramon Foster for a "cheap shot" during Thursday's preseason game.
Foster appears to take down Chaney with a hit to the knee from behind on a running play away from the pile.
"Looking at the cheap shot #73 for the Steelers gave me Thursday night, I should be be getting ready to have season ending surgery," Chaney wrote on Twitter. "But...thank you Jesus, I know it wasn't nobody but You that help me to come out of that play unharmed."
Les Bowen, Daily News Staff Writer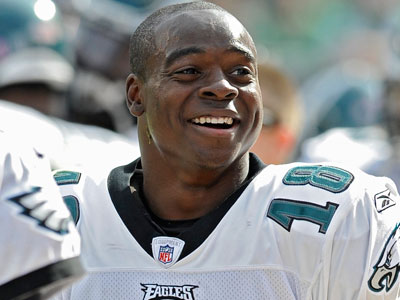 The Eagles returned to NovaCare today, and so did wideout Jeremy Maclin and defensive tackle Mike Patterson, back from serious health scares.
Patterson, hospitalized Aug. 3 after suffering a seizure at practice, has seen three specialists on brian AVMs (a tangle of blood vessels), and has consulted with another, Eagles coach Andy Reid said. Reid said the decision was for Patterson to take antiseizure medication and have the AVM dealt with, possibly through surgery, after the season.
Maclin found out definitely this past week that he did not have lymphoma, and seems to have recovered from a viral illness that caused abnormal blood tests over a period of months. Maclin will be working out on his own for about a week, then will start practicing with the Eagles, Reid said. Both players hope to participate in the season opener Sept. 11 at St. Louis, but that isn't definite, in either case.
Daily News staff and Les Bowen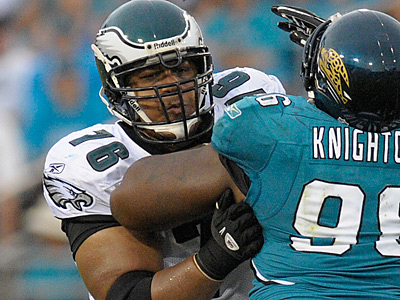 Down the line, we might decide this was the move that stabilized the right side of the Eagles' offensive line. Or, the moment when we knew the team was desperate and grasping at straws.
The Eagles announced today that they have signed Reggie Wells, and head coach Andy Reid said Wells would "continue the competition" at right tackle.
Wells, 30, joined the Eagles last Sept. 3 after a trade with Arizona, for a sixth-round pick. He had been a starter on a Super Bowl runnerup team in 2009, so the assumption a year ago was that he was being brought in to start, at guard or tackle. That didn't happen. Then-offensive line coach Juan Castillo was a stickler for o-linemen playing his "vertical set" system, which Wells hadn't played before, and didn't adapt to quickly. Wells soon got buried on the bench; as the season wore on, reporters who covered the team figured that given the choice, Castillo would rather start one of the security guards than Wells.
Daily News staff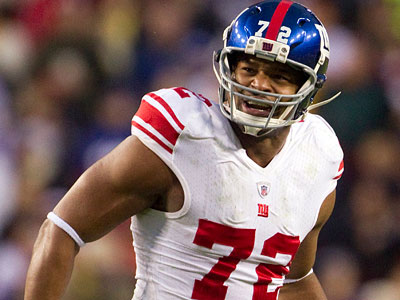 LeSean McCoy's Twitter feed says he is spending the Eagles' off day today with his mom.
That might prevent him from commenting on the latest news involving Giants defensive end Osi Umenyiora, whom he called "overrated" and "soft" during the offseason.
Umenyiora had arthorscopic knee surgery on his right knee today and is expected to be sidelined 3-4 weeks, according to the Giants. However, a source close to Umenyiora told the New York Daily News that 4 to 6 weeks is a more realistic timetable.
Daily News staff
Andy Reid was pretty succinct in his postgame press conference about his team's performance in Pittsburgh.
"We all stunk tonight," Reid said after the Eagles' 24-14 loss, with the two Eagles scores coming on fourth-quarter drives by Mike Kafka.
"Neither [stopping the run or the pass] were good on defense and then on offense we didn't run it good and we didn't pass it good," Reid said. "All the way around, starting with me, working through the coaches and the players, we all stunk tonight."