Archive: June, 2009
Daily News staff
The Eagles announced Tuesday they have signed a pair of seventh-round draftees to four-year contracts -- Arizona State guard Paul Fanaika and Maryland linebacker Moise Fokou. That means five of eight from the April draft are signed, leaving only the top three -- first-rounder Jeremy Maclin, second-rounder LeSean McCoy and fifth-rounder Cornelius Ingram.
Also, the team announced that offensive coordinator Marty Mornhinweg has been elected to the Grizzly Sports Hall
of Fame at his alma mater, the University of Montana. Mornhinweg was a four-year starter at quarterback, and a two-time team MVP. His 6,081 passing yards currently rank seventh in school history.
Tuesday's OTA was held outdoors, after the morning thunderstorm deluge. Still no Asante Samuel, who is off "tending to some family matters," according to agent Alonzo Shavers. Since this camp is voluntary, Samuel cannot be fined by the team. He showed up for the first week. His absence this week is not a huge deal, but it does kind of undercut all that "leadership" talk Samuel reveled in when he granted reporters a rare audience last Thursday.
Daily News staff
Asante Samuel went from "assertive" to "absent."
Samuel, the most vocal Eagles defender in last week's OTA drills, opted to take advantage of the "voluntary" part of the voluntary minicamp, a team spokesman said. He was not present for Monday's practice.
A team source said Eagles coach Andy Reid was disappointed, but such absences are not unheard of among veteran players who feel they got enough work in the first week, or who have pressing personal business.
Les Bowen and Daily News staff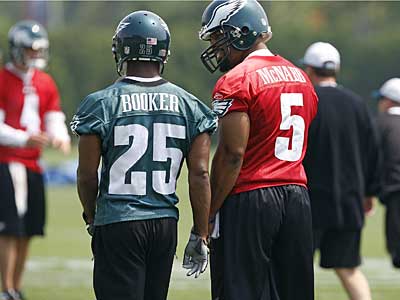 Eagles rookie running back LeSean McCoy was back on the field Monday at Eagles minicamp, after leaving Friday's workout with what the team said was a sprained left thumb. McCoy practiced yesterday with the thumb wrapped, and said he felt no ill effects.
"It wasn't that big a deal," said McCoy, who acknowledged being "a little nervous" after he slipped, put his hand out
to brace himself, and "my thumb totally bent back" during indoor work, when the team was forced inside by rain on Friday. While McCoy was walking off the field with trainer Rick Burkholder, Brian Westbrook was undergoing right ankle surgery in Baltimore to clean out bone fragments that were causing irritation, a bit of a nerve-wracking coincidence.
."I knew it wasn't that serious. It swelled up a little bit," McCoy said.
Daily News staff
There were no OTAs Saturday for the Eagles, but Donovan McNabb, several teammates, and some Temple players were at NovaCare anyway, for the 7th All-Star Kids Clinic, sponsored by the Donovan McNabb Foundation. The foundation aims to help with diabetes awareness and to assist children.
The clinic featured 300 boys and girls ages 11-14, selected by local community groups and event sponsors.
Gov. Ed Rendell and Eagles coach Andy Reid made introductory remarks. (Rendell passed up the chance to critique Reid's play selection), as the foundation celebrated its 10th year. McNabb also was to host a party Saturday evening in Center City.
Les Bowen, Daily News Staff Writer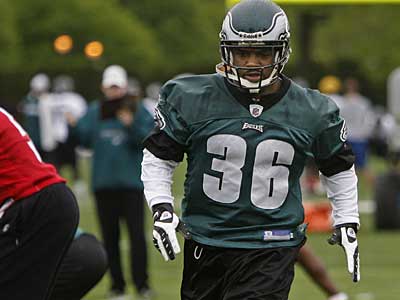 Eagles coach Andy Reid said Friday that Brian Westbrook's ankle report "seems like it's all positive right now," so the team probably won't immediately be looking to add to its rotation of running backs.
However, Dr. Mark Myerson, the Baltimore specialist who operated on Westberook's right ankle Friday, released a statement saying "it is unlikely he will be ready for preseason play."
It couldn't have helped Reid's mindset when rookie LeSean McCoy left Friday's indoor minicamp workout with what team head athletic trainer Rick Burkholder termed a left thumb sprain, after falling on the artificial surface. Reid said McCoy would be able to practice next week with his thumb taped; previously, Burkholder had said only that McCoy had a chance to practice next week. A team spokesman said McCoy was receiving treatment and was not available for comment.
Marcus Hayes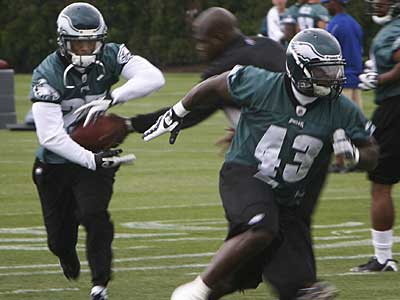 With star running back Brian Westbrook scheduled for surgery in Baltimore tomorrow, all eyes were focused on his backups at today's full-team voluntary workouts.
Lorenzo Booker, who touched the ball 26 times in 10 games last season, seemed comfortable getting the lion's share of snaps with the first unit. Rookie second-rounder LeSean McCoy, who appears to be playing behind Booker, understandably seemed lost at times, operating at perhaps 70 percent speed as he tried to implement what he has learned since he was drafted in April.
Booker said he found himself imparting the wisdom gained in a year of experience as Westbrook's backup. McCoy said that with every repetition he is better grasping the concepts and responsibilities of Andy Reid's demanding offense.
Les Bowen, Daily News Staff Writer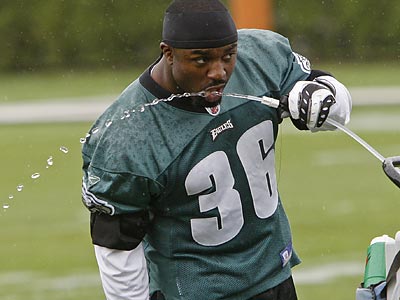 UDPATED: The Eagles have confirmed that Brian Westbrook will have surgery on his right ankle on Friday in Baltimore. In a statement released at about 10 p.m., the Eagles termed the procedure a "debridement" of the ankle. Surgery will be performed by Dr. Mark Myerson.
EARLIER:
ESPN.com quoted Todd France, agent for Eagles running back Brian Westbrook, as saying Westbrook will have surgery for "bone spurs" in his right ankle. France characterized the procedure as minor, and said it was unrelated to the high ankle sprain Westbrook suffered in Week 3 last season.
Daily News staff
In an offseason full of lists, the folks at Sports Illustrated have added their NFL "Team of the Decade."
Don Banks ranks the Eagles as the NFC team of the decade for the 2000s and fourth overall.
Banks cites the following figures and provides his analysis: