Archive: April, 2009
Les Bowen, Daily News Staff Writer
Sheldon Brown feels taken for granted, the steady Eagles corner told your Eagletarian Monday evening.
"I've always been treated like the redheaded stepchild, ever since I was drafted," Brown said. He was explaining how he came to tell ESPN that he wanted to be traded, a move that provoked a strong, lengthy statement from the team Monday afternoon, denying his request and asserting that the contract extension Brown signed in 2004 does not make him underpaid in 2009.
"I've always been the nice guy, never said anything. I think they took that for granted," Brown said.
Les Bowen, Daily News Staff Writer
At Arkansas, Jason Peters was the roommate of Eagles right guard Shawn Andrews, brother of Stacy Andrews, the Eagles' other major offensive line acquisition this offseason. Shawn Andrews, often an isolated figure in the locker room, now will dress alongside his brother and his close friend, which has to be a better environment for him.
But Shawn might not find it all that much fun to compare paychecks; in 2006, he signed an extension that locked him up for 10 seasons, during which he will make about $35.5 million.
When Shawn Andrews missed the start of training camp last season with what turned out to be severe depression, there was speculation that he was unhappy with his contract. Agent Rich Moran denied that at the time, but the speculation continued, as Andrews missed the final 14 regular-season games and the playoffs with a back injury.
Daily News staff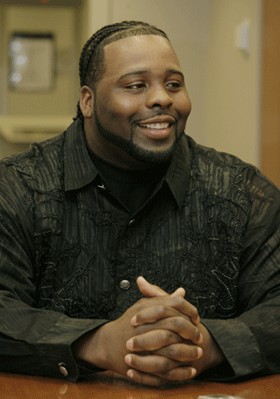 When free agency arrived, the Eagles lost the longtime cornerstones of their offensive line -- left tackle Tra Thomas and right tackle Jon Runyan. In one offseason, the Eagles replaced them with two players in their late-20s and locked them up to long-term contracts.
Stacy Andrews signed as a free agent on the first day players were eligible in late February. Friday, the Eagles acquired All-Pro left tackle Jason Peters in a trade with Buffalo.
" The bottom line is we have a group of good, young players here that we feel can come out and handle the great competition in the NFC East from a defensive line standpoint and in the National Football League," coach Andy Reid said at Peters' introductory press conference today.
Daily News staff
Well, a funny thing happened to the Eagles' offensive line on the way to the NFL draft ...
After losing stalwarts Tra Thomas and Jon Runyan, the line suddenly has each of its presumed starters under contract until at least 2013 and all are under 30 years old.
The Eagles liked to make a big deal about how many games the members of the offensive line played together. Well, injuries notwithstanding, they might be able to start trotting that stat out again in the near future.
Paul Domowitch, Daily News NFL Columnist
UPDATED: The Eagles have confirmed a trade with Buffalo for left tackle Jason Peters and announced that they have signed him to a 6-year deal that will keep him with the Eagles through 2014. Terms were not immediately disclosed.
The Eagles sent the 28th overall pick and a fourth-round pick this year and a late-round pick in 2010.
"Jason Peters is the best left tackle in football," coach Andy Reid said in a statement. "He is a powerful and athletic tackle and I have admired his play over the last few years on film. I have always believed that success in the National Football League is derived from the strong play of the offensive and defensive lines. This offseason we have added two young, top-flight offensive linemen in Jason and Stacy Andrews."
Daily News staff
Eagles quarterback Donovan McNabb used his latest post on his blog at yardbarker.com to provide his own memories of Harry Kalas. See, it is true that everyone in Philadelphia has a Harry Kalas story.
Like many others, I am saddened and have my own personal experience to share.
In one of my first few years in Philadelphia I was fortunate enough to meet Harry at an awards ceremony - I think it was the Wanamaker Awards. While I didn't know him at the time as the Voice of the Phillies, I was in awe of his regal voice from NFL and MLB highlight shows. At that awards event I listened to people talk about Harry in such endearing terms, that he touched so many lives. It was easy for me to see what so many others had already known. From that point forward, listening to his voice had taken on new meaning for me.
Paul Domowitch, Daily News NFL Columnist
At the league meetings in California last month, Andy Reid was asked if he might be interested in trading for a top-flight wide receiver if one was available.
``I'll always look at something if there is a great player out there, and it doesn't matter what position,'' the Eagles coach said. ``I'm always looking to better our football team.''
Well, he's going to get a chance to prove that, because the Arizona Cardinals announced Wednesday that they are willing to listen to trade offers for unhappy wide receiver Anquan Boldin.
Paul Domowitch, Daily News NFL Columnist
The good:
* 3 of the Eagles' first 4 games and 2 of their last 3 are at home.
* Just 2 of their first 8 games are against '08 playoff teams (at Carolina in Week 1, home v. Giants in Week 8.
* A Week 17 game against the Cowboys, who should be well into their late-season swoon by then.
The bad:
* A potentially perilous middle-of-the-schedule stretch that has them playing 6 of 9 games on the road, including 3 separate back-to-back road swings.
* Back-to-back pre-Thanksgiving road faceoffs against the Chargers' Phillip Rivers and the Bears Jay Cutler, who combined for 59 touchdown passes last season.
* A much-too-early Week 4 bye.
Josh Barnett
North Carolina wide receiver Hakeem Nicks is on a whirlwind tour of NFL teams and will visit the Eagles today, according to Profootballtalk.com
Nicks was in Carolina on Monday and St. Louis on Tuesday. He is scheduled to vist Tennessee on Thursday and then conduct a joint workout for Indianapolis and Baltimore on Friday, according to the site.
Scout.com ranks the 6-1, 210-pound Nicks as the fourth-best wide receiver on the board. The scouting report says Nicks is a good route-runner and is a big, physical target but lacks the elite speed to be a downfield threat.