Archive: November, 2009
Les Bowen, Daily News Staff Writer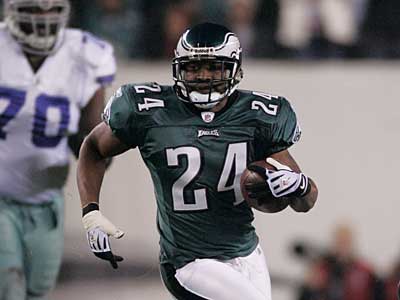 Updating: Sheldon Brown (hamstring) played, as he'd said he would, running his regular-season consecutive games streak to 122, but Brown sat out long stretches of the first half. Replacement Dimitri Patterson took an illegal contact penalty that nullified a third-down stop. The second half began without the other starting corner, Asante Samuel, who aggravated his previous stinger.
Jay Cutler should have been picked off at least twice in the first half, but Quintin Mikell failed to break on the ball both times. Another forced pass bounced off Macho Harris' hands.
The Bears converted a fourth-and-1 from the Birds' 21 as the first half clock ran down, on the drive started by the Jackson fumble. They settled for a 28-yard field goal, making the score 10-9 at halftime.
Significant stop? Well, coming into the game, the Eagles were 5-0 when leading at the half, 0-4 when trailing.
The Eagles definitely missed Brian Westbrook. Rookie LeSean McCoy gained 33 yards on 7 first-half rushes, Leonard Weaver 5 on a couple, Eldra Buckley nothing on one attempt. Forty of the Birds' 78 first-half rushing yards came from Vick and McNabb, McNabb scrambling 6 yards on his only carry.

Earlier: The first quarter just ended with the Bears driving but the Birds up, 10-0. Now, Jay Gould has hit a 45-yard field goal early in the second, and it's 10-3, after Jay Cutler missed open receivers twice for sure touchdowns on back-to-back plays.
The Eagles drove 9 plays, 68 yards for a 25-yard David Akers field goal, then drove 76 yards in 8 plays, aided by a couple Bears penalties, for their touchdown, on a really nice 13-yard inside screen to Jason Avant from Donovan McNabb. Avant looked Westbrookian as he darted up the seam.
Daily News staff
It's "must win" Sunday for the Eagles as they head to Chicago to face the Bears in another prime-time game.
Les Bowen will be blogging from the stadium throughout tonight, but we get your Sunday going with the staff predictions and key matchups.
DAILY NEWS STAFF PREDICTIONS
Daily News staff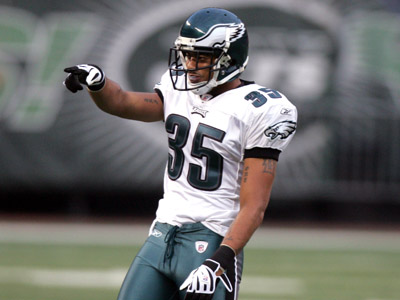 The Eagles are ranked 30th in the NFL in kick returns, averaging 20.1 yards per return. Only Tennessee and Oakland have a lower average.
The Birds are expected to turn to Macho Harris over Jeremy Maclin for Sunday night's game against Chicago, with Ellis Hobbs out following season-ending spinal surgery and Quintin Demps sidelined with a high ankle sprain.
"I like [Macho]," special teams coordinator Ted Daisher said. "He's very aggressive. He hits it up in there north and south, very decisive with the ball in his hands. He has some toughness. He has a good feel on how to run the ball.
Daily News staff
Linebacker Akeem Jordan (knee) and safety Quintin Demps (ankle) will not play Sunday against Chicago, coach Andy Reid said.
Reid was not saying who the starting middle linebacker will be, although indications are that it will be Joe Mays, with Chris Gocong moving back to the strong side and Will Witherspoon remaining at the weak side. "We'll see. It depends on the personnel groups that they put out there," Reid said. "[Mays] has worked in there. He worked in there last week a little bit too. We have different combinations that we can use there."
With Demps out, Jeremy Maclin is expected to return kicks.
Daily News staff
There is not doubt that this is Andy Reid's offense, and his imprint is clear, as it has been from the outset.
However, offensive coordinator Marty Mornhinweg's press conference yesterday included an interesting series of questions about the process the team uses and who makes the final decision on what play to call.
Here is a partial transcript:
Paul Domowitch, Daily News NFL Columnist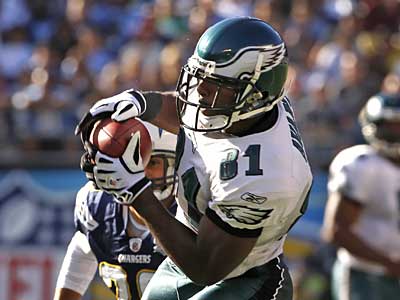 Each week, Daily News football writer Paul Domowitch will tell you the things he will be keeping his eyes on during that week's game:
1. Defending the tight end: The Eagles will face yet another dangerous pass-catching tight end in the Bears' Greg Olsen. In the last six games, opposing tight ends have 43 catches for 532 yards and five touchdowns vs. the Eagles. Olsen, who has 34 catches, including six TDs, is one of Jay Cutler's favorite targets. Only WR Devin Hester has had more passes thrown in his direction (73) than Olsen (51).
2. Jay's interceptions: Jay Cutler has a league-high 17 interceptions, including five in last week's 10-6 loss to the 49ers. He'll be going against a defense that has been very good at forcing interceptions. The Eagles have 15, the third most in the league, but just one in the last two games.
Les Bowen, Daily News Staff Writer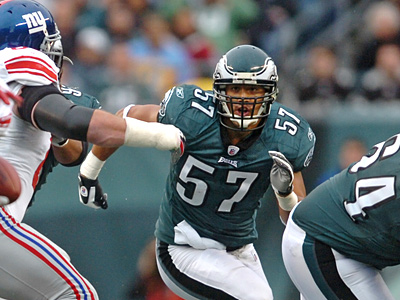 Even if Akeem Jordan remains sidelined, defensive coordinator Sean McDermott indicated that Chris Gocong could be moving back to strongside linebacker. Gocong played middle linebacker for the first time since high school last week against San Diego.
Gocong confirmed that was the plan; Will Witherspoon said he will remain on the weakside in the base defense, which means the Birds once again are in need of a middle linebacker. Your Eagletarian is prohibited from reporting the details of practice, but there aren't that many middle linebackers on the roster. Two of them are Joe Mays and Jeremiah Trotter, both confined to special teams lately.After practice, both acknowledged the possibility they could have more of a role in the defense Sunday night in Chicago. More reporters clustered around Mays than around Trotter, your Eagletarian observed, while carefully obeying the rules about what can be reported from practice.
"If I were to be named the starter, I'd be very excited," Mays offered, demonstrating an impressive command of the subjunctive mood, no doubt the result of that North Dakota State education.
Les Bowen and Daily News staff
Donovan McNabb was asked about the way TV cameras caught him, after one of the Eagles' failed red zone excursions, turning toward the sideline and seeming to yell "just run the ball," or something similar.
"I'm a football player. I want to score," McNabb said. "Do I remember that? I don't know. I've said a lot of different things through the course of the game. I'm sure they might have clips of it, they might not. But again, it's about winning ballgames, and I want to do whatever it takes to have a win."
Asked about the rollout play to the left that the Chargers were all over, an incompletion to Brent Celek on second-and-goal from the 1in the second quarter, McNabb said if the Eagles had it to do over again, "we wouldn't roll to the left. We would never roll it to the left."