Archive: October, 2008
Les Bowen, Daily News Staff Writer
Halftime update: The Eagles just put the "special" in special teams yet again. What could be worse than David Akers missing his 10th field goal in a row from 45 yards or farther? Why, Ray McDonald coming right up the middle and blocking the attempt, and it bouncing to former Eagle Donald Stickland, who runs it in for a touchdown as time expires.
It didn't seem to be Akers' fault -- McDonald pretty much took the ball right off his foot, unblocked, apparently from an inside stunt that fooled Jamaal Jackson, who plays guard beside snapper Jon Dorenbos.
The Birds had used the clock well for once, moving from their 20 to the 49ers' 36 in 28 seconds, leaving one second left in the half. It seemed a 54-yard attempt, with little wind, might restore Akers' confidence. Oh, well.
Les Bowen, Daily News Staff Writer
Let's hope Kevin Curtis really enjoyed having Saturday off in the Bay Area, because there was no other apparent reason for the team's top 2007 wideout to travel across the continent. The inactives for today's game in San Francisco were just announced, and Curtis, out since Aug. 21 sports hernia surgery, was among them.
The fact that he is close to playing, apparently, should mean that Curtis will be ready to go when the Birds resume after their upcoming bye week. That was the rough timeframe envisioned when he got the surgery, though of course, there were early oiptimistic murmurings that he was going to be back sooner.
No other surprises on the Birds' list --- J.R. Reed (hamstring, ankle), Brian Westbrook (ribs), Shawn Andrews (back), Reggie Brown (groin), none of whom made the trip. As usual, rookies Bryan Smith and Mike McGlynn are inactive. Rookie Joe Mays gets only his second activation of the season, probably as a special teams booster.
Daily News staff
Another NFL Game Day and we kick it off as usual, with predictions, matchups and rankings ...
Check back later with updates from Les Bowen at Candelstick Park in San Francisco.
PREDICTIONS
Daily News staff
In a league with teams that often shroud the obvious in a cloak of mystery, the Eagles did the smart thing today by simply announcing that Brian Westbrook won't be making the cross-country trip to be a high-paid cheerleader Sunday in San Francisco.

Having a guy with two broken ribs and an ankly injury endure a long plane flight would have made no sense, simply to keep up the illusion that Westbrook might play and somehow impact the 49ers' preparation.

"Brian doesn't need to travel ... in particular, with the pain that he's in," coach Andy Reid said. "We'll relieve him of any motion there and it allows [Correll Buckhalter] to get himself mentally prepared."
Paul Domowitch, Daily News NFL Columnist
Each week, we tell you what we'll be watching in the upcoming Eagles game. Here is a look at the keys to Sunday's game against San Francisco:
1. Getting off the field: Last week, the Redskins ran 75 offensive plays against the Eagles, which was the most by an opponent since the Cowboys took 84 offensive snaps in a 38-24 Eagles win in Week 5 of '06. Redskins converted 11 of 19 third-down opportunities. In the Eagles' three losses, opponents have converted 24 of 46 third-down tries. In their two wins: two of 24.
2. Cutting down on the Gore: Niners running back Frank Gore leads the league in yards from scrimmage. He's averaing 4.8 yards per carry and has a team-high 19 receptions. Eagles should be able to contain him on the ground better than they did Clinton Portis last week. But their linebackers and DBs need to keep him in check when they throw to him.
Les Bowen, Daily News Staff Writer
Practice? Are we talkin' 'bout practice?
Who needs it? Apparently, not Victor Abiamiri, who returned to the practice field in earnest on Wednesday for the first time since July 29 wrist surgery, and then was identified Thursday by Eagles defensive coordinator Jim Johnson as the newest member of Johnson's defensive tackle rotation for Sunday's game in San Francisco. Abiamiri, who is chiefly a defensive end, will move inside and take some of the reps that normally go to Dan Klecko. Klecko apparently is back to being a fulltime fullback, for the time being, and will only play on defense in an emergency.
Johnson said rookie DT Trevor Laws will get more than the 10-12 reps a game he has been averaging. Abiamiri probably will play less than that, as Johnson's defense tries to recover from the physical pounding it took while giving up 203 rushing yards in a 23-17 home loss to the Redskins.
Les Bowen, Daily News Staff Writer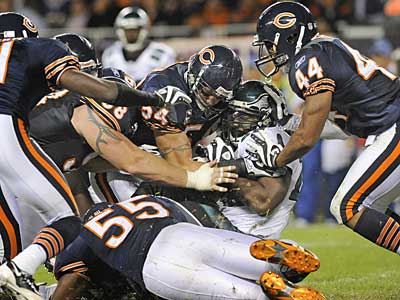 Brian Westbrook isn't practicing today, as the Eagles begin preparing for this Sunday's visit to San Francisco, and there are indications the Birds understand their franchise running back almost certainly won't be able to play effectively this week.
Fullback Tony Hunt said he has been told he will take his practice reps at running back, where he played before being switched near the end of training camp. Defensive tackle Dan Klecko, signed last spring with the idea he would be a fullback, has been reissued his old No. 49 jersey and apparently will play an expanded role at fullback while still participating in the defensive tackle rotation. Defensive end Victor Abiamiri, out since early in training camp following wrist surgery, was to participate in his first full practice today, and Abiamiri said he had been told he would work some inside at defensive tackle -- something he assumes reflects Klecko's decreased availability on defense. It isn't clear that Abiamiri will be ready to play by this weekend.
It is clear the Eagles have a lot of work to do to turn around their 2-3 season. Quarterback Donovan McNabb called a players' meeting Monday, in addition to the regularly scheduled session presided over by the coaches. McNabb and other players said he was critical of his own play and he emphasized that, as McNabb told reporters Wednesday, "everyone has to understand the situation we're in."
Les Bowen, Daily News Staff Writer
Your Eagletarian has some thoughts on the debate.
No, not that debate. The one about whether Philadelphia is "red" or "green" right now, with the Phillies in the NLCS and the Eagles taxing everyone's patience at 2-3 after a promising start.