Archive: September, 2011
Les Bowen, Daily News Staff Writer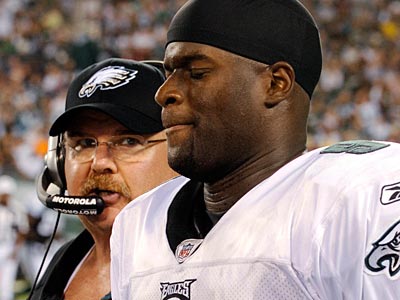 The Eagles' inactives are up for today's game against the Giants, and for the first time this season, they do not include backup quarterback Vince Young.
Inactive are Jaiquawn Jarrett, Curtis Marsh, Darryl Tapp, Danny Watkins, Julian Vandervelde, Winston Justice and Juqua Parker.
Just as in the opener at St. Louis, the Birds are going with just two sub olinemen, Jamaal Jackson and King Dunlap. No real surprises. Stay Tuned.
Daily News staff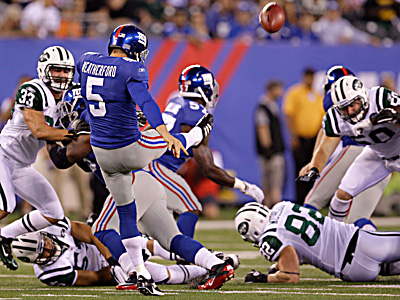 And the trash talking shall continue until the bitter end ...
Giants punter Steve Weatherford shared this with his Twitter followers under the Giants' arrival in Philly yeserday: "Just arrived in Philly. What a dump, Let's get a W and get the heck outta here." He included a link to a photo that appears to be a mural in front of a construction site.
Weatherford's bigger concern likely will be what happens if he decides to punt to DeSean Jackson, although the Giants certainly are planning not to do that.
Daily News staff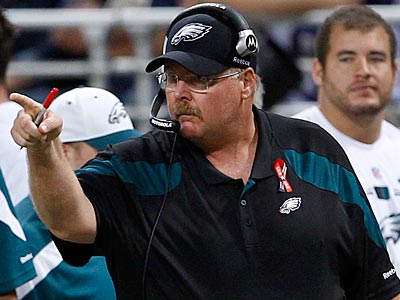 Here is our weekly look at how the Daily News staff sees today's Eagles game:
Les Bowen
Is there anything for Eagles fans to worry about here? Well, sooner or later, the Giants are going to get some of the breaks they haven't gotten in losing six successive meetings. Maybe the Eagles can't stop the run at all, the Giants keep Michael Vick and company off the field, Vick turns the ball over, and so on. But the simpler scenario is that the better, healthier team, playing at home, wins. Prediction: Eagles, 34-24.
Daily News staff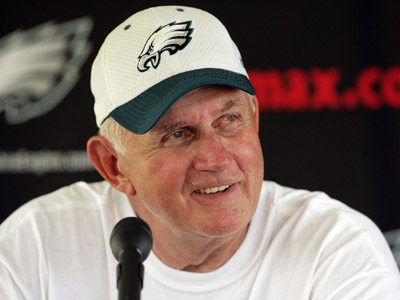 The Eagles will induct cornerback Eric Allen and late defensive coordinator Jim Johnson, into the franchise's Honor Roll at halftime of the game against the Dallas Cowboys on Oct. 30.
Allen played with the Eagles from 1988-94 after the team made him a second-round draft pick out of Arizona State. He recorded 34 interceptions, tied for most in Eagles history with Bill Bradley and Brian Dawkins, and holds the team mark with five interceptions returned for touchdowns. A three-time All Pro selection, he and Troy Vincent are the only Eagles cornerbacks to be selected to five Pro Bowl teams.
Johnson was one of the NFL's most innovative and successful defensive masterminds. He served as the team's defensive coordinator from 1999 until his death in 2009 and his aggressive style kept Philadelphia at or near the top of the NFL in nearly every major defensive category since joining Andy Reid's staff.
Paul Domowitch and DN staff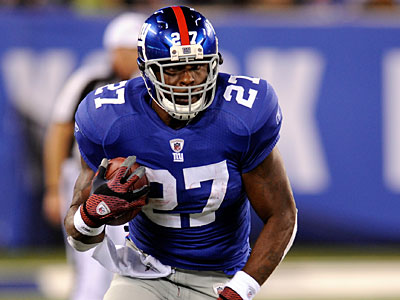 UPDATED: The Giants have downgrades wide receiver Mario Manningham to out and he did not make the trip with the team to Philly.
Manningham suffered a concussion Monday night against the Rams and had been listed as doutbful. He did not practice all week.
The Giants already are without wide receiver Domenik Hixon, who tore his ACL for the second time in 15 months.
Daily News staff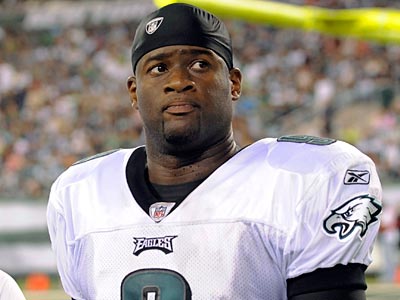 Police in Prince George's County, Md., have arrested a man on felony fraud charges for impersonating Eagles quarterback Vince Young.
Stephan Pittman, 33, of Fort Washington, was arrested without incident, police said, and will face extradition to Washington, D.C. The Washington police also were involved in serving the warrant.
In an interview with WUSA-TV earlier this week, a man claiming to be Pittman has denied the allegations.
Philly.com Staff and Les Bowen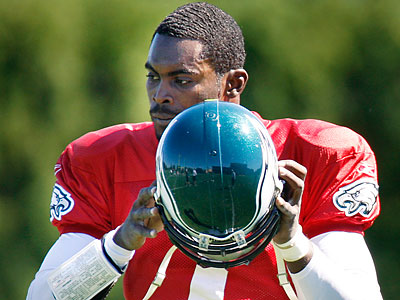 Eagles quarterback Michael Vick is listed as questionable, although all signs point to his being the starter Sunday against the Giants.
"There's no reason to think I won't play," Vick said, pressed into his locker stall by a crush of cameras in his first conversation with reporters since suffering a concussion Sunday night against Atlanta. "After havng two good days of practice, I am optimistic and I am looking forward to playing the New York Football Giants."
Vick added: "I feel good. Nothing feels different. I worked myself back into playing shape and feel ready to go."
Philly.com Staff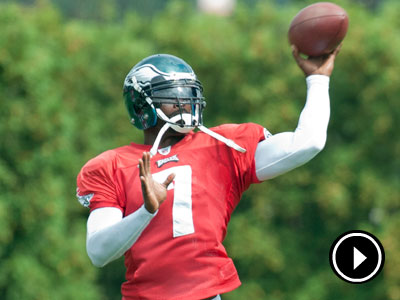 Video: The Daily News' Les Bowen discusses what the Eagles need to do in order to beat the Giants in Week 3.