Archive: September, 2011
Paul Domowitch and DN staff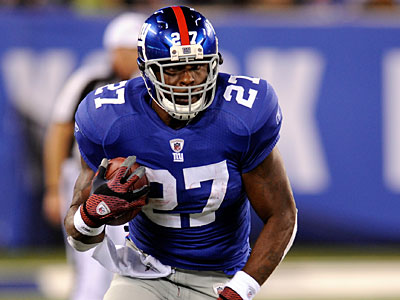 UPDATED: The Giants have downgrades wide receiver Mario Manningham to out and he did not make the trip with the team to Philly.
Manningham suffered a concussion Monday night against the Rams and had been listed as doutbful. He did not practice all week.
The Giants already are without wide receiver Domenik Hixon, who tore his ACL for the second time in 15 months.
Daily News staff
Police in Prince George's County, Md., have arrested a man on felony fraud charges for impersonating Eagles quarterback Vince Young.
Stephan Pittman, 33, of Fort Washington, was arrested without incident, police said, and will face extradition to Washington, D.C. The Washington police also were involved in serving the warrant.
In an interview with WUSA-TV earlier this week, a man claiming to be Pittman has denied the allegations.
Philly.com Staff and Les Bowen
Eagles quarterback Michael Vick is listed as questionable, although all signs point to his being the starter Sunday against the Giants.
"There's no reason to think I won't play," Vick said, pressed into his locker stall by a crush of cameras in his first conversation with reporters since suffering a concussion Sunday night against Atlanta. "After havng two good days of practice, I am optimistic and I am looking forward to playing the New York Football Giants."
Vick added: "I feel good. Nothing feels different. I worked myself back into playing shape and feel ready to go."
Philly.com Staff
Video: The Daily News' Les Bowen discusses what the Eagles need to do in order to beat the Giants in Week 3.
Philly.com Sports
The Daily News' Paul Domowitch takes your Eagles questions in a live chat, beginning Friday at noon.
On a mobile phone? Click HERE to join the chat!
Les Bowen and Daily News staff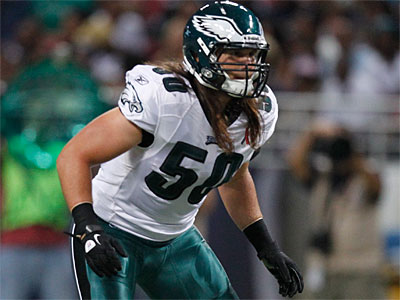 Eagles defensive coordinator Juan Castillo said he wants to see how the team's new linebacker scheme works before he commits to it beyond this week.
Jamar Chaney has moved to the middle, with Casey Matthews on the weakside and Moise Fokou on the strong side.
Chaney had one of his best games last season in the middle against the Giants and it sounds like Castillo wants Chaney at the MIKE because of the Giants' run game.
Daily News staff
UPDATE: Eagles coach Andy Reid said Michael Vick was a full participant in practice today, however, he would not say whether Vick will play this weekend.
The Eagles said he was evaluated and cleared by the independent neurosurgeon to practice today.
The team said Vick is not talking to the media today.
Philly.com Sports
Join Ed Barkowitz of the Daily News for his weekly fantasy football chat, starting at noon on Thursday.
If you're on a mobile device, click here to follow along and post questions.
Les Bowen, Daily News Staff Writer
Jamar Chaney was really surprised, when the NFL lockout ended and he was allowed to talk to coaches for the first time since March, to find he was the Eagles' strongside linebacker.
Chaney had practiced on the weakside and in the middle as a rookie in 2010, starting two games at MIKE. But new defensive coordinator Juan Castillo had this idea about putting Chaney at SAM, rookie Casey Matthews in the middle and Moise Fokou on the weakside.
Less than two months later, with the Eagles last in the NFL in rushing defense, so much for that notion. Chaney confirmed after today's practice that he is back in the middle and will be calling plays this weekend against the Giants. Fokou is back on the strongside, where he played last season, and Matthews is the WIL, which might more closely approximate what he played at Oregon.
Les Bowen, Daily News Staff Writer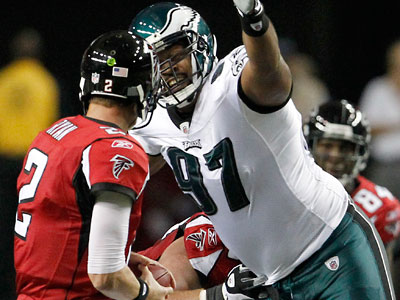 Eagles defensive tackle Cullen Jenkins found the dreaded Fed Ex envelope from the NFL in his locker cubicle today.
Jenkins found he had been fined $15,000 for a helmet-to-helmet hit, which happened when Jenkins sacked Falcons quarterback Matt Ryan during Sunday night's game.
Jenkins said a blocker was holding his legs as he lunged forward to try to tackle Ryan.