Archive: September, 2008
Les Bowen, Daily News Staff Writer
Later today, Andy Reid, Donovan McNabb, Brian Westbrook and Brian Dawkins are scheduled for their regular Wednesday NovaCare news conferences, but in the meantime, we have this McNabb interview with the700level.com, in which McNabb further underscores the fact that he does not seem to spend a lot of his movie-going time at The Ritz.
You'll recall that on Sunday, McNabb likened his chest contusion to "when Bruce Lee got kicked in the chest by Kareem" in the 1978 movie, "Game of Death." In the 700level interview, McNabb expands on that topic and confirms what has been written in the Eagles' media guide, that his favorite movie is not "Casablanca," "The Godfather" or even "Star Wars," but "The Fish That Saved Pittsburgh." Oh well, at least Dr. J is in it.
"It is my favorite movie of all time, yes," McNabb says. "You need to check it out. It's got a lot of the NBA stars from the past. Kareem is in there, Norm Nixon, Mychal Thompson, Bob Lanier, the list goes on. It's a movie that is pretty awesome with an interesting plot of a losing team that comes together and had tryouts and they pick all Pisces. They had an astrologist come in and tells them what (their) reads were going to be and how it's going to happen."
Daily News staff
Brians Dawkins will be named the NFC Defensive Player of the Week on Wednesday, according to the Eagles' Web site.
Dawkins bounced back from a rough game against Dallas to post 10 tackles, including a sack and another tackle for loss, in the Eagles' 15-6 win over Pittsburgh.
The sack in the fourth quarter could be one of the best plays of the veteran's career. He soared over guard Kendall Simmons to swat the ball away from quarterback Ben Roethlisberger and then recovered the fumble to set up the game-clinching field goal.
Daily News staff
With Donovan McNabb likely to be hampered by a bruised chest Sunday night, keeping pressure off him and avoiding the big hits have to be bigger priorities than usual for the Eagles.
To that end comes this stat from the Bears' loss to Tampa Bay: Brian Griese attempted 67 passes and was not sacked once.
It was the first time the Bears have had no sacks in a game since a 17-13 loss to New England on Nov. 26, 2006.
Les Bowen, Daily News Staff Writer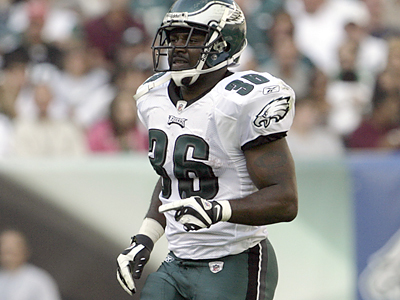 Brian Westbrook walked more or less normally from the back of a silver Lincoln TownCar to the back door of the Stone Grill in Clementon, N.J., for his weekly ESPN 950 AM radio show Monday evening. He didn't run, skip or jump, however, and his description of his injury -- "closer to being a high ankle sprain than anything else" -- made it seem very unlikely that Westbrook will play on Sunday when the Eagles visit the Chicago Bears, though Westbrook repeatedly vowed to do everything possible to be ready as quickly as possible.
"If I can run, then I'm going to be out there," Westbrook said. When cohost Brian Seltzer asked Westbrook what his "gut feeling" was about the injury, Westbrook said his gut feeling was that he was going to rehab as hard as he could.
After the show, when your Eagletarian asked Westbrook if he would say playing this week was likely, Westbrook ignored the question.
Poll: Sit or play Westbrook?

(3950 votes)
Paul Domowitch, Daily News NFL Columnist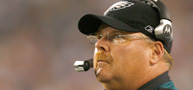 On the severity of Brian Westbrook's ankle injury:
What he said: ``He was on crutches yesterday and is limping around today without the crutches. I guess that's a positive. It'll be a race to get him ready for Sunday.''
What he meant: ``Best I can tell you is he'll probably be back before the Fumo trial is over.''

On whether the Eagles will blitz as much Sunday as they did against the Steelers:
What he said: ``We'll do what we need to do and what we feel is right for each team. We'll see what this team presents and what we can do there.''
What he meant: ``We're playing against Kyle frickin' Orton. What do you think, genius?''

On whether the media criticism Brian Dawkins received last week motivated him against the Steelers?
What he said: ``Whatever people say about him, they can't say he's not motivated to play. He plays all out every play.''
What he meant: ``We gave game balls to Hofmann and Domowitch for that is-he-over-the-hill stuff they wrote about Dawk last week. I've asked them to do the same this week with L.J. Smith and Reggie Brown.''
Daily News staff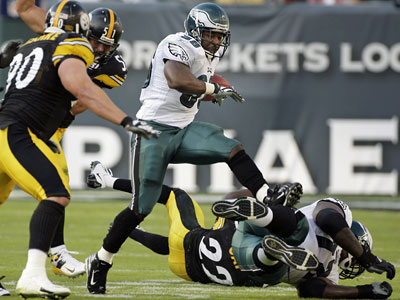 Brian Westbrook was limping around the Eagles practice facility Monday morning, but without the crutches that he used to exit the Linc on Sunday night following the ankle strain he suffered in the win over the Steelers, Eagles coach Andy Reid said.
Westbrook was injured early in the second quarter when he fell awkwardly over offensive tackle Tra Thomas.
It will be "a race to get him ready for Sunday," Reid said at his day-after news conference.
Poll: Sit or play Westbrook?

(3950 votes)
Les Bowen, Daily News Staff Writer
One more time: Brian Dawkins just Wolverined Ben Roethlisberger and saved this game. B-Dawk lept over guard Kendall Simmons and slashed the ball out of Roethlisberger's hands, then Dawkins landed on it at the Steelers' 18. That set up a 31-yard David Akers field goal with 2:26 left and a 15-6 Eagles lead.
Dawkins did not look too old, and that ought to do it for this one.
Updating just before that: Ben Roethlisberger just decided the best way to deal with having Trent Cole wrapped around him in his own end zone was to hurl a pass off Juqua Parker. Bad idea: That's a safety on intentional grounding, 12-6 Eagles.
Daily News staff
Be sure to check Eagletarian all afternoon for Les Bowen's account of the game, plus any breaking news.
Into that breaking news category, we'd have to put the sad revelation, initially reported by ESPN, that center Jamaal Jackson's absence from practice all week was due to the death of his brother, Kamar, in a hit-and-run traffic accident in Miami.
Police have charged Carlos Rodriguez with vehicular manslaughter and he told police that he was under the influence of alcohol, according to a televison report in South Florida.