Archive: August, 2009
Les Bowen, Daily News Staff Writer
Michael Vick will play in the Eagles' preseason game on Thursday night against Jacksonville, head coach Andy Reid announced today.
It will be the first time Vick has been eligible to play after being suspended by NFL commissioner Roger Goodell for dogfighting. Goodell ruled that Vick could play in the final two preseason games and then will be suspended for 0 to 5 weeks to start the regular season.
"Michael will have an opportunity to play," said Reid. "We'll just see how we use Mike." Reid said the Eagles will "take it play by play, see how he adjusts to game speed."
Daily News staff
The Eagles signed tight end Tony Curtis and linebacker Curtis Gatewood and released former Temple quarterback Adam DiMichele and wide receiver Shaheer McBride, from Chester.
Curtis worked out for the team Friday and it seemed unlikely he would be offered a contract. He was released Aug. 4 by the Kansas City Chiefs.
Before being signed by the Chiefs this spring, he had been with the Dallas Cowboys. He appeared in 36 games with 11 catches for 50 yards and three touchdowns.
Les Bowen, Daily News Staff Writer
At his news conference Tuesday, Andy Reid is expected to officially announce that quarterback Michael Vick will make his Eagles debut Thursday night against Jacksonville.
That was the gist of what Reid said on his WIP Radio show Monday evening, or what hosts Howard Eskin and Merrill Reese inferred, and Reid did not contradict them.
There was never any real doubt that Vick would play in the first game he is eligible to take the field for since being reinstated by commissioner Roger Goodell, but in remarks over the past week or so, Reid has hedged, perhaps not wanting the final tuneup for the Eagles' starters to be all about Vick.
Les Bowen, Daily News Staff Writer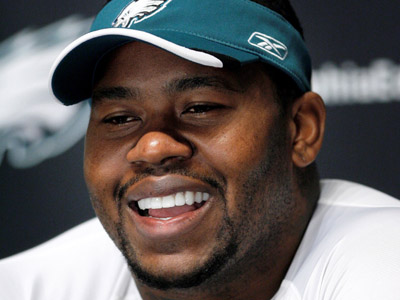 Eagles right tackle Shawn Andrews appeared in the locker room before practice Monday, beaming and optimistic.
"If I had to guess, I would say, 'hell, yeah,' " Andrews said, when asked if he expects to be in the lineup for the Sept. 13 season opener at Carolina. Andrews hasn't practiced with the team since his back tightened up following the fitness run, the day after veterans reported to Lehigh.
Andrews said he had an epidural and another injection last week when he visited Dr. Robert Watkins, who last year repaired the disc injury that sidelined Andrews from Game 2 through the remainder of the season. Andrews brought up that game yesterday, maintaining he was playing at a dominant level when he was injured Andrews was asked his answer to critics who question how much he wants to play, how important football is to him.
Daily News staff and Les Bowen
As we told you in last Wednesday's Daily News and here on Eagletarian, Michael Vick will spend Thursday morning in Newport News in a bankruptcy court proceeding where he will testify.
Vick appeared last month at a hearing in Virginia, and his Chapter 11 reorganization plan is still awaiting approval from Judge Frank J. Santoro. Thursday's hearing is scheduled to be a confirmation hearing in which Santoro could provide his final approval. Vick filed for bankrputcy in July 2008.
Santoro previously rejected a proposal from Vick in April, saying the plan he presented "does not work." He urged Vick to put together a plan that was doable. In the initial plan, Vick was planning to keep his two houses and three cars, according to a report of that hearing by CNN.
Les Bowen, Daily News Staff Writer
The film from what Andy Reid called that "ridiculous" performance in Indianapolis has been analyzed and digested. The Eagles are practicing for Thursday's preseason game against Jacksonville knowing they need to solve breakdowns "across the board, virtually every group, virtually ever position," offensive coordinator Marty Mornhinweg said before Sunday afternoon's workout.
Suddenly, the Sept. 13 season opener is a concern. "We've got to do it fast," Mornhinweg said.
Defensive coordinator Sean McDermott referred to a "long list" of concerns. This week, McDermott said, "you want to see the 'ones' come out and start fast."
Daily News staff
The head of the Eagles Youth Partnership has written a letter to donors in an effort to address concerns about the Eagles' signing of Michael Vick.
The letter is dated last Wednesday and was sent with a transcript of the comments Jeffrey Lurie made at Vick's introductory news conference. In the letter, EYP executive director Sarah Martinez-Helfman tries to separate the football decisions involving player moves from the work of the team's charitable organization.
EYP was founded in June 1995 and "serves over 50,000 low income children in the Greater Philadelphia region every year with a focus on health and education programming," according to the team's Web site. Among its most well-known programs are the Book Mobile and the Eye Mobile.
Les Bowen, Daily News Staff Writer
When Shawn Andrews returned midweek from his visit to Los Angeles and back specialist Dr. Robert Watkins, the
upshot seemed to be that nothing was structurally wrong with Andrews' back and that he might practice soon.
Eagles coach Andy Reid didn't seem to think that last part was very likely, when Reid updated the Birds' injury situation Saturday.
"I don't have any idea" when Andrews will be back on the field, Reid said. The coach tiptoed around questions about how likely it might be that the team's supposed starting right offensive tackle, whose back tightened up during the fitness run that opened training camp for veterans, still has time to be ready to start the season opener Sept. 13.