Archive: June, 2008
Josh Barnett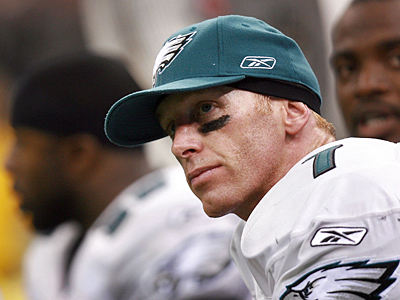 Terrell Owens got paid ... by the Cowboys.
Jeff Garcia wants to get paid, but the Tampa Bay Buccaneers do not seem as interested.
Garcia is seeking an extension of the 2-year contract he signed with the Bucs after the 2006 season, when he helped the Eagles reach the postseason following Donovan McNabb's knee injury. Garcia is scheduled to make $2 million this season, plus a $750,000 roster bonus that already has been paid.
Josh Barnett
The Eagles acquired fullback Luke Lawton from the Indianapolis Colts in exchange for a conditional draft choice in 2009.
Lawton played in 11 games with the Colts in 2007 as a reserve running back, fullback, and special-teamer. He rushed for 13 yards on five carries, with 29 yards and one touchdown on four receptions.
"I've always been a fan of the Eagles," Lawton said during a conference call today. "They have a good offense for a fullback. I've watched their fullbacks in the past and they've always seemed to get a few dump-off passes here and there. They are always in there playing. I really like the chance to get in there as an every-down fullback.
Les Bowen, Daily News Staff Writer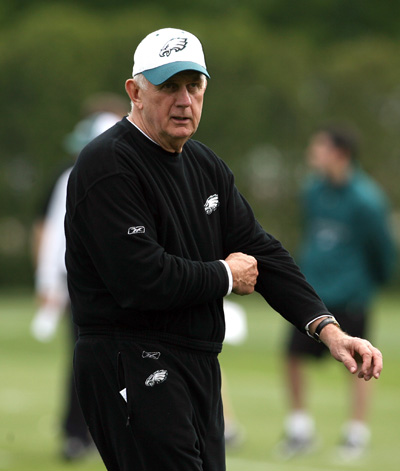 It was coordinator day at NovaCare, the last scheduled news conferences for Jim Johnson, Marty Mornhinweg and Rory Segrest before training camp opens July 21 at Lehigh. Here are some highlights:
Johnson seemed quite impressed by the offseason improvement of defensive end Victor Abiamiri, who seems to be following the Brodrick Bunkley trajectory -- no impact as a rookie, suddenly becoming a guy they're counting on as a second-year player. Hey, it worked last year for Bunk. This will be addressed in more depth in Friday's Daily News, but Johnson said of Abiamiri: "He's a different person. He plays with a lot of confidence and he knows the defense. He's going to be on the field quite a bit."
Johnson also really wishes Lito Sheppard wasn't boycotting, because he has some packages he wants to work on with Lito, Asante Samuel and Sheldon Brown all on the field at once, and he can't do that without Lito. Of course, right now he doesn't have Samuel either, since the big free agent acquisition tweaked a hamstring in Wednesday's workouts.
Josh Barnett
This seems to be a good time of year for lists. And we are guilty of that, too. You will note the Daily News did its NFL Power Rankings earlier this week.
Now, ESPN.com has ranked the top running backs in the NFL, from No. 1 to No. 64, and the Eagles' Brian Westbrook comes in at No. 4. (By the way, you might need one of those fancy ESPN.com Insider accounts to access the link.)
The list has LaDainian Tomlinson, Adrian Peterson and Steven Jackson ahead of Westbrook and has Larry Johnson at No. 5. Joseph Addai, Frank Gore, Marion Barber, Clinton Portis and Marshawn Lynch round out the Top 10.
Josh Barnett
Guard Mike McGlynn became the second of the Eagles' 10 draft picks to sign a contract.
McGlynn, a fourth-round pick from Pittsburgh (No. 109 overall), signed a 4-year deal.
Quintin Demps, a safety from UTEP also selected in the fourth round, signed a 4-year deal Friday.
Les Bowen, Daily News Staff Writer
Scott Young's agent, Jeff Courtney, said Wednesday morning from his office in Alabama that the Eagles' reserve guard made "a personal decision" not to attend this week's voluntary full-team workouts. Courtney wouldn't discuss whether Young is unhappy with his status -- he lost ground last season, after being the top OL reserve in 2006 -- or his contract, which is entering its final season.
"He had personal reasons," Courtney reiterated, which might mean the absence ISN'T related to job dissatisfaction.
Pressed on that point a bit, Courtney said: "He's done nothing illegal or immoral."
Josh Barnett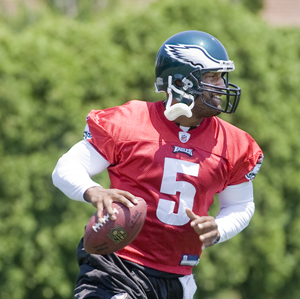 Donovan McNabb, Allen Iverson and Ryan Howard.
An interesting mix of some of the best pro athletes this town has seen recently -- a quarterback who led his team to four NFC title games and a Super Bowl; a guard who won the league MVP and four scoring titles, and took the Sixers to the 2001 NBA Finals; a slugging first baseman who won the NL Rookie of the Year and then the MVP and helped the Phillies to their first playoff appearance in 14 years.
McNabb was asked a question during his news conference today about the city and if he feels like a Philadelphian.
Josh Barnett
Cornerback Lito Sheppard was not on the field as the Eagles began the first session of their organized team activities this afternoon.
The sessions, which continue through Friday, are voluntary so Sheppard cannot be fined for not attending. They continue with four days next week. Sheppard could sit out these sessions and still attend training camp, which he would be fined for missing.
As has been well-documented, Sheppard is upset with his contract and also with having lost his starting job to free-agent signee Asante Samuel, the Eagles' most significant offseason addition.