Archive: December, 2009
Les Bowen, Daily News Staff Writer
Eagles rookie wideout Jeremy Maclin said he thinks he can run and cut as well as he ever did, as Maclin recovers from a plantar fascia tear that kept him out of last Sunday's win over San Francisco.
Maclin, absent since early in the Giants game the week before, said today he assumes he will resume his starting role this
Sunday against the Broncos. The injury started out as plantar faciitis and developed into a tear, but Maclin said he doesn't worry about making it worse.
"It's already torn now. It is what it is," Maclin said. "Each person's different, depending on how they respond to it. It's not bad at all; obviously, there's something there, but if you can deal with it, you can deal with it."
Paul Domowitch, Daily News NFL Columnist
Each week, Daily News football writer Paul Domowitch explains what he'll be keeping his eyes on during the upcoming Eagles game:
1. The halftime score. The Eagles are 10-0 this season when they've led at the half. They've outscored their opponents 253-135 in the first 2 quarters and 89-43 during their current five-game win streak. The Broncos, meanwhile, have been outscored in the first half, 120-136. Their offense is not condusive to second-half comebacks. The more Kyle Orton has to throw the ball the less effective he is.

2. The return men. The Eagles' DeSean Jackson and the Broncos' Eddie Royal are two of the league's most dangerous return men. Jackson leads the league in punt returns (17.3) and already has taken two back for touchdowns. Sunday, he'll be facing a leaky Bronco punt coverage unit that is ranked 26th in the league. Royal also has two return TDs – one PR and one KR. Eagles have the league's third-ranked punt coverage unit, but their kickoff coverage unit has struggled (24th in the league).

3. Broncos' run game. The Broncos' ground game is the lead horse in their offensive attack. They need the run game to make their pass game go. They've averaged half a yard less on the ground in their 6 losses (3.87) than they have in their eight wins (4.37). In their losses to Oakland and Indianapolis the last two weeks, they averaged just 3.02 yards per carry. If the Eagles can shut down their ground game early in the game, it's going to force the Broncos to throw the ball more than they want to.

4. Balancing act. During their five-game win streak, Andy Reid and Marty Mornhinweg have done an excellent job of mixing the run and the pass. One hundred forty-two of the Eagles' 310 offensive plays in the last five games, or 45.8 percent, have been run plays. They've had at least 24 rushing attempts in eight of their last nine games. Ran it six times on that big 12-play, 91-yard fourth-quarter drive against the Giants. Ran it 6 times on last week's game-clinching 8-play, 89-yard fourth-quarter TD drive.

5. The DeSean show. In his last five starts, DeSean Jackson has 30 receptions for 557 yards and 4 touchdowns. The Broncos know they've got to keep the second-year wideout under control if they hope to win Sunday. It remains to be seen what approach they'll take. Champ Bailey is one of the league's best corners, but it's unlikely they'll match him up against Jackson full-time since the Eagles move Jackson all over the formation. A more likely approach is double-teaming or bracketing.

*
Daily News staff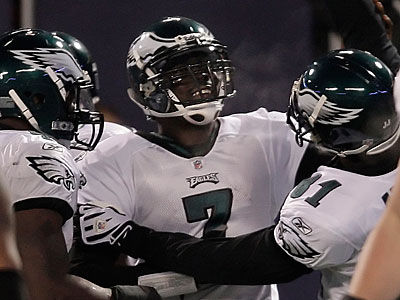 Michael Vick has been named the Eagles' Ed Block Courage Award recipient for this season in a vote of his teammates. The award honors NFL players who exemplify commitment to sportsmanship and courage. They are selected by their teammates for team effort and individual performance.
The selection drew immediate criticism in some quarters.
In a statement, PETA said, "The Philadelphia Eagles fumbled when they gave Michael Vick the Ed Block Courage Award, which was named after a man who advocated in behalf of abused children. Michael Vick should not be the person anyone points to as a model of sportsmanship, even though he has now exchanged dogs for touchdowns after serving time for extreme cruelty to animals. We wish him well in educating others, but this is not appropriate and does not mark a joyous moment in NFL history."Vick has played in 12 games, completing six of 13 passes for 86 yards and a touchdown. He has also rushed 24 times for 95 yards and two touchdowns. All three of his touchdowns have come in the last three games.
Daily News staff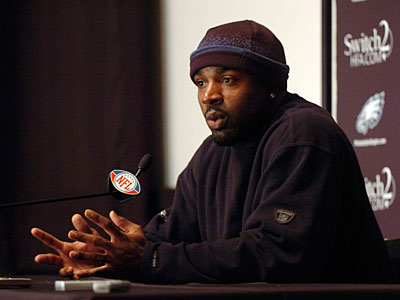 Eagles running back Brian Westbrook is "ready to roll," Eagles coach Andy Reid said.
Westbrook, who has not played since suffering his second concussion in three weeks against San Diego on Nov. 15, will practice with the first-team offense and is expected to play, barring any unexpected setbacks.
"Unless there is a setback here, I think that's what he's counting on and the doctors, and everybody else," Reid said.
Paul Domowitch, Daily News NFL Columnist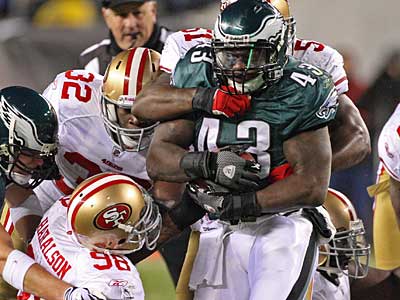 I've received quite a few e-mails from readers regarding that little jawing match between Eagles fullback Leonard Weaver and 49ers linebacker Ahmad Brooks near the end of the first half when the Eagles were trying to line up and spike the ball to stop the clock.
Most people wanted to know what would have happened if Donovan McNabb had just taken the snap and spiked the ball rather than wait for Weaver to line up.
The general assumption of most of the e-mailers was that both teams would have been called for offsetting penalties – Weaver for a false start and Brooks for being offsides – the clock would have stopped and they would have replayed the down, leaving the Eagles with enough time to take one more shot at the end zone before having to settle for a David Akers field goal.
Paul Domowitch, Daily News NFL Columnist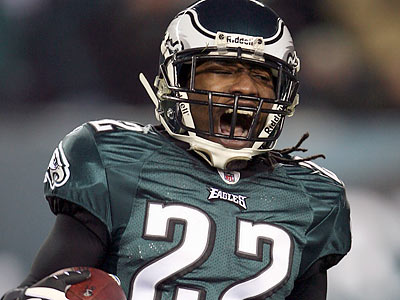 Some day-after observations after reviewing the tape of the Eagles' 27-13 win over the 49ers:

After-Thoughts
* Asante Samuel does a lot of gambling, or, perhaps more accurately, anticipating. We saw that again in the second quarter Sunday when he left his own man (Jason Hill) and jumped an underneath out route by Niners tight end Vernon Davis and registered his eighth interception of the season. He did the same thing against the Redskins late last month on one of his two interceptions in that game.
"He's got tremendous instincts and he watches film and he gets what he needs to get out of the film to be successful,'' Eagles defensive coordinator Sean McDermott said after the game. ``My hat goes off to him. He's a tremendously gifted player.''
Daily News staff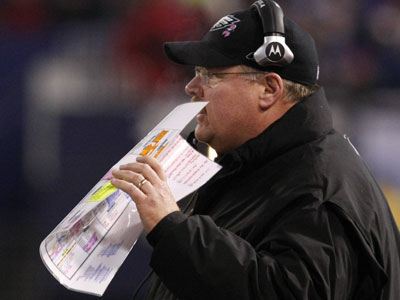 Andy Reid said he expects Brian Westbrook to be cleared to play against Denver on Sunday, although he said he won't know for sure until tomorrow. "Right now it looks pretty good," Reid said.
Westbrook has been working with the scout team.
"Just watching him the last couple of weeks at practice, the next step, if all goes well is to get him back in the game and see what he can do there," Reid said during his day-after news conference. "He'll have limited reps and see how he feels and evaluate it as he goes."
Daily News staff
TALKING POINTS
What we're talking about after the Eagles' playoff-clinching victory over San Francisco:
1. Quentin Demps' unusual 48-yard kickoff return and DeSean Jackson's 19-yard touchdown reception produced the Eagles' first TD. How did Jackson get that open again? Because touted linebacker Pat Willis bit and chose to pursue scrambling QB Donovan McNabb instead of staying in coverage. Not a good choice.