Archive: December, 2009
Paul Domowitch, Daily News NFL Columnist
I've received quite a few e-mails from readers regarding that little jawing match between Eagles fullback Leonard Weaver and 49ers linebacker Ahmad Brooks near the end of the first half when the Eagles were trying to line up and spike the ball to stop the clock.
Most people wanted to know what would have happened if Donovan McNabb had just taken the snap and spiked the ball rather than wait for Weaver to line up.
The general assumption of most of the e-mailers was that both teams would have been called for offsetting penalties – Weaver for a false start and Brooks for being offsides – the clock would have stopped and they would have replayed the down, leaving the Eagles with enough time to take one more shot at the end zone before having to settle for a David Akers field goal.
Paul Domowitch, Daily News NFL Columnist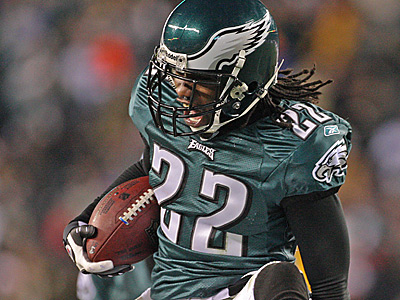 Some day-after observations after reviewing the tape of the Eagles' 27-13 win over the 49ers:

After-Thoughts
* Asante Samuel does a lot of gambling, or, perhaps more accurately, anticipating. We saw that again in the second quarter Sunday when he left his own man (Jason Hill) and jumped an underneath out route by Niners tight end Vernon Davis and registered his eighth interception of the season. He did the same thing against the Redskins late last month on one of his two interceptions in that game.
"He's got tremendous instincts and he watches film and he gets what he needs to get out of the film to be successful,'' Eagles defensive coordinator Sean McDermott said after the game. ``My hat goes off to him. He's a tremendously gifted player.''
Daily News staff
Andy Reid said he expects Brian Westbrook to be cleared to play against Denver on Sunday, although he said he won't know for sure until tomorrow. "Right now it looks pretty good," Reid said.
Westbrook has been working with the scout team.
"Just watching him the last couple of weeks at practice, the next step, if all goes well is to get him back in the game and see what he can do there," Reid said during his day-after news conference. "He'll have limited reps and see how he feels and evaluate it as he goes."
Daily News staff
TALKING POINTS
What we're talking about after the Eagles' playoff-clinching victory over San Francisco:
1. Quentin Demps' unusual 48-yard kickoff return and DeSean Jackson's 19-yard touchdown reception produced the Eagles' first TD. How did Jackson get that open again? Because touted linebacker Pat Willis bit and chose to pursue scrambling QB Donovan McNabb instead of staying in coverage. Not a good choice.
Paul Domowitch, Daily News NFL Columnist
RUSHING OFFENSE
Eagles averaged just 3.5 yards per carry and didn't have a run longer than 9 yards. But they ran the ball effectively on their game-clinching 89-yard drive early in the fourth quarter and notched 2 rushing touchdowns for the second game in a row. Grade: B

PASSING OFFENSE
Daily News staff
The Eagles are heading to the playoffs for the eighth time in Andy Reid's 11 seasons, but the coach wasn't ready to talk about that in the aftermath of a victory over San Francisco.
"I haven't really thought about the playoffs," he said. "I'm not there yet. I'm proud of our guys the way they worked through a bunch of different situations. They've stayed focused, the coaches and players."
Asked why he seemed to be de-emphasizing clinching a playoff berth, Reid said, "We're grateful for having that opportunity. However, it's important that we don't get caught up in it. That's going to happen down the road. We have the Denver Broncos coming in and we have to be ready for that."
Les Bowen, Daily News Staff Writer
Updating: The Eagles have made it very hard on themselves with miscues and mental lapses, but after an 8-play, 89-yard drive that gave them a 27-13 lead with 11:32 left, maybe all is finally well and the playoff berth is nailed down.
Shady McCoy got the TD on third and 1 from the 2.
Lots of snowballs flying now, Eagles fans hitting Eagles fans sitting below them. Hard to explain that. Do we know for sure the Gov is across the street at Comcast?
Daily News staff
It will be a snowy day at the Linc as the Eagles face the Niners this afternoon with a 4:15 p.m. game time.
Les Bowen will have the action from the stadium, but we start your Eagletarian day with predictions and key matchups.
And keep in mind the predictions were made before the weather took a turn for the worse.
Les Bowen, Daily News Staff Writer
Kickoff for the Eagles-Niners game has been pushed back to 4:15 because of the weather, the Eagles announced today.
In a statement, the Eagle said "the change was made to accommodate fans and allow more time for city and stadium personnel to clear streets and walkways in and around the stadium."
Parking lots will open at noon. Stadium gates will open at 3 p.m.
Daily News staff and Les Bowen
As expected, Eagles wide receiver Jeremy Maclin and running back Brian Westbrook will not play Sunday against San Francisco.
Maclin tore the plantar fascia in his foot against the Giants and has not practiced all week.
Westbrook was listed as a limited participant Friday for the third consecutive day, and he continues to work with the scout team in hopes of returning from his two concussions. Eagles coach Andy Reid said Westbrook will undergo neurological testing again early next week in hopes of playing Dec. 27, against Denver.