Archive: October, 2012
Les Bowen, Daily News Staff Writer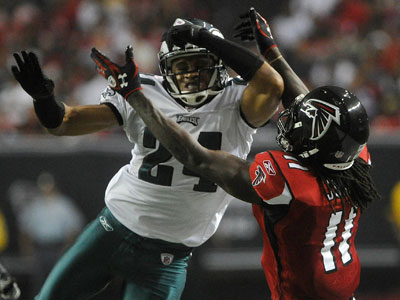 Under Andy Reid, the Eagles have come off their bye to play an opponent that was also coming off its bye once before – and it was the Atlanta Falcons, the same team the Eagles will face this week, in the same situation.
In 2008 the Eagles and Falcons both rested the week of Oct. 19. The Falcons were on their way to an 11-5 season, the Eagles were headed for 9-6-1, but also for a playoff run that would take them to the NFC Championship Game. On Oct. 26, the Eagles won at the Linc, 27-14, with Brian Westbrook running for 167 yards on 22 carries and catching six passes for 42 more yards.
In Atlanta, that game is remembered more for the call ref Jerome Boger's crew made with two minutes and 22 seconds left. Falcons returner Adam Jennings was ruled to have muffed a Sav Rocca punt, with Akeem Jordan recovering for the Eagles, who led, 20-14. Replays showed there was a good chance Jennings didn't touch the ball, but the Falcons were out of timeouts, and because more than two minutes remained, they couldn't challenge. There was no review.
Les Bowen, Daily News Staff Writer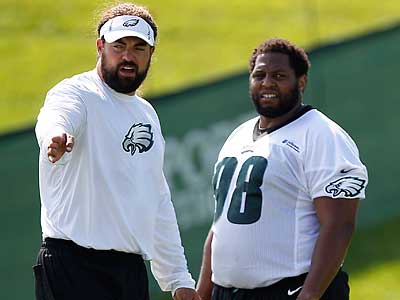 New coordinator Todd Bowles won't be the only change for the Eagles' defense when it hits the practice field Monday for the first workout after the bye. Defensive tackle Mike Patterson is expected to practice for the first time in 2012, a source close to the situation confirmed Sunday.
Comcast SportsNet's Derrick Gunn raised the possibility of Patterson practicing in a Saturday report. Patterson underwent surgery in the offseason to correct a tangle of blood vessels in his brain that had caused a seizure at training camp in August 2011. Patterson, who played the 2011 season with medication protecting against another seizure, expected to return for training camp this year, but Dr. Robert Spetzler, the Phoenix-based surgeon who performed the procedure, examined results from July tests and wasn't sure Patterson's skull had healed sufficiently to risk contact. Now, Spetzler has given the OK.
Patterson, who felt he was healthy enough to practice in July, has been working out on his own, around the team continuously since camp began. It's unclear how long it might take for him to get in game shape, but the Eagles have three weeks to decide whether to place him on the 53-man roster. If they decline to do that, Patterson would go on injured reserve and miss the season.
Philly.com Sports
The Eagles started their bye week by firing Juan Castillo. Les Bowen of the Daily News talks about who the Eagles' leaders are now and looks ahead to next weekend's game against the Falcons in a chat with CineSport's Noah Coslov.
Philly.com sports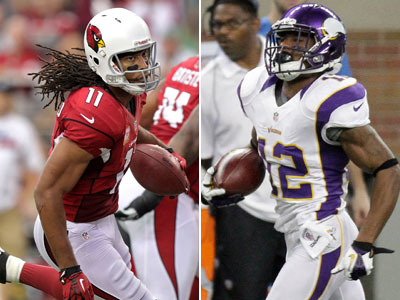 Vegas Vic drops by to talk about this weekend's football action in a live chat, beginning Friday at 2 p.m.
On a mobile phone? Click HERE to join the chat!
Les Bowen, Daily News Staff Writer
Eagles coach Andy Reid issued a statement on behalf of his family Thursday following the release of the Northampton County coronor's report on the death of his son Garrett at training camp in Bethlehem on Aug. 5.
"These results sadly confirmed what we had expected all along. We understood that Garrett's long-standing battle with addiction was going to be difficult. He will, however, always have our family's love and respect for the courage he showed in trying to overcome it. In the end, we take comfort in our faith and know that he's in a better place. We miss Garrett. We miss his smile, his laugh, and his energy and we will forever love him.
"There are many other individuals and families engaged in this struggle in their own lives, and they will always have our support, encouragement, and understanding. Never give up!"
Les Bowen, Daily News Staff Writer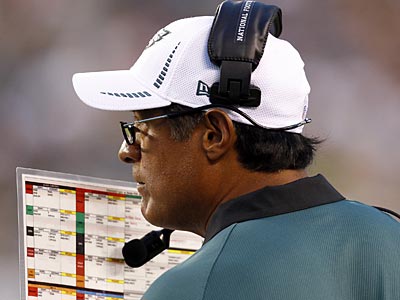 A day later, the thing I can't get over RE the Juan Castillo firing is this: If Michael Vick's third-and-four pass to Jeremy Maclin hadn't been batted down with a little more than two minutes left in Sunday's loss to Detroit, the Eagles would have won, and I'm pretty sure Castillo would still be the Eagles' defensive coordinator. If Brent Celek hadn't been called for offensive pass interference, and the Birds had scored a TD instead of a field goal with 4:32 left in the third quarter, they probably would have won, and I'm pretty sure Castillo would still be the defensive coordinator.
Nobody fires the defensive coordinator at 4-2, when the defense keyed at least two of the four wins. Andy Reid would tell you it wasn't down to Sunday, that he saw trends reemerging from last season -- basically, adroit offensive coordinators outflanking Castillo when it mattered.
The problem is, everybody else in the world pegged this as a fatal trend last year. Saw it happening enough to know Reid's idea that Castillo could run an NFL defense because he used to talk strategy with Jim Johnson was absurdly naive and unworkable, bizarrely so for a head coach who prides himself on building his decisions on detailed background work. By the middle of last season, people around the team were pretty open with their belief that Castillo was in way over his head. Despite the four straight wins at the end of the year, I sure didn't expect Reid to keep Castillo in charge. I figured Juan, loyal, and earnest, would get some sort of fancy title, and somebody like Todd Bowles would come in to run the D.
Paul Domowitch, Daily News NFL Columnist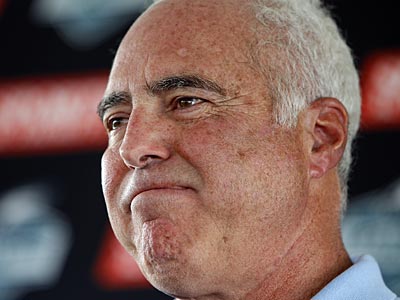 Eagles owner Jeff Lurie admitted Tuesday that he had serious reservations about Andy Reid's decision to promote his longtime offensive line coach, Juan Castillo, to defensive coordinator last year.
``Yes, I did,'' he said. ``But I let Andy make that call. I respected his decision. He felt it was the best thing to do at the time and I don't interfere in that area.''
And just to be clear, the decision Tuesday to fire Castillo six games into his second season as defensive coordinator also was Reid's and Reid's alone.
Les Bowen, Daily News Staff Writer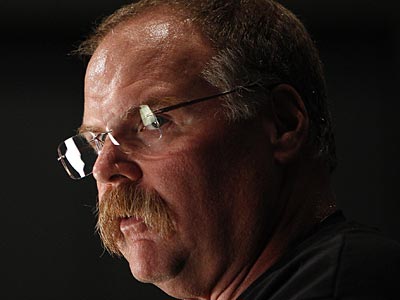 Eagles coach Andy Reid answered questions for 26 minutes Tuesday in front of the cameras, then spoke with a few reporters privately for 12 more minutes, explaining the extraordinary decision to fire defensive coordinator Juan Castillo with the Eagles sitting at 3-3. Reid replaced Castillo with secondary coach Todd Bowles.
More on Bowles background here.
The upshot Tuesday: Reid was vehement that he alone made the decision, that saving his own job was not part of his thought process, and that whether reporters, fans and even players might detect a whiff of panic was beside the point.
Poll: What is Andy Reid's next move?

(4918 votes)