Archive: January, 2012
Les Bowen, Daily News Staff Writer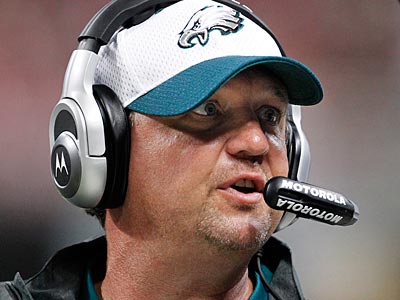 Got the first e-mail early this morning from a Midwest reporter, looking for me to fill him in on Ryan Grigson, the Eagles' player personnel director who will be introcuced as the Indianapolis Colts' GM at 4 p.m. today.
My response was less than helpful. I know Grigson is a really, really big guy (6-6, 290) who played tight end and offensive tackle at Purdue. I know at Senior Bowl practices, Grigson and Eagles general manager Howie Roseman were inseparable. I know he's polite, always says "hi." I know the Eagles value his scouting expertise very highly, he rose steadily through the ranks over nine seasons, after being hired as a Western scout.
Roseman issued a statement today: "Although we will miss Ryan personally and professionally we could not be happier for him. He has been a great advisor to me and somebody I have leaned on to bounce ideas off of many times over my career. He leaves no stone left unturned in his efforts to find good players and we were lucky to have him here in Philadelphia. In addition to his skills as a talent evaluator, we can't say enough about Ryan as a person. He is one of the best family men I have come across in the NFL and we wish he, Cynthia and his children all the best."
Les Bowen, Daily News Staff Writer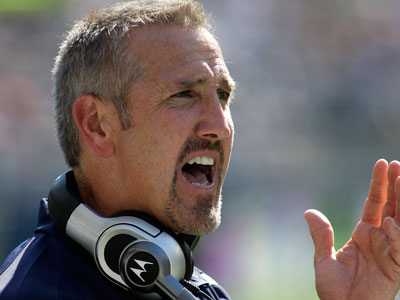 Truth is, nobody in the media knows what's up with the Eagles' defensive coordinator situation. But the four-day getaway former Rams coach Steve Spagnuolo outlined in his one interview, with St. Louis Post-Dispatch columnist Bryan Burwell, ends today or tomorrow.
So Spagnuolo ought to be ready by tomorrow to start evaluating where he goes from here. The widespread assumption is that one of his options is some sort of role with the Eagles -- either replacing Juan Castillo as defensive coordinator or coming in above Castillo as something like assistant head coach/defense.
One thing we do know: Eagles coach Andy Reid hasn't scheduled his season wrapup news conference with reporters, and Reid is out of town all week, until Sunday. So the Eagles won't be hiring or firing any coordinator-level employees this week.
Les Bowen, Daily News Staff Writer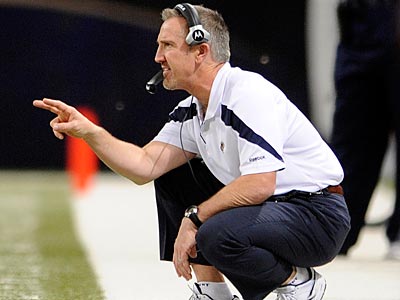 St. Louis Post-Dispatch columnist Bryan Burwell sat down with fired Rams coach Steve Spagnuolo Friday, mostly to talk about what happened to end his three-year tenure in St. Louis, but also about Spagnuolo's future.
Spagnuolo told Burwell there had been exploratory conversations with NFL teams, but that no one has offered him a job. He told Burwell he was leaving Saturday for a four-day break with his wife, Maria, who is from Philadelphia, to think things over and prepare to move forward.
He did not confirm or deny he had been in contact with the Eagles, who are evaluating the fate of defensive coordinator Juan Castillo. Spagnuolo was an Eagles defensive assistant from 1999-2006.
Philly.com Sports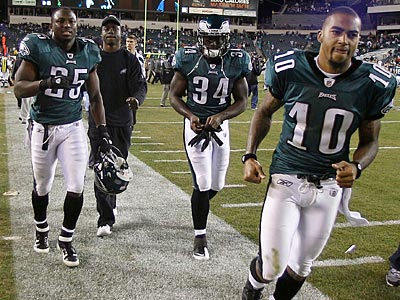 Join the Daily News' Paul Domowitch as he takes your Eagles questions in a live chat, beginning Friday at noon.
On a mobile phone? Click HERE to join the chat!
Paul Domowitch, Daily News NFL Columnist
Daily News football columnist Paul Domowitch is one of 50 voters for the Associated Press's All Pro team and its various awards, including Most Valuable Player. The ballots were due earlier this week and the results will be announced the night before the Super Bowl on NBC. To help out NBC Pro Football Talk's Mike Florio, who has accused voters in the past of not having the guts to reveal who they voted for, here's a look at Domo's ballot:
Most Valuable Player: Aaron Rodgers, QB, Packers
Coach of the Year: Jim Harbaugh, 49ers
Les Bowen, Daily News Staff Writer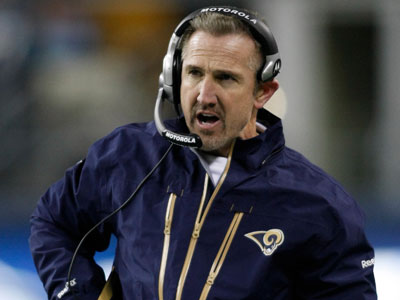 Steve Spagnuolo, fired this week as head coach of the St. Louis Rams, has considerable cachet as a defensive coordinator, despite his 10-38 record in three seasons running the Rams. That's because Spagnuolo was the Giants' DC when they won the Super Bowl four years ago, and is considered by many to be the architect of that triumph. Before that, Spagnuolo was among the best and brightest on Jim Johnson's Eagles defensive staff.
Sometimes when a coach is fired with a year left on his deal, he prefers to sit back and watch, maybe do a little TV work, collecting the paycheck. A source close to Spagnuolo said today that is not Spags' mindset. The source said Spagnuolo, 52, expects to coach in the NFL next season, and would be interested in any opening that might occur with the Eagles.
That's news because the Newark Star-Ledger last week implied otherwise, noting that Spagnuolo was not happy his final year in Philadelphia (2006). When then-Birds offensive coordinator Brad Childress got the head coaching job in Minnesota, Childress wanted to take Spagnuolo with him as defensive coordinator. But Eagles coach Andy Reid said that when he was in Green Bay, Mike Holmgren had a rule about assistants who left to become head coaches -- they should build their own staffs, not pilfer from his. Reid said he wasn't letting Childress take anyone with him.
Daily News staff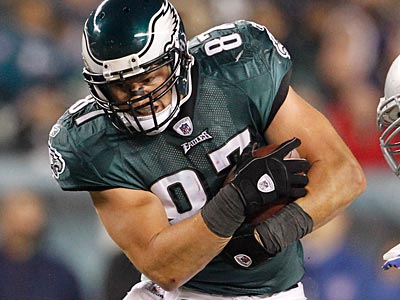 Eagles tight end Brent Celek underwent successful surgery to repair a sports hernia by Dr. William Meyers at Jefferson at the Navy Yard in Philadelphia.
He also underwent successful surgery to repair a torn labrum in his left hip by Dr. John Salvo of the Rothman Institute.
Both procedures were performed concurrently on Tuesday.
Philly.com Sports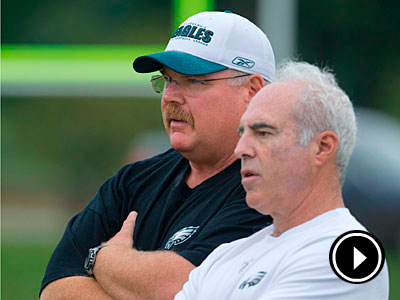 Video: Eagles owner Jeffrey Lurie announced that Andy Reid will return for his 14th season as the Birds' head coach at a press conference Tuesday. The Daily News' Les Bowen discusses Lurie's remarks.