Archive: September, 2012
Les Bowen, Daily News Staff Writer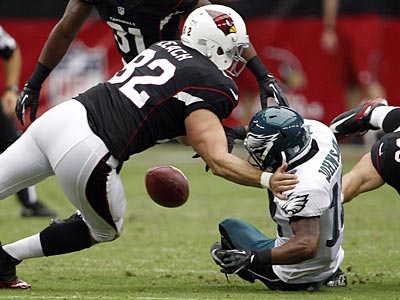 Jason Kelce did not have fun, watching the Eagles from afar Sunday.
"Watching the games give you a lot more respect for what the fans go through," the Eagles' center said Thursday, his right knee swathed in a brace. Kelce said his ACL surgery, by team orthopedist Dr. Peter DeLuca, is tentatively scheduled for Oct. 18. "When you're in the game, you have an active control over what happens every single play. You know what's going wrong, what the coaches are saying. You know how to fix things. When you're watching, you can't do anything. What are they doing? Why are they doing this? It's not fun at all.
"I don't even know why fans watch the games."
Les Bowen, Daily News Staff Writer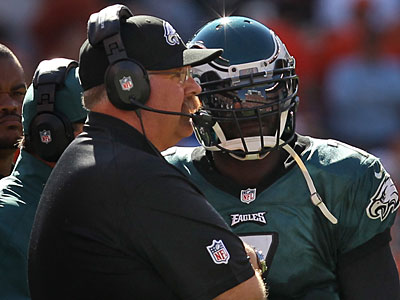 Eagles coach Andy Reid said Wednesday he spoke with quarterback Michael Vick about Reid's Monday comments, in which Reid seemed less than definitive about Vick's future as the starter.
Vick "doesn't care about all that," Reid said. Reid emphasized Wednesday that "Michael is the quarterback."
"Well, it was the way it was interpreted," Reid said. "That's not what I had in mind. Derek [Eagles spokesnman Derek Boyko] explained to me how it was interpreted, and so, I've talked to Mike, [and] made sure I mentioned it on my radio show. You guys are very good at what you do, so I [wanted to] make sure we clarify it. Bad semantics there."
Daily News staff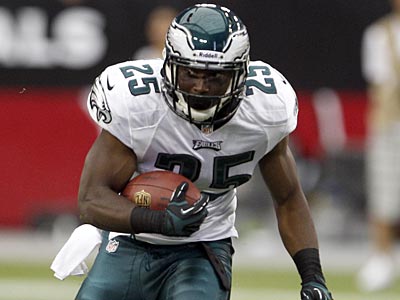 Eagles running back LeSean McCoy is having a little fun again with Giants defensive end Osi Umenyiora, with whom he has feuded over the years.
McCoy, in an ESPN interview, said: "Osi, to be honest, he is a good player. I think he thinks that he is better than what he really is. I think he is a ballerina in a Giants uniform. Other than that, that is all I got to say about Osi."
The McCoy-Umenyiora and McCoy feud began in 2011, when McCoy tweeted that Unemyiora is "Overrated n soft 3rd best d-line on his team honestly."
Les Bowen, Daily News Staff Writer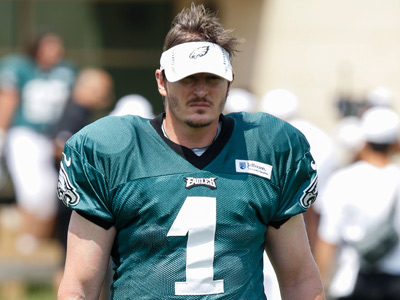 Many observers thought Mat McBriar won the Eagles' punting battle in training camp, and were surprised when the Birds went with incumbent Chas Henry. Special teams coordinator Bobby April later indicated the decision came down to who was a better holder for Alex Henery.
But holding on kicks, it turns out, is not the most important factor in punting, and on Tuesday, the Eagles announced they had released Henry and brought back McBriar.
The team also signed longsnapper Kyle Nelson to the practice squad, so he can get some work with McBriar and Henery this week. Jon Dorenbos has a high ankle sprain, and it's possible the Eagles will move Nelson up to the active roster later in the week, if it looks like Dorenbos can't play against the Giants. (So Henery could have a new snapper and holder for Sunday, a situation most kickers would find less than ideal.)
Les Bowen, Daily News Staff Writer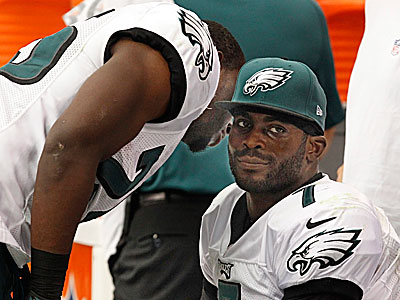 Finally got a chance to take an extended second look at the first half of Sunday's Eagles loss at Arizona. Here are a few thoughts, before the whole thing gets beaten more thoroughly into the ground than Michael Vick was by the Arizona defense:
*Daryl Washington, who broke Vick's ribs on the second play of last year's Eagles-Cards game, got a hit on Vick on the very first snap of this game. Boy, is Washington good. So is LB Sam Acho.
*The Eagles' first two series ended with batted-down third down passes.
Paul Domowitch, Daily News NFL Columnist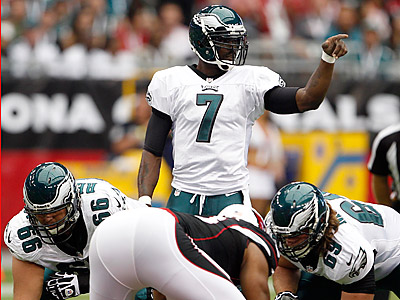 Surveying the wreckage of the Eagles' 27-6 loss to the Cardinals:
--This isn't exactly a revelation, but the Eagles didn't block very well Sunday. The three biggest culprits were left tackle Demetress Bell, center Dallas Reynolds and running back LeSean McCoy.
Bell struggled in his first start with the Eagles. He allowed defensive end Calais Campbell to get past him and flush Vick out of the pocket on the Eagles' very first play from scrimmage, which set the tone for the rest of the game.
Daily News staff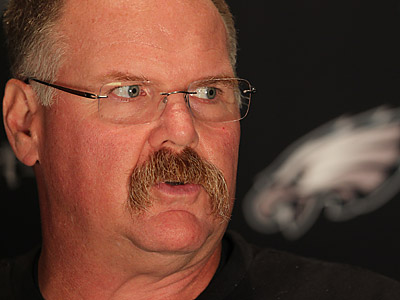 Andy Reid took his normal approach after an Eagles loss, saying on Monday at his day-after news conference that he takes the blame and that he "needs to put players in better positions."
"All in all, we obviously need to do a better job," Reid said after the Eagles' 27-6 loss at Arizona on Sunday. "I need to do a better job as a head football coach. It's my responsibility if there's failures on both sides of the football. That obviously comes back to the head football coach. Getting your team prepared is important, so I take full responsibility for that.
"We need to coach better, we need to prepare better and we need to play better. We played a good football team and one of the things we've talked about ... is you cannot turn the football over against a good football and expect to win."
Daily News staff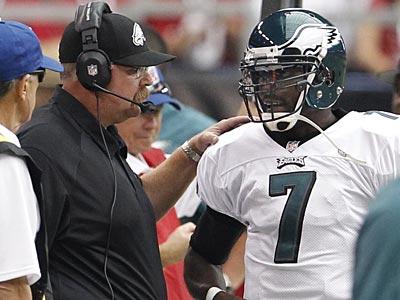 Eagles coach Andy Reid took responsibility for his team's 27-6 loss Sunday to the Arizona Cardinals.
"They played better than we did," Reid said. "Clearly better. Coached better, they played better. That's my responsibility.
"I didn't have my football team ready to play. They did. My hat's off to them.