Archive: August, 2010
Daily News staff
Andy Reid was faced with an interesting choice as the Eagles approach the preseason finale Thursday against the New York Jets.
Does he play the starters on offense, even for a quarter, in order to give the a unit a bit more work, or does he have them sit out?
Traditionally, Reid does not play the starters at all in the last preseason game, instead opting to work on sharpness in practice.
Daily News staff and Les Bowen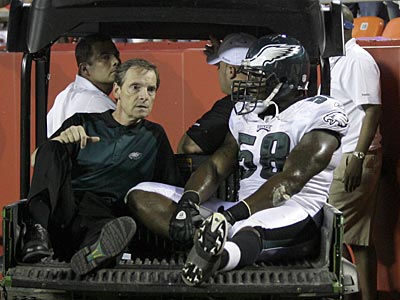 Eagles fans can breathe a sigh of relief with the latest update on defensive end Trent Cole's injured right ankle.
Cole used Twitter to report his own MRI results from this morning.
"Well, I'm good. Nothing serious. Now time to recover and get after Green Bay."
Daily News staff
Defensive end Trent Cole will have an MRI on his injured ankle on Saturday morning when the Eagles return to Philadelphia, Andy Reid said after the 20-17 preseason victory over the Kansas City Chiefs.
Cole was injured in the second quarter when he was stepped on. He was carted back to the locker room and X-rays taken at the stadium were negative.
Darryl Tapp got a lot of reps with Cole sidelined.
Paul Domowitch, Daily News NFL Columnist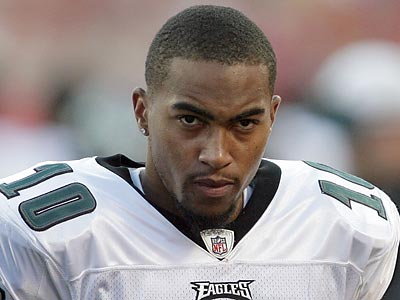 KANSAS CITY -- Observations from the Eagles' come-from-behind preseason win over the Kansas City Chiefs tonight:
* DeSean Jackson injured his upper back on the Eagles' first offensive snap. On the next play, the Eagles scored on an 18-yard run by LeSean McCoy. After that, without Jackson, the Eagles' offense went to hell. It gained just 60 yards on 29 plays the remainder of the first half and only a 149 yards on 49 offensive plays without Jackson in the first 3 quarters.
* The Chiefs' 3-4 defense, which, by the way, is the very same scheme that the Green Bay Packers will be using against the Eagles in 2 weeks, except with much better players, seemed to completely befuddle the Bird's blockers, despite the fact that they finally got starting left guard Todd Herremans back. Quarterback Kevin Kolb was sacked 4 times in 3 quarters of work and spent most of the night running for his life. He completed just 8 of his first 21 passes for 69 yards.
Les Bowen, Daily News Staff Writer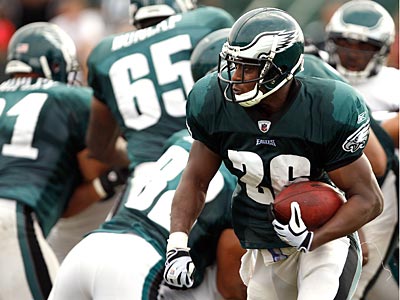 A look at five things to keep your eyes on during Friday night's Eagles preseason game against Kansas City:
1. Todd Herremans: The left guard might be the most consistent member of the offensive line when he's healthy. He hasn't played this preseason. The Eagles say they've taken it slow with Herremans as a precautionary move, after he experienced soreness in his repaired left foot back in the spring. But you take precautions for a reason, because you're concerned. Herremans needs to get through this game without any problems. If he helps solidify a struggling interior line corps, that would be nifty, as well.
2. Mike Bell: The running back penciled in as the main backup to relatively untested Shady McCoy has not played a down in the preseason. Be kind of nice to see him stay healthy and look sharp, as well. Maybe Bell can help convert an early third-and-1 like the chance the Eagles botched last week in Cincinnati?
Paul Domowitch, Daily News NFL Columnist
For years, NFL owners have been forcing their fans to pay regular-season prices for worthless preseason games and have never lost a moment of sleep over this despicable practice. Their explanation was, "Well, if we reduced the price of preseason games, we'd have to raise it regular-season games to make up the difference in our revenue.''
In other words, they weren't going to take a penny less for their product.
Now, all of a sudden, Roger Goodell and his band of silver-spooned billionaires are trying to tell us their concern for you, Joe Season Ticket Holder, is behind their desire to go to an 18-game regular-season, or, as Goodell and the NFL PR machine are calling it, an ``enhanced'' schedule.
Daily News staff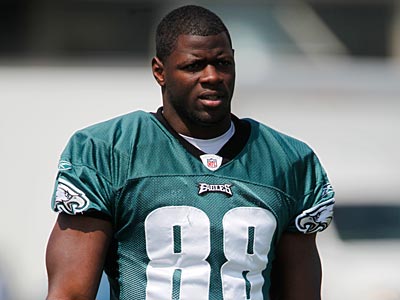 Tight end Cornelius Ingram suffered another setback and will not travel with the team to Kansas City for tomorrow night's game.
An MRI last night at Jefferson Hospital as determined that Ingram had a "significant" Baker's cyst in the back of his left knee and calf, according to the Eagles.
Ingram underwent a procedure at the Rothman Institute today to drain that cyst.
Jonathan Tannenwald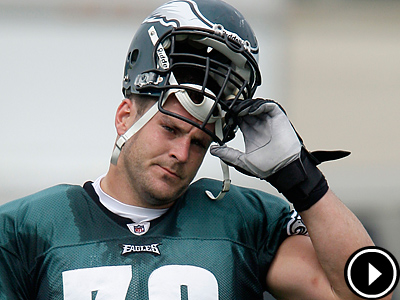 Todd Herremans and Mike Bell will be making their first appearances of the 2010 season on Friday night as the Eagles take on the Chiefs. In this video, Les Bowen of the Daily News talks about what we can expect from the starters in the first three quarters.