Archive: July, 2012
Les Bowen, Daily News Staff Writer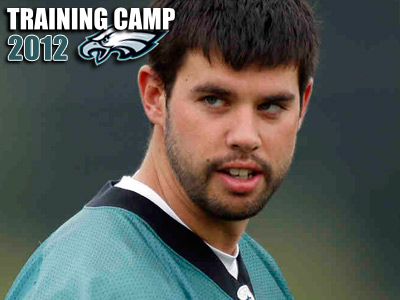 BETHLEHEM -- When a team brings in a really good player to try to take a job away from an incumbent, very rarely does the guy who was doing the job say, "Oh my gosh, this is horrible! How could they do this to little old me?"
It would make for better stories and more drama if they did that, but everybody knows this is just not how you react. It miust be on an early page of some secret manual they hand out at rookie orientation -- a reporter asks what it's like to get a strong hint your days are numbered, your response is to laud the benefits of competition for everyone involved.
So, Eagles punter Chas Henry was ready when your Eagletarian waylaid him yesterday to ask about the addition of Mat McBriar, the two-time Pro Bowl former Dallas Cowboy.
Philly.com Sports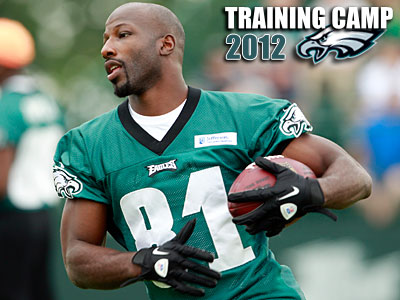 Join the Daily News' Les Bowen as he takes your Eagles questions in a live chat, starting Friday at noon.
On a mobile device? Click HERE to join the chat!
Les Bowen, Daily News Staff Writer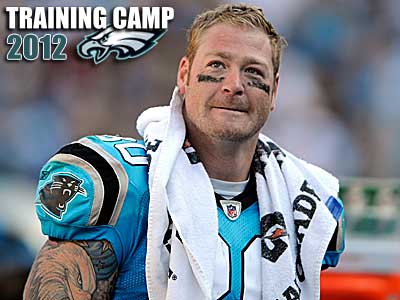 BETHLEHEM --- Brent Celek left practice early Thursday with what the Eagles described as a "mild" right knee sprain. Celek later walked briskly to the parking lot, waving off reporters' concerns with "I'll be good. I promise." He was wearing a wrapping on his right leg.
Just a day earlier, the Eagles seemed to be done with their tight end flirtation. Visanthe Shiancoe had signed with the Patriots, and the Eagles hadn't opted to bring in Jeremy Shockey for a physical, after reports said they might. Does this change anything? There's no reason to think Celek will miss any game time, but even if he misses a week or two of Lehigh workouts, that's a lot of reps for the backup group led by Clay Harbor, Brett Brackett and Chase Ford. At the very least, these guys will get a better basis for evaluation. If they don't look so hot, THEN we could see Shockey or somebody.
A source close to the situation said Thursday there is "mutual" interest between Shockey and the Eagles, but nothing is close to happening now.
Philly.com Staff
Video: Les Bowen of the Daily News reports from Lehigh on Wednesday as the Eagles' veteran players report for training camp and the rookies finish up their final day of practice before full-squad workouts begin.
Les Bowen, Daily News Staff Writer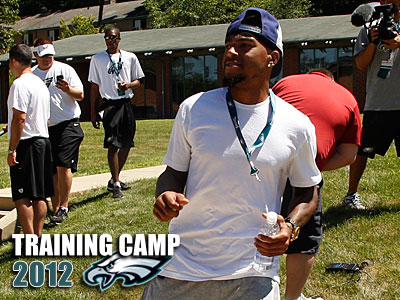 BETHLEHEM -- One big difference between veteran reporting day last year and this year, at Eagles training camp: DeSean Jackson not only showed up on time, he was smiling and optimistic.
"The jitters are kind of coming back. I'm ready to get out there on the field," Jackson said as he checked into his fifth Lehigh camp, with a new five-year, $47 million deal, signed in March. "This offseason has been great for myself and for the team."
Jackson showed up late for camp last year, as part of an ongoing contract dispute that he has acknowledged affected his play most of the season. Wide receivers coach David Culley underscored that point vividly Monday, acknowledging that Jackson was reluctant to go over the middle and risk another concussion wihile still playing under his rookie deal in 2011.
Les Bowen, Daily News Staff Writer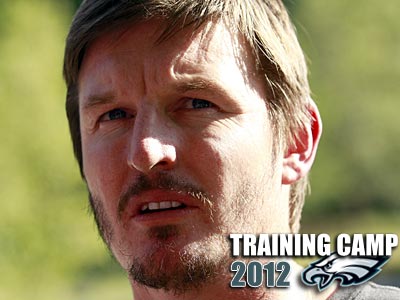 BETHLEHEM -- Two days after holding a four-punter workout, the Eagles announced they have signed Mat McBriar to a one-year contract.
McBriar, 33, is a two-time Pro Bowl selection for the Cowboys, most recently in 2010. He was bothered last season by a nerve problem with his left, plant foot, and was released. The Cowboys worked McBriar out Tuesday, but according to ESPN.com, the Eagles offered him a better deal.
He is the Cowboys' all-time leader in gross (45.3) yards and net (38.1). He had surgery in the offseason to remove a left leg cyst that was pressing on a nerve, causing a "drop foot" condition.
Paul Domowitch, Daily News NFL Columnist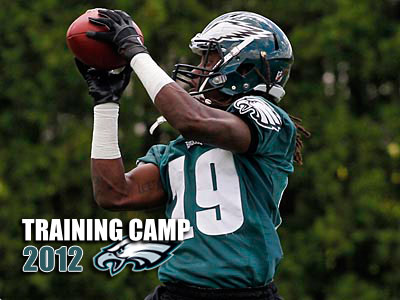 BETHLEHEM -- The Eagles are hoping to phase DeSean Jackson out of the punt return business. While they aren't ready to say he won't be returning any punts this season, they are hoping to find somebody that can handle most – if not all – of the punt return duties.
"DeSean will return some, but we'll primarily focus him on offense, and hopefully find a guy that can do what he can do," special teams coach Bobby April said Tuesday morning.
"We want to use (Jackson) offensively as a weapon. There's some wear and tear on a guy his size. (The risk of) injury. Just the amount of running he does. Most of his routes, he's not running the three-step hitch. He's stretching the field. We've got a lot invested in keeping his legs replenished."
Les Bowen, Daily News Staff Writer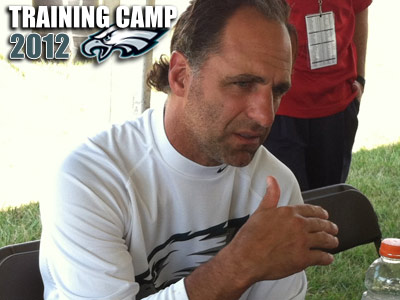 BETHLEHEM -- Mike Zordich is among the all-time Penn State football greats, coached by Jerry Sandusky and Joe Paterno. His son, also named Michael, is a current Penn State senior fullback, reeling under the unprecedented sanctions handed down by the NCAA in the wake of the Sandusky child sexual assault scandal.
Tuesday was the long-scheduled day for Eagles defensive position coaches to talk to reporters. This wasn't much fun for Zordich, 48, a consensus All-America for the Nittany Lions in 1985 who now coaches Eagles safeties.
When the Zordiches talk, it's Mike telling Michael "he has to have the ability to stay strong" Mike Zordich said. "That's all we can talk about. I don't want to get any more involved [in discussing the subject] than that. It hasn't been easy, brother."