Archive: July, 2011
Les Bowen, Daily News Staff Writer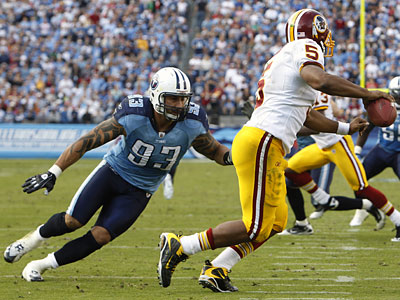 The Eagles say they can't confirm any free agent moves until tomorrow at 6 p.m., but multiple reports indicate they have signed defensive end Jason Babin to a five-year deal.
Babin, 31, was an Eagle for the 2009 season, as he transitioned from 3-4 linebacker to 4-3 d-end, but was not brought back. He went to Tennessee, where he flourished under defensive line coach Jim Washburn, now with the Eagles. Babin made the Pro Bowl, notching 12.5 sacks.
The Nashville Tennessean reports that the Eagles are giving Babin $28 million over five years, with $5 million to $6 million guaranteed.
Les Bowen and Daily News staff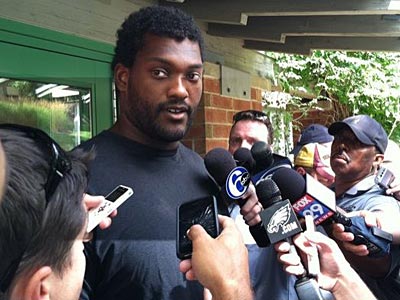 The Eagles' most precious commodity is quarterback Michael Vick and figuring out a way to protect him will be the job of new offensive line coach Howard Mudd.
Eagles coach Andy Reid was asked today what the alignment would be for the middle of his offensive line.
He proclaimed Jamaal Jackson the starter at center, rookie Danny Watkins at right guard when ready and Winston Justice at right tackle, pending the status of his knee, although Reid said King Dunlap would compete for the job.
Les Bowen, Daily News Staff Writer
BETHLEHEM -- Despite Andy Reid's best efforts to steer the questioning to how happy he is to be back at Lehigh, reporters kept pressing the Eagles' coach for information on whether disgruntled wideout DeSean Jackson is planning to show up tomorrow, the reporting deadline for veterans playing on teams that opened camp today.
At one point, Reid grudging admitted he has spoken to all of his players this week, following the end of the 136-day NFL lockout, and yes, DeSean was among those players. Reid refused to divulge anything that was said. That seemed significant. because in the past, when there has been doubt about a player showing, and Reid feels he knosw the player intends to show, Reid has made sure to get that out there.
So one interpretation of the refusal is that we won't see DeSean tomorrow.
Les Bowen, Daily News Staff Writer
A random sampling of news and notes from the early arrivals at Lehigh:
* The Eagles have signed eight draftees, Jaiquawn Jarrett included, but not Danny Watkins.
Joe Panos, Watkins' agent, says "Nothing's imminent, but we're working on it."
Daily News staff
Single-game tickets and standing room only tickets for all Eagles home games will go on sale on Tuesday, August 2 at 10 a.m.
Fans can purchase tickets at that time by visiting PhiladelphiaEagles.com, Ticketmaster.com or by dialing 800-745-3000.
There is a four-ticket limit per person, per order.
Daily News staff
Eagles safety Quintin Mikell will be reunited with Steve Spagnuolo in St. Louis.
Mikell agreed to terms on a 4-year deal, as first reported by ESPN's Adam Schefter.
Spagnuolo, now the head coach in St. Louis, was a linebackers coach for the Eagles early in Mikell's career.
Philly.com Sports
Video: Eagles quarterback Michael Vick indicated that DeSean Jackson may not be in Lehigh Wednesday when training camp opens. The Daily News' Les Bowen reports from the NovaCare Complex.
Daily News staff
While the Eagles players and coaches will begin at Lehigh on Wednesday, the team announced that the first practice open to the public will be Saturday at 8:05 a.m.
Under the provisions of the labor agreement, no practice is allowed on Day 1 of training camp (only physicals, classroom work and meetings). Players cannot wear pads or hit on the second and third days of camp.
The work rules will change the way the teams practice and what fans will see when they go to Lehigh.
Paul Domowitch and Les Bowen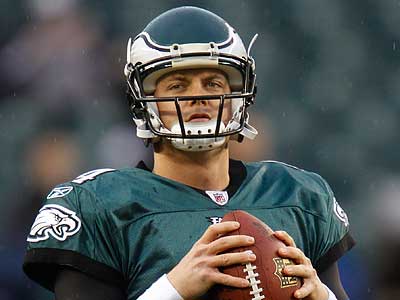 UPDATED: Seattle has agreed to terms with former Minnesota quarterback Tarvaris Jackson, according to Danny O'Neil, of the Seattle Times.
That would take them out of the potential Kevin Kolb sweepstakes, or it could mean that they went to Jackson after learning that a Kolb trade was all but set to Arizona.
EARLIER: If Eagles quarterback Kevin Kolb expected to be traded today, it looks like he's going to be disappointed. A club source told me a little while ago that Kolb will not be traded today. Make of it what you will.
Les Bowen, Daily News Staff Writer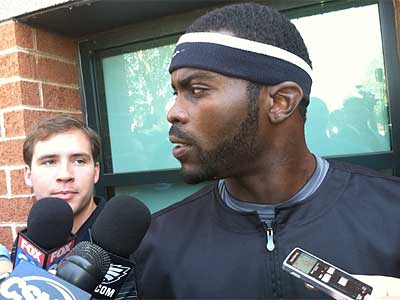 UPDATE: An Eagles source tells Paul Domowitch that neither DeSean Jackson nor agent Drew Rosenhaus has told the Eagles that Jackson will not be at training camp tomorrow.
EARLIER: Amid all the good feeling from the end of the NFL lockout, it didn't take long for the first "uh-oh" to resound through the corridors of the NovaCare Complex today.
Quarterback Michael Vick, while asserting how glad he is to be back and how well-equipped he thinks the Eagles are for a Super Bowl run, acknowledged that he spoke with wideout DeSean Jackson yesterday. Vick indicated that Jackson, who has wanted his contract reworked for more than a year, might not be on hand tomorrow when players report to Lehigh.