Archive: June, 2012
Les Bowen, Daily News Staff Writer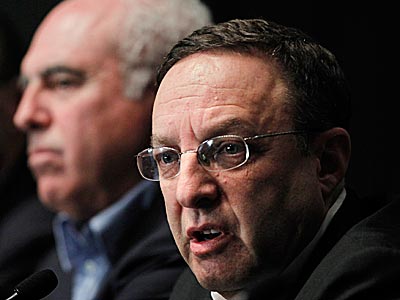 Joe Banner appeared on the WIP Morning Show today, very possibly because the host was not Angelo Cataldi but Howard Eklund, excuse me, Eskin. Banner gave some depth and context to last week's surprising news that he was stepping down as Eagles president.
The headline for me came when Banner was asked by Al Morganti whether if he had it to do over, would he function so much as face of the franchise. Banner acknowledged that "frequently not fairly, I became a lightning rod" -- meaning fans came to perceive him negatively, through media mischaracterizations, in his view. "That's just not a constructive thing ... Once you become the lightning rod, you can't really be very effective," Banner said.
My view, this perception situation absolutely played a role in the events that led to Banner's departure.
Les Bowen, Daily News Staff Writer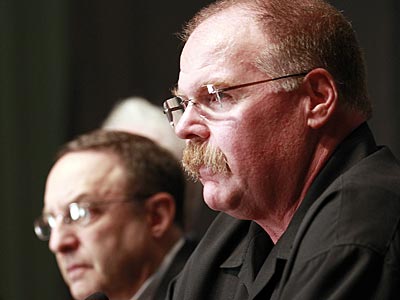 Some final thoughts on the departure of Joe Banner as Eagles president:
As others have noted, the idea that Banner just got tired of running the Eagles is absurd. If there is one thing I've been sure of over the 10 years that I've covered this team, beyond the certainty that every Monday morning news conference was going to begin with the listing of injuries, it's that Joe Banner lived to carry the Lombardi Trophy down to the WIP studios and invite Angelo Cataldi to kiss it. And maybe kiss something else, as well.
(His Super Bowl ring, of course. What did you think I meant? Geez.)
Paul Domowitch, Daily News NFL Columnist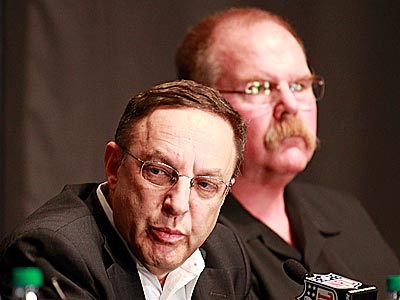 The Eagles will hold a news conference this afternoon to talk about Joe Banner losing his key to the executive bathroom at One NovaCare Way.
Banner will be there. Owner Jeff Lurie will be there. General manager Howie Roseman will be there. And head coach/executive vice-president of football operations Andy Reid will be there.
The one thing you can most assuredly count on all of them telling us in no uncertain terms is that that Banner's decision to step down as club president has absolutely, positively nothing to do with him losing a power struggle to Reid this offseason.
Les Bowen, Daily News Staff Writer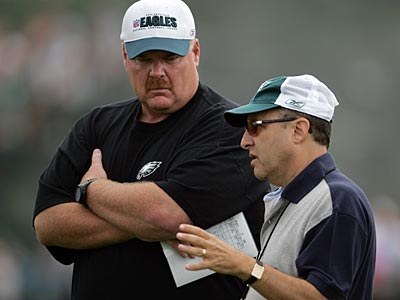 If the news of Joe Banner stepping down as Eagles team president had broken a year ago, I would be on the floor receiving CPR right now, unable to type this.
For a long time I thought of Joe as Jeffrey Lurie's surrogate, his summer camp buddy from childhood whose business and sports savvy made it possible for Lurie to own and operate a pro team. Lurie hasn't been a constantly vocal presence during the decade I've covered the team. Usually, when he did speak, it seemed to me Jeffrey's perceptions were filtered through Joe, that in essence, Joe was Jeffrey, on a day-to-day basis.
But remember that searing, anguished postmortem Lurie delivered on the 2011 season, the one in which it seemed like Lurie was building a case for firing Andy Reid, before he pulled back? That was not the sort of address Banner would have delivered. Joe has always conceded very little to critics. He is the guy who pointed out last offseason that even though the Steelers had won a bunch of Super Bowls, at that point the Eagles actually had more consistently made the playoffs over the previous decade.
Les Bowen, Daily News Staff Writer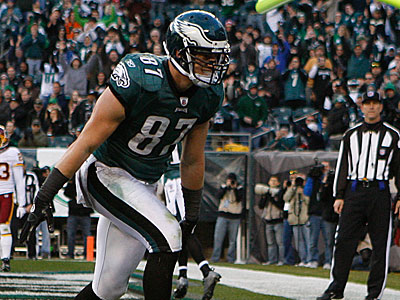 The subject was Brent Celek, and the double sports hernia surgery plus hip surgery the Eagles' starting tight end underwent at the end of the 2011 season. Clay Harbor, Celek's backup, was amazed.
"That's bigtime," Harbor said during Eagles OTAs this week. "My rookie season [2010] I played with one sports hernia. I was struggling ... it was hard. I remember Brent coming off [the field] midway through the season saying, 'I really gotta get this checked out. It's really starting to hurt.' We found out he had a [double] sports hernia, and had been playing with it all season. That's really incredible. As well as he was playing? As high a level as he was playing on, blocking, running, he was in a lot of pain ... it's tough to run when you have that injury, to break down, and he was doing such a good job with that, it really speaks to his character, and how hard he works.
"He loves to play the game ... he'll do what he can to be on the field," Harbor said. "He was definitely pushing through it. But if you watch on film, he was playing at such a high level, people had no idea until the end of the season."
Les Bowen, Daily News Staff Writer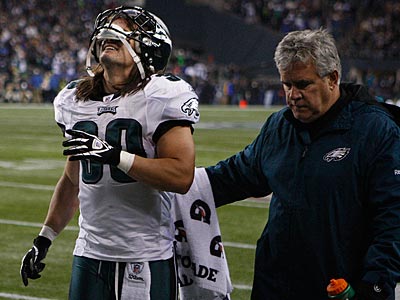 Colt Anderson isn't part of the Eagles' OTAs. Anderson is running and cutting on his own most days, usually just yards away from the main workout, virtually unnoticed.
Bobby April notices him, though. The Birds' special teams coordinator knows Anderson, nominally a safety, was the main reason the Eagles ranked third in punt return yardage surrendered and 13th in kickoff return yardage surrendered last season. Anderson was voted team special teams MVP by his teammates, after he finished second in special teams production points and tackles despite missing the final four games after tearing his left ACL Dec. 1 at Seattle.
The 2012 season will start just nine months after Anderson's surgery. Anderson recently said he was hitting all the targets so far in his recovery, though he didn't project a date when he would be 100 percent.
Les Bowen, Daily News Staff Writer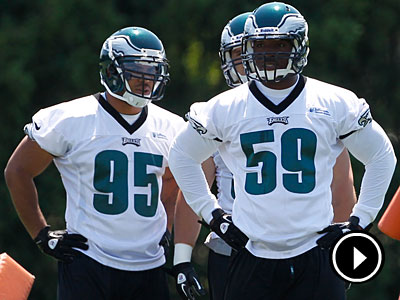 Video: As the last week of Eagles OTAs starts, Brian Rolle is positive about the changes to the team's linebacker unit. Les Bowen of the Daily News reports from Monday's practice.
Les Bowen, Daily News Staff Writer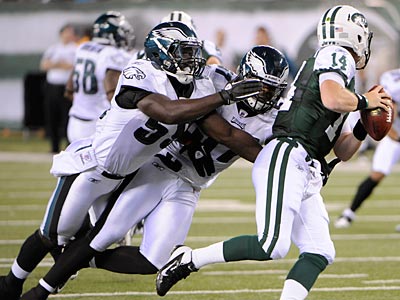 Brian Rolle is the only returning starter among the Eagles' linebackers. Hard to say what that means, exactly -- maybe Rolle was such a pleasant surprise as an undersized, sixth-round rookie that he was given a reprieve when the linebacking unit was reworked in the offseason. Or, maybe you can only change so much, and the Eaglers figured that with DeMeco Ryans in the middle and Mychal Kendricks on the strongside, they could get away with keeping Rolle at WIL. And Jamar Chaney, the former SAM and MIKE starter, plans to challenge Rolle for Rolle's spot, something Chaney can't really do until the team puts the pads on at Lehigh.
"Nobody ever gets better with a job given to 'em or nobody pushing 'em," Rolle said Monday, as the Eagles continued a seemingly endless series of OTAs at NovaCare. "I'm looking forward to it, the rest of OTAs and camp. We're going to battle it out, and may the best man win."
Rolle likes lining up with Ryans and Kendricks.