Archive: June, 2010
Daily News Staff
Eagles wide receiver DeSean Jackson was among a group of athletes who took part in a relay race on Friday in Los Angeles that was taped for the ABC reality show, "Shaq Vs," according to his and O'Neal's Twitter feeds.
Jackson was joined by Dwight Howard, Chris Johnson, Tyson Gay, Maureece Greene, and of course, Shaquille O'Neal.
Producers are trying to keep the results a secret before the show's second season airs in August.
Les Bowen, Daily News Staff Writer
The Eagles have a little more roster massaging than usual to do this year, with a whopping 13 drafted rookies; the draftees don't count toward the roster limit until they sign, so the team was able to bring in way more players for OTAs than it will welcome at Lehigh July 26. Today, with three draftees left to sign, the team announced it has released rookie free agent corner Devin Ross, from Arizona. A team source said one more player will have to be released for the Birds to sign all the remaining draftees -- fifth-round wideout Riley Cooper, second-round corner Nate Allen, and first-round defensive end Brandon Graham.
Cooper ought to get done pretty quickly. Second- and first-round signings tend to be tougher, with more money involved and agents wanting to see what the players drafted near their clients are getting before they commit.
Last year, first-round pick Jeremy Maclin missed a week of training camp, more or less because his agent didn't want to do a deal until some comparable deals got done, regardless of what the Eagles offered.
Daily News staff
The signings keep coming.
The Eagles announced they have signed defensive end Daniel Te'o-Nesheim to a four-year contract. Te'o-Nesheim was the team's third-round draft choice from Washington.
That leaves the Eagles with 10 of their 13 draft choices signed with nearly 6 weeks until training camp.
Daily News staff
The Minnesota Vikings signed former Eagles running back Ryan Moats on Tuesday. Moats was released by the Houston Texans recently.
The most interesting part of that sentence is "former Eagles." As Michael Rand, of the Minneapolis Star-Tribune, points out, Moats is the seventh member of the 2005 Eagles to sign with the Vikings at one point or another since Brad Childress began the team's head coach. Childress' final year with the Eagles as offensive coordinator was 2005.
The list: Moats, Greg Lewis, Koy Detmer, Billy McMullen, Mike McMahon, Lito Sheppard and Artis Hicks.
Jonathan Tannenwald
Daily News Eagles beat writer Les Bowen takes your questions about the Birds in today's Hot Button live chat at 11 a.m.
Les Bowen, Daily News Staff Writer
With so much roster transition, this Eagles training camp is going to be even more crucial than usual; Birds coach Andy Reid told reporters last week when OTAs ended that he'd told players to be prepared for a tough camp, one in which the team will be cloistered at Lehigh about a week longer than usual, before returning to NovaCare.
One reflection of how management views the importance of this camp is that today's signings of quarterback Mike Kafka and tight end Clay Harbor give the team nine signed draft picks out of its large draft class of 13, the most drafted rookies the Eagles have had during the era of the seven-round draft.
Kafka, from Northwestern, and Harbor, from Missouri State, acquitted themselves well during the OTAs. Both were fourth-round selections.
Les Bowen, Daily News Staff Writer
There were current Redskins, ex-Eagles and current Eagles wearing Donovan McNabb clinic T-shirts on the sun-soaked Evesham Township field Saturday afternoon, as the Eagles' deposed franchise quarterback held his annual youth football clinic, aimed at raising diabetes awareness and raising money for the McNabb neo-natal unit at nearby Virtua Hospital.
The host of the event was in a mellow mood, in his return to the area where he starred for 11 seasons, before being traded to Washington a little more than two months ago. There were a few instances where sharp feelings seemed to lurk below the surface, most notably when McNabb was asked a question about what last season was like, if he'd felt he was being phasaed out in a locker room of young offensive stars.
"When you're an older guy, it not only happens with me, it happens to Peyton (Manning) it happens to Tom (Brady). Everybody talks about you," McNabb said. "You win, everybody talks about you. You lose, everybody talks about you. Some young guys always want to get the credit, until they get in the shoes where they're the ones getting the criticism, then all of a sudden, people don't like to be criticized. I can handle that. Some people can't. Until they get hit with that type of buzz, then they really realize the shoes that I was in. From afar, everybody wants to be who you are. But the fun thing about it is, that's part of the game. That's something that I've taken on, and I know the role, and I love it. I loved it here, and I'm going to love it again in Washington."
Daily News staff
Linebacker Keenan Clayton, a fourth-round draft choice this year, signed a 4-year contract with the Eagles today, the team announced.
Clayton played in 54 career games at Oklahoma (28 starts – 26 at linebacker and two at strong safety as a freshman), and had 185 tackles, 17 tackles for loss, eight forced fumbles and six sacks.
The Eagles placed defensive back Marlin Jackson (Achilles') on the injured reserve list and have released quarterback Joey Elliott, running back Keithon Flemming, wide receiver Pat Simonds and fullback Chris Zardas.
Les Bowen, Daily News Staff Writer
Eagles coach Andy Reid said today that he has spoken with wideout DeSean Jackson, and is confident Jackson will report on time for training camp, July 29 at Lehigh. Rookies are scheduled to report July 26.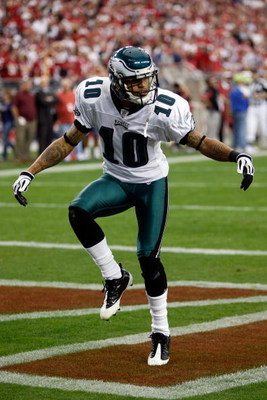 Reid, speaking at the conclusion of OTAs -- "46 days and 12 hours" before the opening of camp, as he put it, said he spoke to Jackson about Jackson's absence from the final week of these workouts. "It was personal reasons, he and Asante" Samuel, the veteran cornerback who also missed the final week, Reid said.
As he has done in the past, Reid emphasized that while he wants players to take every opportunity to get better, "it is a voluntary camp," and he feels it's important for players with personal business to "get whatever settled they need to get settled."