Archive: June, 2009
Les Bowen, Daily News Staff Writer
Eagles assistant secondary coach Otis Smith is no longer with the team, an Eagles spokesman confirmed Wednesday.
No further information was offered. Smith, a 13-year NFL cornerback who played for the Birds early in his career, joined the coaching staff as an intern in 2007 and was promoted in 2008. He worked under secondary coach Sean McDermott, who currently is running the defense while coordinator Jim Johnson takes a leave of absence during his cancer treatment.
The Eagles recently brought in former Cowboys defensive coordinator Brian Stewart to assist McDermott, mainly with the secondary. It's unclear whether that move had anything to do with Smith's departure. Smith worked all of the OTAs, or minicamps, this spring.
Paul Domowitch, Daily News NFL Columnist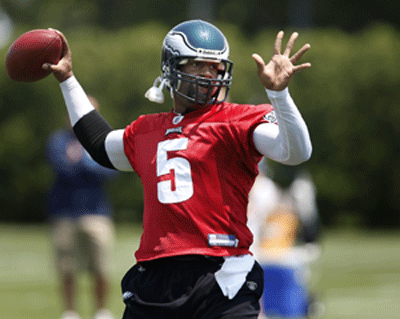 While Donovan McNabb likely will remain the Eagles' starting quarterback for the next 2 seasons, I've got to disagree with those who think his recently-reworked contract makes that a given.
With or without his restructured deal, McNabb was going to be the team's No. 1 quarterback this season. But his future with the Eagles beyond 2009 still will be determined by how he and the team do this season. His reworked deal doesn't change that.
Let me explain. Under the previous terms of McNabb's contract, the quarterback was scheduled to receive non-guaranteed base salaries of $9.2 million this year and $10 million in 2010.
Ed Barkowitz
The first Saturday in May has always belonged to horse racing. Next year, though, the ponies might have to share the spotlight.
Though actual dates are not firm, the 2010 NFL draft is scheduled for early May. If the league maintains its traditional time frame of conducting the draft 12 weeks after the Super Bowl, the draft would be held May 1-2. The Kentucky Derby, the first jewel in racing's Triple Crown, is Saturday, May 1.
"It's a function of the way the calendar falls," pointed out Greg Aiello, the NFL's senior vice president of public relations. "The Super Bowl is late this year . . . February 7, 2010.
Daily News staff
Asked where his team's mindset is today as the New York Giants began minicamp, coach Tom Coughlin lauded the effort and then said, "I think there is a sense of we want to be better, we are not happy with the way it ended last year."
The way it ended, of course, was a 23-11 home loss to the Eagles in the NFC Divisional Playoff. The Birds went to Arizona for the NFC Championship Game and the Giants went home.
Running back Brandon Jacobs took the mood one step further: "We have a very bitter, bad, disgusting taste. It hurts more than anything," Jacbos said. "We know how good we were last year and the opportunity we had in front of us. We did not take advantage of it the way we were supposed to. We have another crack at it and I think we are going to have the same kind of season. I think we are going to go a little bit further."
Les Bowen, Daily News Staff Writer
One man's insult is another man's extra cash.
That's what I take from the fact that when details of Donovan McNabb's reworked contract emerged, it turned out that part of the pact is a $500,000 per year bonus to be paid in $31,250 increments each week of the regular season that McNabb is on the 45-man active roster. If he's inactive that week -- in other words, injured -- he doesn't get that week's $31,250.
When I heard about that clause, I flashed back a few months to Brian Dawkins' messy, confusing departure from Philadelphia. It's indisputable that Dawk got more money and more guaranteed money from the Broncos than he would have gotten by taking the Eagles' offer. The difference seems to be about $2 million over two years, total, but the disparity in the guarantees isn't known and might be more significant. A big difference is that the Eagles' offer was presented as essentially, two one-year contracts, instead of a multiyear deal.
Daily News staff
Peter King in his Monday Morning Quarterback at SI.com takes a look at the Donovan McNabb contract and has some added details from Eagles president Joe Banner. King titled the item the "The McNabb deal makes sense, there is nothing sinister about it."
Banner insists that McNabb never demanded a new deal and that discussions with the quarterback and agent Fletcher Smith were always cordial.
"It was never even remotely threatening with Donovan and [agent] Fletcher Smith," Banner said. "It was literally quite cordial. At the end of the conversation we had with them after the season, they said, 'Would you be interested in looking at the contract?' And we said yes.''
Daily News staff
The Eagles have finished up their offseason OTAs and will not reconvene until the July 26 start of training camp at Lehigh.
The roster stands at 80 players and the Eagles will have some decisions to make come cutdown time, although they also will have information from training camp and preseason games to make those calls.
NFL teams needs to be at 75 players by Sept. 1 and then down to 53 by Sept. 5. The Eagles open Sept. 13 against Carolina.
Les Bowen, Daily News Staff Writer
Reports that the Eagles needed to give more money to Donovan McNabb to reach the salary-cap floor - the lowest amount teams are allowed to spend - are inaccurate.
Before the McNabb restructuring, the Eagles apparently were around $4 million under the cap, well above the floor.
They had about $24 million in cap room, as a result of carrying forward likely-to-be-earned incentives from 2008 that were not earned.
Les Bowen, Daily News Staff Writer
It's pretty clear that to Donovan McNabb, the reworking of the final two years of his contract, netting him about $5.3 million in extra cash, according to a source close to the situation, and a guarantee for 2010, is about security. If healthy, McNabb now will be the Birds' starting quarterback the next two seasons.
But what is the benefit to the Eagles? Well, it's pretty simple -- the key piece in what they hope will be the Super Bowl-winning puzzle is no longer going to be sending out any signals of disaffection or aloofness. They have made their franchise quarterback feel much more secure than he felt a little less than seven months ago, when McNabb was benched for the second half of a terrible loss in Baltimore.
Eagles chairman Jeffrey Lurie took a break yesterday from his NFL softball tournament on a NovaCare practice field -- Lurie had just doubled down the leftfield line against the Steelers, eventually scoring on a sacrifice fly -- to explain the team's motivation. He alluded to "a sense of fairness" in addressing a contract signed back in 2002.
Daily News staff
The Eagles and Donovan McNabb opted against a contract extension, but the restructured terms for the final two years of his current deal call for a raise of $5.3 million, noted friend of Camp McNabb, ESPN.com's Michael Smith reported. McNabb can also earn another $1 million in incentives.
The restructuring was announced late last night, as reported in today's Daily News and here on Eagletarian last night. McNabb and coach Andy Reid are scheduled to address the media at 10 a.m. today.
McNabb was scheduled to make about $9.2 million this season, $10 million next season, under terms of a deal signed in 2002, but that money was not guaranteed. According to reports, the new deal calls for a major portion of his 2010 base salary to be guaranteed.