Archive: June, 2008
Josh Barnett and Les Bowen
And on the day after the end of the last workouts before training camp, as expected, the Eagles made a flurry of roster moves.
Here is the rundown:
* The Birds signed defensive tackle Kimo von Oelhoffen to a 1-year deal. A 15-year veteran, he played in eight
games last season for the Eagles with four tackles. He has also played for Cincinnati, Pittsburgh (where he was a member of the 2005 Super Bowl champions), and the New York Jets. It wasn't a big shock to see von Oelfhoffen return; was was noted here last month, the Eagles kept his locker stall intact this spring, complete with nametag, though with 88 players on hand, some were sharing lockers or working out of temporary units set up in the middle of the floor. At 37, Kimo probably didn't need to come to minicamp. Brian Dawkins is very happy, because he is no longer the oldest Eagle.
Josh Barnett
Andy Reid addressed the media on Thursday at the end of the Eagles' organized team activities and hit on a number of topics in his last meeting with reporters before training camp.
Les hit on a number of those issues today and Rich writes about how Reid wants his team in better shape come training camp and still does not think there is a link between the way he runs camp and the team's slow starts.
Here are some other highlights from the transcript of Reid's news conference:
Les Bowen, Daily News Staff Writer
The Eagles left the practice field Thursday afternoon for the last time until rookies and select vets report to Lehigh, July 21. As Eagles coach Andy Reid was careful to point out, there are very few conclusions to be drawn from a couple weeks of running around in short pants, with no contact. These sessions are mainly to acclimate newcomers to the offense and the defense.
Obviously, though, some decisions are made -- the Dan Klecko fullback experiment was quickly abandoned, leaving Klecko a longshot to make the team as a 5-11, 275-pound defensive tackle (who really looks a little shorter and lighter than that). Winston Justice got a look at right guard, and Reid indicated there will be coaching staff discussions about whether to give him some reps there in camp. Kevin Kolb, given exra reps at quarterback because of Donovan McNabb's shoulder tendinitis, ran the first team well enough to reinforce the decison to make him the No. 2 QB going into camp..
And even though Reid wouldn't give any specific hints yesterday, even more has been decided. Because teams no longer get six NFL Europe roster exemptions for training camp, the Birds' roster is going to have to go from 88 to 80 by Lehigh; the team has eight draftees to sign and no roster space, right now. All indications are that those decisions will be made sooner rather than later, so the draftees signings can continue. Don't be surprised if the Eagles trim eight players by the weekend.
Les Bowen, Daily News Staff Writer
Shouldergate really isn't an insidious coverup of some serious Donovan McNabb injury, Andy Reid told your
Eagletarian today, at the end of an interview focused on a future project.
Reid said he shut down McNabb for the final day of last month's first minicamp just to be super-cautious, that McNabb was experiencing only "a little tightness," and no pain. Reid said he thought everything would be fine, but when McNabb experienced soreness at the camp that started last week, he got the QB checked out.
Reid said MRI results were negative for a problem, which was why Reid emphasized that no surgery was in the offing when he spoke briefly with reporters on Tuesday, announcing McNabb wouldn't throw again this week because of "slight tendinitis."
Les Bowen, Daily News Staff Writer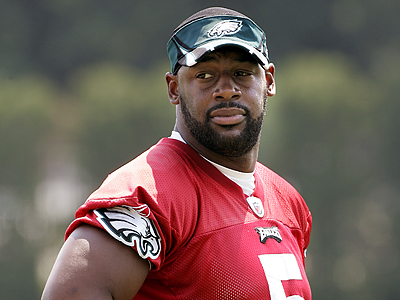 Donovan McNabb's much-discussed throwing shoulder will be rested for the remainder of this minicamp, which ends on Thursday.
Coach Andy Reid said McNabb has "slight tendinitis in his shoulder."
He said the injury is "very similar" to what McNabb had in 2004, the Eagles' Super Bowl season. He played in 15 games that season, sitting out only the regular-season finale because the Eagles had locked up homefield in the NFC.
Josh Barnett
You look at the stats from last year and they tell you that Brian Westbrook had 278 carries in 15 games. That represents 57.8 percent of the Eagles' total carries as a team and 79.4 percent of the carries by Eagles running backs.
Take out the game Westbrook did not play against the Giants and you find that when Westbrook was available, he had 60.7 percent of the total carries and 84 percent of the carries by Eagles running backs.
His team-high 90 receptions represented 25.7 percent of the Eagles' total receptions and 87.3 of the receptions by Eagles running backs.
Josh Barnett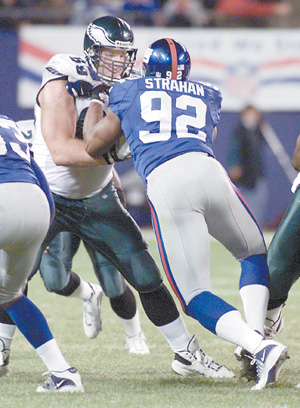 If you are an Eagles fan and think of Michael Strahan, your first thought is of Jon Runyan.
So when word got out this morning that Strahan had decied to retire, reporters found Runyan following the Eagles' organized team activities.
As usual, Runyan, always a straight shooter, did not disappoint.
Les Bowen, Daily News Staff Writer
Hard to remember a NovaCare workout as hot as it's supposed to be today in South Philly. Maybe Butch Buchanico, Eagles security czar and ex-Philly cop, can get the city to open up a couple fire hydrants near the practice
fields. Not for the players -- they have people running back and forth to bring them water -- for the reporters. I'm wearing my bathing suit, just in case. Here's what it looks like:
In other news, CBS Sportsline's always astute Clark Judge analyzes the trade market for four NFL stars, including the Birds' Lito Sheppard, quoting four NFL general managers on each player. The views vary widely. Reccuring themes RE Lito, though, seem to be injuries, the fact that he isn't a physical, Cover 2-type corner, and his desire for a new contract. That last reason, of course, is really the only reason the Eagles have looked at trading him. Judge's analysis underscores Joe Banner's statement last week to the Daily News -- that Lito will be with the Eagles this season. That sure seems like the wisest course, if Lito can live with it.
Also, Celtics fan Jeffrey Lurie mentioned last week he was going to Boston for Game 2 of the NBA Finals on Sunday. Didn't mention he was taking Donovan McNabb, Brian Dawkins, and Brian Westbrook. This is the kind of schmooze-bonding Eagles management could do more of, frankly. Much obliged to The700level.com for pointing out this link to us.