Archive: May, 2012
Les Bowen, Daily News Staff Writer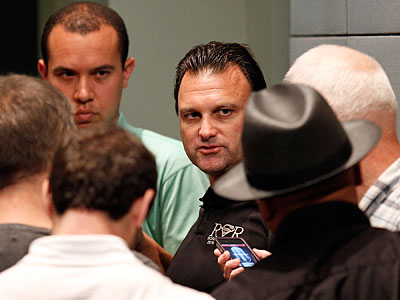 After the LeSean McCoy news conference ended Thursday night at NovaCare, reporters broke into groups. One group clustered around agent Drew Rosenhaus, another around Eagles general manager Howie Roseman. Some TV reporters waited to do one-on-one interviews with McCoy about his new, five-year, $45 million deal.
As Rosenhaus was about to say something, he was interrupted by a voice bellowing from one of the other groups: "NEXT QUESTION!" Rosenhaus chuckled, as he has, oh, roughly a zillion times since that day late in 2005 when the agent stood on Terrell Owens' scraggly Moorestown yard and made himself the focal point of a region's collective anger and disappointment.
These are different days. Rosenhaus, who represents seven current Eagles, has worked out big-money long-term deals this offseason for three of those clients. Not only did the Eagles sign DeSean Jackson (5 years, $51 million), Evan Mathis (five years, $25.5 million) and McCoy, they did so with no bruised feelings, no public sparring, no anonymously-sourced intimations that one side or the other was being unreasonable.
Les Bowen, Daily News Staff Writer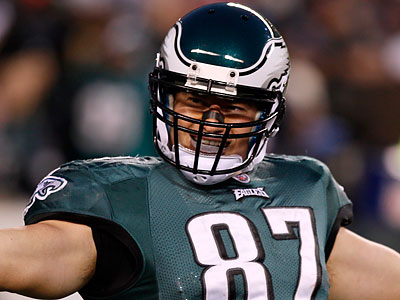 Brent Celek was at Temple University Hospital Thursday, unveiling the latest initiative of his Take Flight Foundation, a Take Flight Zone at Temple Pediatric Care. This is a bigger version of what Celek did last year at St. Christopher's Hospital for Children -- lots of video gaming stuff for children who are hospitalized or who are just waiting to see a physician.
Celek posed for photos and signed autographs for dozens of North Philly kids, then had a moment to speak with your Eagletarian about his offseason, which included January surgeries on his hip, and for a double hernia.
Celek, 27, said he feels "better than I have probably in the last three of four years."
Daily News staff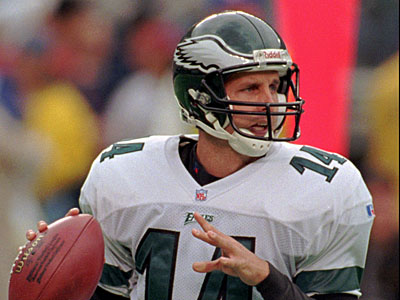 Three former Eagles players and a former Eagles rival were among the 14 players and three coaches selected to the College Football Hall of Fame Football Bowl Subdivision Class.
Heisman Trophy winning quarterback Ty Detmer bounced among the Eagles and five other NFL teams during his professional career. His college numbers at BYU, however, are remarkable.
Along with the Heisman, he won the Maxwell Award, two Davey O'Brien trophies and set 59 NCAA records. His 15,031 career passing yards and 121 touchdowns were NCAA bests at the time, and he still holds nine NCAA records.
Les Bowen, Daily News Staff Writer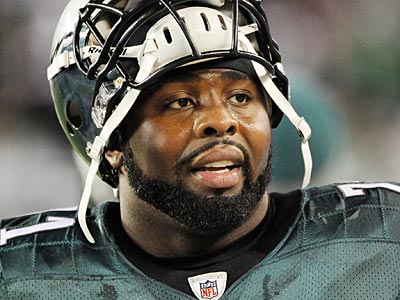 It was alarming to learn that Eagles offensive tackle Jason Peters had suffered an Achilles' tendon reinjury and had to undergo a second surgery recently, but most people around the team never thought Peters was going to make it back to play effectively this year, anyway. The big question the second surgery raises is whether Peters will recover completely, say, by next year, or ever, given the seriousness of an Achilles' tear.
Will this change the outlook?
"Not necessarily," said Dr. Steven Cohen of Philadelphia's Rothman Institute. Cohen is an orthopaedic surgeon who works in sports medicine. "It depends on where the tear is. Whether it's retorn from the same area, whether it's in a different area. It can retear in the same area...or it can retear in an area that's weaker, slightly above or below the (repaired) area of the tendon... If it was in a different area, then it's similar to just a primary repair, and he's just now a few months behind where he was because of a new injury."
Les Bowen, Daily News Staff Writer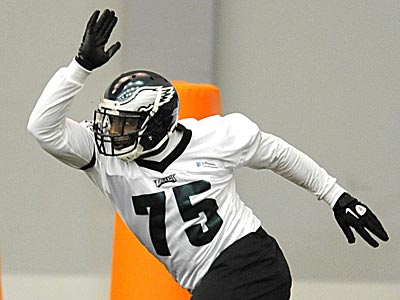 The Eagles wrapped up three days of rookie camp Monday with an indoor workout under drizzy skies at NovaCare.
The major casualty was defensive tackle Maurice Fountain, the oldest participant, who turns 30 in September. Fountain, a member of the Eagles' practice squad last season, tore his right patellar tendon in the final minutes of Sunday afternoon's workout, Eagles coach Andy Reid confirmed.
Reid said Fountain was making a good showing before suffering the injury, which almost certainly ended his 2012 season. It might be a career-ender as well, but Reid tried to bolster Fountain's spirits by calling him "a young 29" because he hasn't been worn down by playing in the NFL. Fountain has played in the Arena League, the UFL and the CFL since going undrafted out of Clemson in 2005.
Les Bowen, Daily News Staff Writer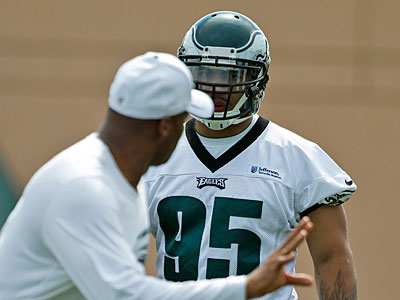 In the Eagles' 1976 media guide, among the free agents vying for jobs, listed along with Vince Papale and Johnnie Walton, there's a running back from UCLA named Marv Kendricks.
Thirty-six years later, the current rookie camp features Marv's son, second-round linebacker Mychal Kendricks. Unlike his father, a veteran of the CFL and WFL who eventually got cut by the Eagles that summer, Mychal figures to hang around. In fact, he seems to be the early favorite to start at strongside linebacker.
"He talked about Dick Vermeil all the time. Actually, they still keep in contact," Mychal said after the Sunday morning session of rookie camp at NovaCare. "I think his career ended because of a fractured neck, or something like that. We talk about it, but we don't really get into detail."
Les Bowen, Daily News Staff Writer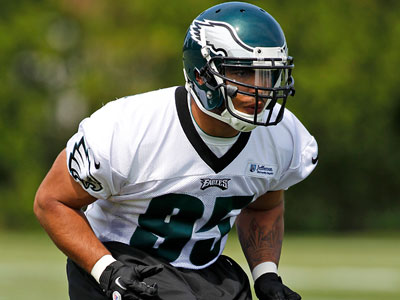 Nick Foles took his first snaps as an Eagle Saturday. Fletcher Cox and Vinny Curry got their first earfuls of Jim Washburn. Mychal Kendricks intercepted a pass, as rookie camp convened.
Kendricks, the Eagles' second-round strongside linebacker from Cal, played in college against Foles, the third-round quarterback from Arizona.
"I sacked him a couple times, but I don't think I picked him," Kendricks said between the two Saturday sessions at NovaCare. Asked what he wanted to get out of the three-day minicamp composed of 44 rookies and first-year players, Kendricks said: "What the coaches want from us, what they expect ... understanding how this whole organization works is going to be a big thing for me."
Les Bowen, Daily News Staff Writer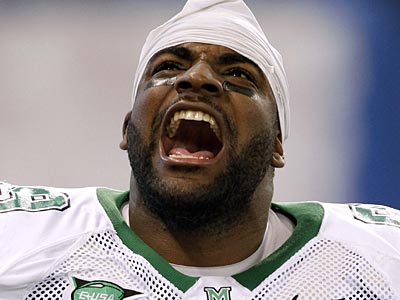 Brandon Boykin didn't have to think very long, when a reporter asked the Eagles' fourth-round rookie cornerback what makes a good return man.
"Confidence," Boykin said. "Bravery...All eyes are on you ... For me, I think it's just not looking back, not hesitating, not second-guessing yourself, whatever you see, go."
That's one of the available roles Boykin would like to show he can fill, as the Eagles welcome 44 players to rookie camp this weekend at NovaCare.