Archive: May, 2011
Daily News staff
Defensive end Trent Cole became the first Eagles player to rank in the NFL Network's countdown of the Top 100 players of 2010, as voted by the players.
The two-time Pro Bowler came in at No. 73, and was not terribly happy about it.
"That's a low number being rated at but I at least made the top 100," he wrote on Twitter. "I'm used to being underrated so I laugh.
Les Bowen, Daily News Staff Writer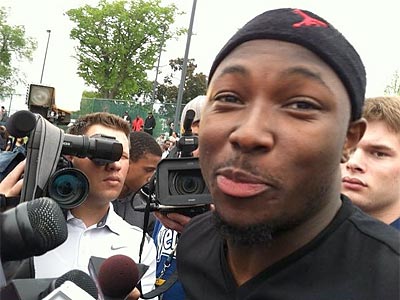 HARRISBURG -- LeSean McCoy welcomed several hundred people from his hometown to his community day at Reservoir Park Saturday.
"Harrisburg, it's small, man, but it's like a big family," the Eagles' star running back said after presiding over a spirited outdoor basketball game. "Everybody knows each other, kind of, because in some way or another, they're related. There's a lot of talent, a lot of support."
McCoy, who held a bowling tournament to benefit Alzheimer's research Friday night, said he has been working out, mainly in Miami, under the direction of a trainer affiliated with his agent, Drew Rosenhaus.
Les Bowen, Daily News Staff Writer
DeSean Jackson, preparing for his charity gala tonight at the Fairmount Park Water Works, said today that he spoke with quarterback Michael Vick last night, and that Jackson doesn't feel not getting together yet to throw with Vick is a big deal.
"We're on the same page," Jackson said. "He's busy doing things he's doing. I'm busy doing things I'm doing. We both know how to work" separately. Jackson has been working out on his own in California, Vick mostly in the Virginia Beach area,
Jackson spoke before Brent Celek's remarks today to Pro Football Talk were publicized, in which Celek said Vick plans to throw to Eagles receivers and running backs next week.
Les Bowen, Daily News Staff Writer
NFL commissioner Roger Goodell and Eagles president Joe Banner participated in a conference call today, in which screened Eagles season ticketholders asked questions, mostly about the lockout, as one would expect. (Although the first guy who got through asked how come he hadn't gotten any special recognition for being a 50-year season ticketholder. Banner said he would look into that. After Banner handled the no-recognition guy, Banner's participation was minimal.)
Goodell, of course, wouldn't specify a drop-dead date for the 2011 season. It's way too early for that sort of talk. He said the criteria for viability would be "a credible season and a credible postseason."
A caller who lamented that the Eagles are being more adversely affected than most teams, because they can't trade Kevin Kolb, was told by Goodell that the commish "can't be concerned about any one team over the other teams."
Les Bowen, Daily News Staff Writer
A week ago, we were getting almost minute-by-minute updates on the federal appeals court in St. Louis, which was expected to rule on whether to extend the temporary stay it granted to the injunction that briefly (and blessedly) lifted the NFL lockout during the draft.
No such ruling has been issued. The clear inference is that the appeals court -- unlike Judge Susan Nelson, who issued the injunction and refused to stay it -- feels the players are not suffering "irreparable harm" from being locked out. It now seems likely nothing significant will happen until June 3, when the St. Louis court hears the NFL's actual appeal.
True, the sides are scheduled for more mediation before that, starting this coming Monday. But until somebody's legal strategy really gets smacked upside the head by the appeals court, there likely won't be significant movement off the positions the sides held on March 11, the day the union decertified and management moved to lock out.
Daily News staff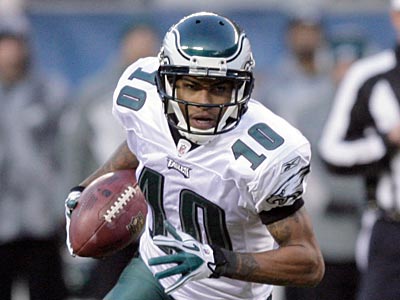 Like most NFL players in this strange offseason, DeSean Jackson is trying to stay in shape and keeping himself busy.
"I'm just trying to keep myself in great shape," Jackson said Sunday during an interview on 97.5 The Phanatic. "I'm working out with my coaches, the coaches who have been training me since I was a little kid. I'm trying to stay active in the community. I can't really sit around until the lockout is over. I need to try to do everything I can to be ready as an athlete when the lockout is over."
Based on his Twitter feed, Jackson has been all over the place, including a stop in Las Vegas for last night's Manny Pacquaio vs. Shane Mosley bout.
Daily News staff
The Kevin Kolb rumor mill continues ...
ESPN's Adam Schefter said earlier this week on a Seattle radio station that Kevin Kolb could be heading to the NFC West, and that "all signs point" to the Arizona Cardinals.
During a mailbag posted today, Schefter expanded on that notion and reported that the Eagles and Cardinals spoke on Day 1 of the NFL Draft before Arizona selected cornerback Patrick Peterson with the fifth overall pick. The league, however, said such conversations were not allowed during the draft.
Paul Domowitch, Daily News NFL Columnist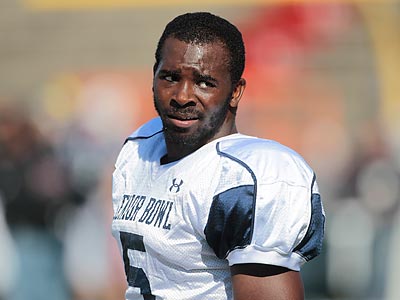 I talked to an NFL personnel man this week and asked him to break down the Eagles' draft. Here are his thoughts on their 11 draft picks;
1 – Danny Watkins, G, Baylor -- ``I really like Watkins. He was our top-rated guard. I didn't know a lot about him before the Senior Bowl. Went back and watched him and he's really a good player. For a guy who's only been playing the game for 4 years, his techniques are excellent. I was amazed at how technically sound he was. With his hands, with his feet, position, all that stuff. He looks like a guy who's been playing football a lot longer than he actually has been. He's a good athlete. I don't know if I'd want him outside (at tackle). But inside I really like him. It was a real solid pick. High character guy. We had him as the 30th (best) player on our board. I think it was a good safe pick. He's going to be a good player. His age is a little bit of a negative, but he'll play 10 years. Then he'll go back and be a firefighter.''
The scout had no problem with the Eagles taking Watkins ahead of Wisconsin tackle Gabe Carimi. ``We had Watkins rated 30th on our board. Carimi was right there with him at almost the same value. As long as you don't expect this kid to play tackle anytime soon, you're fine. But he can step in immediately and start for you at guard.''
Les Bowen, Daily News Staff Writer
Former Eagles tight end Chad Lewis, fondly recalled for catching a clinching touchdown pass in the NFC title game that sent the Birds to Supoer Bowl XXXIX despite suffering a career-ending foot injury on the play, is embarking on a new challenge.
Lewis is getting together with former Patriots star Tedy Bruschi, former Titans coach Jeff Fisher and four injured U.S. service members to climb Mount Kilamanjaro, in Tanzania, starting May 13. The climb is being held to raise awareness of the Wounded Warrior Project, a nonprofit that aims to honor and empower wounded soldiers.
The NFL trio will prepare for climbing the world's fourth-highest mountain (tallest freestanding, which is certainly the way I prefer my mountains), with practice climbs in Nevada, Colorado and New Hampshire. Two of the service members participating in the climb have lost a leg, one struggles with post-traumatic stress disorder and traumatic brain injury, and the fourth lost an eye.
Daily News staff
Lineman Gene Gossage, a member of the Eagles' 1960 NFL championship team, died Sunday in Old Saybrook, Conn., the team said. He was 76.
Gossage played guard, defensive end and defensive tackle during a 40-game career, all with the Eagles. He was selected in the 28th round of the 1958 draft out of Northwestern, where he was a two-time All-Big Ten selection.
Following his playing career, Gossage became vice president of the industrial hardware division of Stanley Industries.