Archive: May, 2010
Daily News Staff
UPDATED: 11:25 a.m.
A source close to the situation denied the report and said the Eagles are not interested in Shawn Springs.
From earlier
Les Bowen, Daily News Staff Writer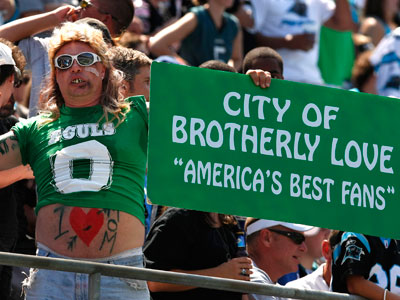 Thinking a lot about obsessive fandom today, for a couple reasons. One is this report from High&Inside about Montreal Gazette writer Pat Hickey's car being vandalized during or after Game 1 of the Canadiens-Flyers series. Really not cool. Though Pat -- a very decent guy I knew back in my days as a hockey scribe -- thankfully is being very cool about it, not piling on to the "Philly fans are pigs" bandwagon. He knows this kind of stuff, sadly, can happen anywhere.
Serendipitously, today also is the publication date for a book about being an Eagles fan, called "Bury Me In My Jersey, A Memoir of My Father, Football and Philly," by Roxborough native, LaSalle grad and Temple lecturer Tom McAllister. It's an interesting book, but one that sometimes is as painful to read as it must have been to write.
Despite his academic background, which includes the incredibly presitigious Iowa Writers' Workshop, McAllister is the sort of Eagles fan who ... well, let's just go to McAllister's narration of his behavior at the end of a loss to Jacksonville at the Linc in 2006. Keep in mind while reading it that this is the first game his fiancee has attended as she attempts to decipher the rituals of Eagles fandom.
Daily News staff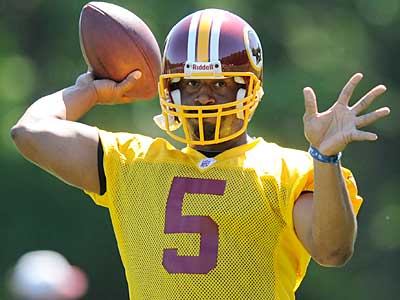 Here is more from the Eagles Media Chalk Talk session held last week at the NovaCare Complex:
Among the more scrutinized two games this season will be against the Washington Redskins and Donovan McNabb. McNabb knows the Eagles' defense and their personnel, something defensive coordinator Sean McDermott realizes.
McDermott said the goal will be to "work to disguise" what the defense is doing and "camouflage and confuse."
Daily News staff
The Eagles have announced the dates for training camp at Lehigh in Bethlehem, Pa.
Rookies and selected veterans are scheduled to report Monday, July 26.
The remainder of the team is scheduled to report Thursday, July 29.
Daily News staff
In case you are an Eagles fans who likes to plan ahead – and in some cases, way ahead – the NFL recently finalized the schedule rotation through 2017.
The rotation was set through 2011 at the end of the season, but the NFL has added on a few years.
Games listed do not include the three home and three away games against the NFC East. One home game and one away game are against a team from the division specified depending on finish the previous year.
Les Bowen, Daily News Staff Writer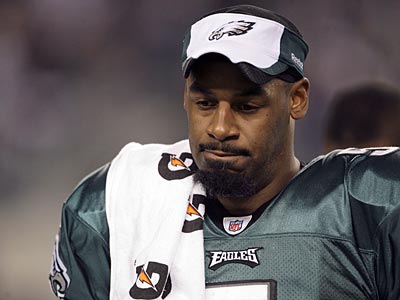 Donovan McNabb, obviously still not that far in the rearview mirror for Eagles fans, spoke briefly today with Vai Sikahema and John Gonzalez on ESPN 97.5. Not a lot of new ground was broken, which didn't come as a surprise to anyone who followed McNabb's 11 years in Philadelphia. DMac's focus was touting his family's fight against high blood pressure; he did not want to deeply probe the wounds he suffered over the years, or the ones that might have been created by his departure.
"The things that I set out to accomplish and bring back to Philadelphia, I wasn't able to, and I apologize, more than anything, to the people of Philadelphia, not bringing a Super Bowl to 'em, but it didn't happen, and I look forward to trying to achieve that goal here in Washington," McNabb said, the most explicit regret he has expressed.
There was much attempted delving into how the Eagles went from proclaiming McNabb would be the quarterback in 2010, early this offseason, to trading him on Easter Sunday. McNabb didn't have any answers there. The shift seemed to come when the Eagles realized that Kevin Kolb was not going to sign an extension as a backup quarterback, and that they were going to have to decide whether to franchise Kolb after this season -- possibly without really knowing if he could be a fulltime starter -- or lose him to free agency. Bottom line, going into the final contract year with both McNabb and Kolb was an untenable situation for a front office that insists on having the upper hand in contract talks.
Les Bowen, Daily News Staff Writer
If you're wondering where last week's media-driven back-and-forth with Donovan McNabb left DeSean Jackson, the answer last night was sitting in front of a rack of polo shirts at the Modell's in Mount Laurel, N.J., signing autographs for a steady stream of patrons -- and acting very skittish about reigniting the controversy.
Jackson, the Eagles' Pro Bowl wideout and punt returner, made it clear he didn't want to discuss anything relating to
McNabb. That point was reiterated by public relations handler Bobby McRae, who took your Eagletarian aside to reinforce that Jackson was available to discuss the Eagles (presumably, at positions other than quarterback) and his upcoming football camps for kids.
Funny thing about that is, careful readers of this space will recall that we scorned the made-up Jackson-McNabb "controversy" --- in which a Sporting News reporter, wanting publicity for a Q-and-A with the emerging face of the team, highlighted Jackson saying he didn't think the Eagles would suffer from having replaced McNabb with Kevin Kolb. This insight -- shocking from a 23-year-old wideout who plays for the Eagles, not the Redskins, and is looking at spending the prime of his career catching passes from Kolb -- was then conveyed to McNabb in a way that made it seem Jackson had dissed the former franchise QB. McNabb allowed himself to get provoked into an observation about people being willing to talk behind his back when they didn't have anything to say to his face. Then Jackson had to explain that he meant no offense.
Daily News staff
The trade of Eagles cornerback Sheldon Brown to Cleveland last month was contingent on Brown agreeing to a restructured contract with the Browns, something the Eagles were unwilling to offer.
Details of that contract have emerged with the key point being a $5 million signing bonus that Brown, 31, received after the trade, according to the Cleveland Plain-Dealer. The Browns did not extend the deal beyond its original expiration in 2012, but added the bonus and made some minor adustments.
The contract essentially becomes a 3-year, $15.25 million deal with base salaries of $2.5 million in 2010, $3.5 million in 2011 and $4.25 million in 2012, plus the bonus.