Archive: May, 2009
Daily News staff
Dan Klecko seemingly did a little bit of everything last year for the Eagles on both sides of the ball. He played fullback and then he was back to defensive tackle and then he was a fullback again.
He was at the Birds' organized team activities today back on the defensive line, but he knows that versatility might be what helps him stay on the roster.
"We went through the fullback thing last year, a couple of times, but I still think that d-line is the best position for me to be playing," Klecko told the Daily News' Mike Kern. "I have to find my niche (here). But anything Andy ever asks me to do, I'll do. I think he knows that. We can move on from there. I'm just trying to win games. That's what makes this thing fun, is winning games. When they look at me, they can say I can (fill) a couple of different positions for them, be an emergency this or that. That's what I'd like to portray."
Daily News staff
Figured we would catch up on a few Eagles-related items that we saw over the holiday weekend before the team's rookies and selected veterans head back to the practice field on Tuesday for four days of minicamp ... Some you might have seen and some you might have missed ... Enjoy
* We know you are sitting there wondering what Hank Baskett and Kendra Wilkinson did for the Memorial Day weekend. The wedding is about a month away; Kendra's new reality show on E! debuts June 7. Well, we'll tell you. Hank and Kendra and fellow "Girl Next Door" Holly Madison hosted a pool party at the MGM Grand in Las Vegas, according to the folks at Enterainment Tonight online and VegasNews.com.
We provide the VegasNews.com link, because we figure some of you might be more interested in the pictures than the words.
Daily News staff
State officials are "in discussions" with both the Eagles and the Steelers about the possibility of partnering on an instant ticket game this fall, state Lottery spokeswoman Stephanie Weyant told the Daily News' John Baer on Thursday.
NFL owners voted earlier this week to allow teams to enter agreements with state lotteries in which teams charge licensing fees so lotteries can use team names and logos on tickets.
An Eagles spokesman said the team would have no comment.
Les Bowen, Daily News Staff Writer
Lots of guys who get signed as undrafted free agents have interesting stories. Jervonte Jackson's is on another level entirely.
Jackson, a defensive tackle from Florida Atlantic, is the half-brother of Eagles center Jamaal Jackson -- they have the same father, Jerry Jackson. But Jervonte's mother is Avonda Dowling, who is serving a 20-year prison sentence in California for dealing drugs. When she was arrested, in 2002, Jervonte, then a sophomore in high school, was left in charge of the Miami-area household, which included his younger sister, Vonshari Hoardes.
"Paying bills, taking care of my sister, that was really difficult," Jackson said, after Thursday's rookie camp workout "Growing up, being a man real fast, was something I had to endure."
Paul Domowitch, Daily News NFL Columnist
You're the San Francisco 49ers. You've just lost one of your starting corners, Walt Harris, to a torn ACL that will cost him the '09 season. You need an experienced replacement.
Paging Sheldon Brown. Paging Sheldon Brown.
If I had been the Niners, the first thing I would've done after seeing Harris's MRI was put in a call to the Eagles and see what they wanted for Brown, whose very-public unhappiness over his contract situation last month led to a trade request.
Daily News staff
Donovan McNabb took to his Yardbarker blog to offer his support for Eagles defensive coordinator Jim Johnson and former Atlanta Falcons quarterback Michael Vick, who was released from prison today and will serve the rest of his sentence confined to his Virginia home. McNabb titled the post, "My Thoughts on a Couple of Friends."
My thoughts and prayers go out to Jim Johnson as he battles through another round of chemotherapy to deal with cancer. Jim is one of the toughest men I've come across and although he has a tough battle ahead, no one is going to fight harder.
I am happy that Michael Vick has served his time and will now be afforded the opportunity to move on with his life. I'm sure he will continue to be remorseful and will learn from his experiences. Hopefully he will have the opportunity to continue his dream of playing professional football.
Les Bowen, Daily News Staff Writer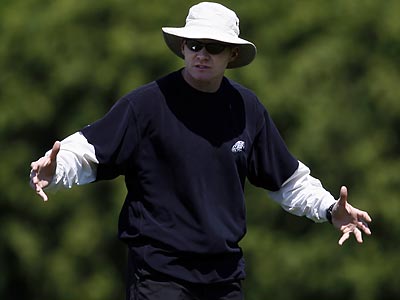 Many of the guys taking part in the Eagles' Wednesday and Thursday camp for rookies and select veterans haven't been Eagles long enough to really know that much about Jim Johnson or Sean McDermott. So having McDermott, the secondary coach, run the defense Wednesday, while defensive coordinator Johnson takes an indefinite leave of absence to continue cancer treatments, wasn't all that unsettling to them.
But for the ones who have spent time with Johnson, it was a strange day.
"It was just different, man, like it was with 'Dawk,' " said second-year free safety Quintin Demps, who drew an analogy between his situation, replacing Brian Dawkins, and the task facing McDermott. "You really don't feel him out here ... you just feel that something's different."