Archive: April, 2012
Les Bowen, Daily News Staff Writer
We knew the Eagles were interested in adding one of the second-to-fourth-round quarterbacks in this year's NFL draft, we just weren't sure which one.
The suspense ended Friday night when the Birds used the 88th overall selection in the third round on Arizona QB Nick Foles, a 6-5, 243-pounder who throws hard but is faulted for having slow feet, in setting up as well as in fleeing pass rushers.
Both Eagles coach Andy Reid and Foles said that was a bad rap.
Paul Domowitch, Daily News NFL Columnist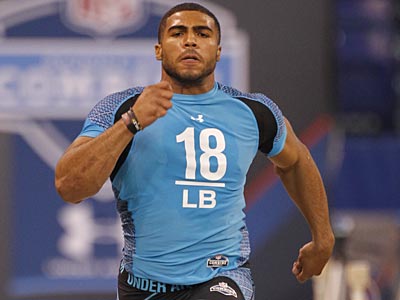 Two years ago, Jamar Chaney had the distinction of running the fastest 40-yard dash among linebackers at the NFL's pre-draft scouting combine. Zoom-zoom-zoomed down the Lucas Oil Field straightaway in an impressive 4.54 seconds.
His reward? The Eagles took him in the seventh round with the 220th overall pick.
Two years later, the Eagles again have selected the combine's linebacker sprint champion, taking Cal's Mychal Kendricks with the first of their two second-round picks Friday night. Why did Kendricks, who ran a 4.47 forty for scouts in February, get picked so much higher than Chaney?
Poll: How would you grade the Eagles' draft?

(6261 votes)
Les Bowen, Daily News Staff Writer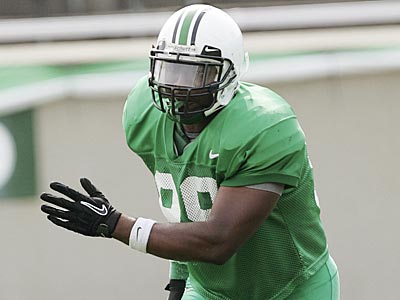 The Eagles have completed three rounds and two days of the 2012 NFL draft. They've reaped three defensive players that are generally well-regarded, and a quarterback who is viewed as a 'project.'
The five remaining selections today might contain a few of the elements some fans expected to see by now -- a corner, perhaps, a big wideout, maybe, a little more o-line depth one might guess, and a contender for a backup running back job, you'd think. (Don't hold your breath for a safety, that isn't a strong draft group.)
"That's just the way it fell," Eagles coach Andy Reid said Friday night after the Birds added to their first-day selection of defensive tackle Fletcher Cox with a Cal linebacker, Mychal Kendricks, at 46th overall in the second round, and a Marshall defensive end, Vinny Curry, with the 59th overall pick in the second. The Eagles drafted Curry after trading back from 51st spot, allowing the Packers to nab Michigan State defensive tackle Jerrel Worthy, and pocketing a fourth-round selection for Saturday, 123rd overall. The Eagles took Arizona QB Nick Foles 88th overall, in the third round.
Poll: How would you grade the Eagles' draft?

(6261 votes)
Les Bowen, Daily News Staff Writer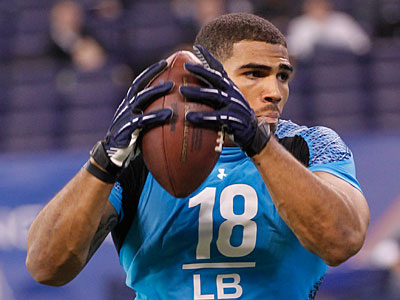 By all accounts, Mychal Kendricks was a productive inside linebacker at Cal. But playing inside -- presumably the strongside, which is where Eagles spokesman Dave Spadaro tweeted Kendricks will compete for a job here -- is going to be a challenge for a linebacker listed at 5-11, 240.
The Birds made Kendricks the 46th overall pick in the 2012 NFL draft Friday night, their first of two selections in the second round.
"I just play big," Kendricks said, when asked how he answers people who question his height. "Shut 'em up that way. That's never been an issue for me, so I don't see why it would be an issue for anyone else."
Poll: How would you grade the Eagles' draft?

(6261 votes)
Les Bowen, Daily News Staff Writer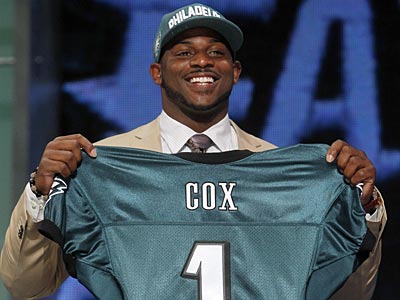 Jamar Chaney has a Fletcher Cox story. Chaney, the Eagles' linebacker who helped recruit Cox to Mississippi State, played one year there with Cox, the Eagles' first-round draft choice Thursday night. Then the next spring, Chaney started making the rounds of NFL teams, before being drafted by the Eagles in the seventh round in 2010.
"I was visiting the Patriots, and they were having me break down some film of our (Mississippi State) defense," Chaney recalled Friday. "As we were watching, they stopped me and asked, 'Who is No. 94?' I said, 'That's Fletcher Cox. He's a true freshman.' "
So Chaney, who said he still talks to or texts Cox about once a week, and shares the same agent group, knew the big, smooth defensive tackle was going to follow him to the NFL. Like a lot of Birds' fans, Chaney hoped Cox would follow him to the Eagles, didn't know if it would happen.
Paul Domowitch, Daily News NFL Columnist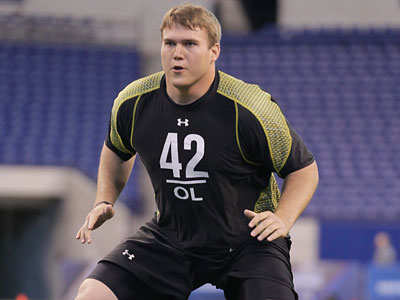 Before we take a look ahead to Rounds 2 and 3 tonight, some quick thoughts on Thursday night's first round:
Most Surprising Round 1 Cold Shoulder: Alabama defensive end/linebacker Courtney Upshaw. I had the 6-1 ½, 272-pounder from Alabama rated as the third best edge rusher in the draft, behind only South Carolina's Melvin Ingram and North Carolina's talented but inconsistent Quinton Coples, and ahead of Syracuse's Chandler Jones, Illinois' Whitney Mercilus, Boise's Shea McClellin and USC's Nick Perry. The other six were selected Thursday night, as was West Virginia's Bruce Irvin, who kicked off the run on edge-rushers when the Seahawks took him at 15.
I'm not really sure why Upshaw got snubbed. He obviously was a highly productive college player with the Tide. He's only 6-2 and has short arms (32 inches). But Ingram, who went 18th to the Chargers, is smaller (6-1 1/2) and has even shorter arms (31 ½ inches). Both run about the same (in the low 4.7s). But Ingram has slightly better movement skills and you can move him around a little bit more. I think most of the 3-4 teams saw Upshaw more as a 4-3 end, even though he was 3-4 linebacker at 'Bama, and the 4-3 teams saw him as a too-short end.
Philly.com Sports
Video: The Eagles jumped three spots to select Mississippi State defensive tackle Fletcher Cox with the No.12 overall pick in the NFL Draft on Thursday night.
Paul Domowitch, Daily News NFL Columnist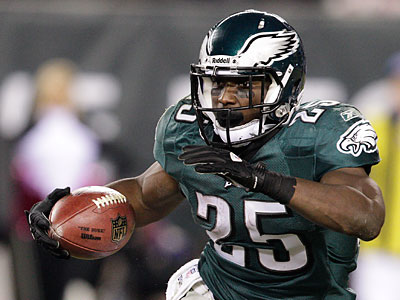 Having traded up to select defensive tackle Fletcher Cox in the first round, the Eagles can now look ahead to Rounds 2 and 3 on Friday.
The Birds have three picks: They own the 14th and 19th selections in the second round and the 26th pick in Round 3.
The fact that they have an extra second-round selection – courtesy of last summer's Kevin Kolb trade with the Cardinals – gives them some ammunition to move up in the second round if there is someone they specifically want.