Archive: March, 2012
Paul Domowitch, Daily News NFL Columnist
Would Andy Reid consider bringing Donovan McNabb back to Philadelphia?
McNabb, who led the Eagles to five NFC title games, is currently examining his options, agent Fletch Smith recently told the Chicago Tribune. Three teams were said to have interest in McNabb. Smith would not say whether McNabb would consider a backup role or whether the QB was seriously considering retirement.
Reid was asked this at the NFL meetings this morning in Florida.
Les Bowen, Daily News Staff Writer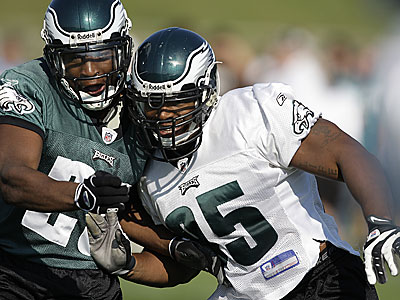 Tuesday, the NFL sent out the exact draft order for next month's selectathon. The Eagles draft 15th, 46th, 51st, 88th, 114th, 153rd, 172nd, 194th and 200th overall.
Your Eagletarian thought it might be fun to look at each of those spots over the last, say, 50 drafts, and see what the Birds did when they were selecting from those coordinates.
First off, turned out it wasn't that much fun. It was boring as hell. About halfway through, your Eagletarian suddenly remembered why he usually leaves such pursuits to Reuben Frank.
Daily News staff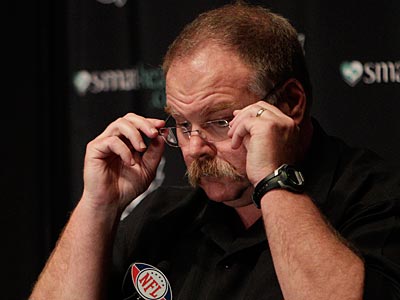 The NFL has announced the complete draft order after awarding 32 compensatory picks to 15 teams yesterday for free-agent losses last year. The Eagles were not among those teams.
Click for the complete draft order in PDF form.
Here is a rundown of the Eagles' nine picks, but you can expect the Eagles to find a way to gather some more on draft weekend. They always do.
Paul Domowitch, Daily News NFL Columnist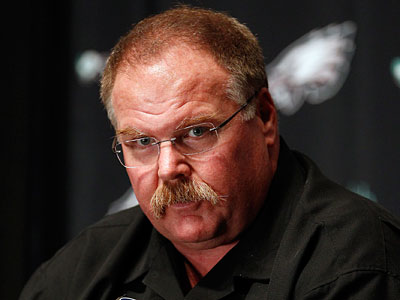 PALM BEACH, Fla. -- I had an opportunity to spend a few minutes with two branches on the Andy Reid coaching tree – Browns head coach Pat Shurmur and Ravens head coach John Harbaugh -- Tuesday morning at the AFC coaches media breakfast at the NFL meetings.
Shurmur, 46, and Harbaugh, 49, spent a combined 19 years as assistants on Reid's Eagles coaching staff. Shurmur worked for him from '99 through '08 before leaving to become the Rams' offensive coordinator. Harbaugh was on his staff from '99 through '07 before the Ravens hired him. I asked both of them about working for Reid. This is what they had to say:
Shurmur: "There's so many things I've learned from him. He's very consistent. He has a plan and a vision for what he wants to do. I think he's an outstanding head coach because he hires people, gives them direction and lets them do their jobs. That's a rare quality.
Daily News staff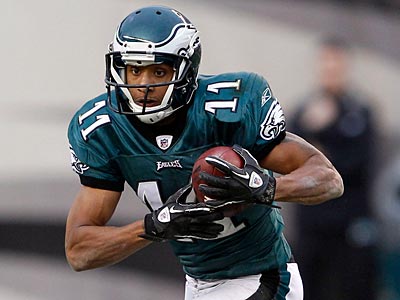 The Rams signed Eagles free-agent wide receiver Steve Smith to a 1-year contract.
Smith, coming back from microfracture surgery on his left knee, caught 11 passes for 124 yards and one touchdown in his one season with the Eagles.
The Eagles were expecting more when they signed Smith, now 26, away from the Giants, but the knee issue lingered. He ended the season on injured reserve.
Marcus Hayes and DN staff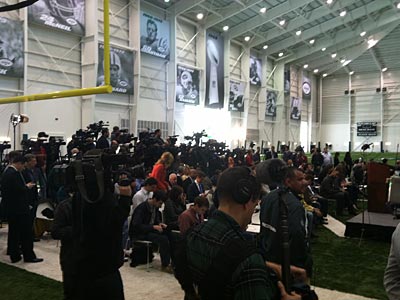 As tweets counted down the hours and minutes to Tim Tebow's news conference today, the media gathered in droves at the fieldhouse at the Jets' practice facility in Florham Park, N.J.
Forty-five minutes before the noon start time, 146 cars were in the media lot, 15 satellite trucks were outside, 29 camera were set up. That number increased to 37 camera and more than 200 media members in anticipation. The event was to ari live on ESPN, the NFL Network and several outlets in New York. An ESPN anchor referred to it as "the largest news conference in the history of football." That reference is because of size, not import, to be sure.
Because of the demand, the Jets moved the "availability" – the team is not calling it a news conference since no news is really expected – to the practice bubble instead of the room inside the main building where the Jets usually hold news conferences.
Daily News staff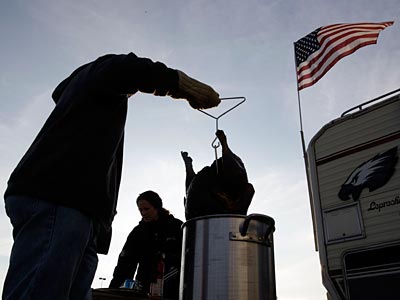 At one point, the NFL used to announce the opening weekend and marquee games at the owners' meetings in March, which begin today in Florida.
A league spokesman has said that some logistics still need to be resolved, so it is unlikely those games will be announced this week. The Super Bowl champion Giants will open the season on Wednesday, Sept. 5, with Green Bay a likely opponent. The NFL has moved the opener from Thursday to Wednesday to avoid a conflict with President Obama's keynote address at the Democratic National Convention.
A prime-time game is scheduled for that Sunday and ESPN will have the Monday night doubleheader. With Peyton Manning in Denver and the Tebow show with the Jets (even if he is the backup quarterback), it would not be a surprise to see one or both of those teams involved as well.
Paul Domowitch, Daily News NFL Columnist
PALM BEACH, Fla. -- The Eagles triumvirate of owner Jeff Lurie, general manager Howie Roseman and president Joe Banner have yet to be spotted in the hallways of the Breakers Resort where the NFL will open its three-day March meeting Monday morning.
But Jets owner Woody Johnson offered his first public comments on his team's acquisition last week of Tim Tebow. Nothing earth-shaking. But he did speak, which puts him one step ahead of Lurie, who already has put out word through the team's public relations department that he is much too busy to talk to reporters down here.
``Tim Tebow will be a good additon to our team,'' Johnson said. ``From a football standpoint, he adds flexibility, versatility. He's a great athlete. He's a big athlete. He can do a lot of things besides being the quarterback, besides being the backup quarterback. All of those things make us a better and stronger team going forward. I'm excited to have him onboard. Tim Tebow has been a winner all his life.''