Archive: December, 2011
Les Bowen, Daily News Staff Writer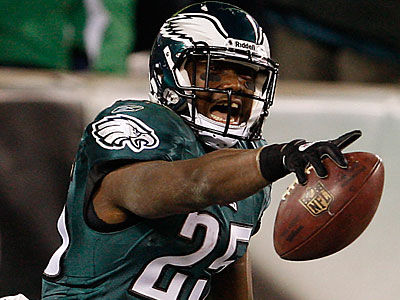 As expected, the Eagles placed running back LeSean McCoy, left tackle Jason Peters and defensive end Jason Babin on the NFC Pro Bowl squad, announced this evening.
Defensive tackle Cullen Jenkins is a first alternate, which gives him a strong shot at going, given the need for injury and Super Bowl participant replacements. Corner Nnamdi Asomugha is a second alternate. Surprisingly, neither defensive end Trent Cole nor right tackle Todd Herremans is in the alternate picture.
McCoy leads the league in touchdowns with 20 and rushing touchdowns with 17. He ranks second in the league with 1,309 rushing yards. "I always read about Adrian Peterson and Frank Gore. Now I can say I'm one of those guys," said McCoy, who acknowledged being bypassed last season motivated him.
Les Bowen, Daily News Staff Writer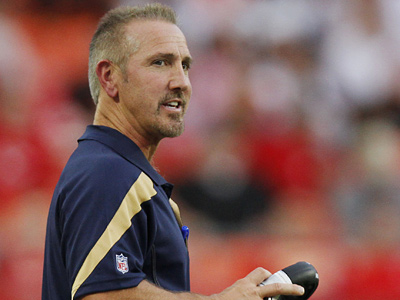 As your faithful Eagletarian reported in today's Daily News, the people making decisions for the Eagles aren't talking yet. But that doesn't stop people in far-flung NFL outposts from speculating on what they're going to do when the season ends.
Eagles fans have been wondering for weeks what will happen if/when former Eagles assistant Steve Spagnuolo gets fired as head coach in St. Louis. Having Spagnuolo return to the Birds as defensive coordinator would be ideal, given his tie to the Jim Johnson-defense Eagles. Today, the San Diego Union-Tribune (yes, really) reports, as an aside about Chargers GM A.J. Smith possibly ending up in St. Louis, that Spagnuolo is "all but certain" to come back to the Eagles to run the defense. "League sources" are cited.
Yesterday, Eagles blogger Tommy Lawlor posted a well-thought-out piece that speculated the Eagles might make Sapgnuolo some sort of assistant head coach/defense while keeping hardworking, loyal Juan Castillo as the titular defensive coordinator. Made a lot of sense.
Les Bowen, Daily News Staff Writer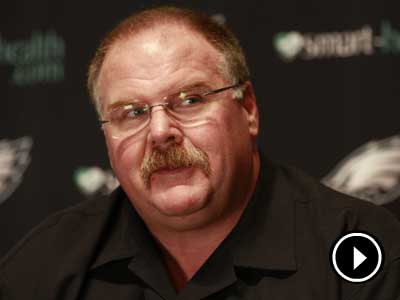 Video: Though the Eagles are out of playoff contention, the glass is half full for Andy Reid, who sees a chance to end the season with a 8-8 record. Les Bowen of the Daily News reports from the NovaCare Complex.
Les Bowen and Daily News staff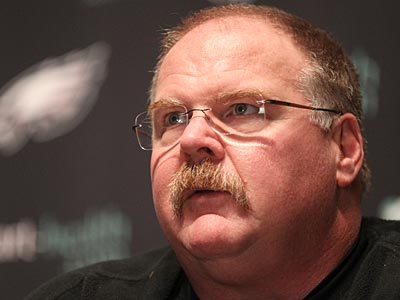 The Eagles' starters, including running back LeSean McCoy, will play in the season finale against Washington on Sunday, coach Andy Reid said at his news conference today.
Reid said no game is meaningless and that the sprained ankle McCoy suffered against Dallas is slight. He also said safety Kurt Coleman will undergo an MRI tomorrow for the biceps strain he suffered against Dallas.
"If you're preparing to play, you got to prepare to play four quarters," Reid said.
Daily News staff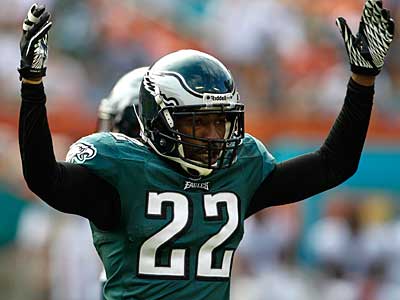 Obviously, two games have impact on the Eagles' fate on this Christmas Eve day of football -- their own against the Cowboys at 4:15 and the Giants-Jets game at 1. Both will be shown locally by Fox29.
Here is how many of the Daily News staff see the Eagles-Cowboys game:
LES BOWEN
Philly.com Sports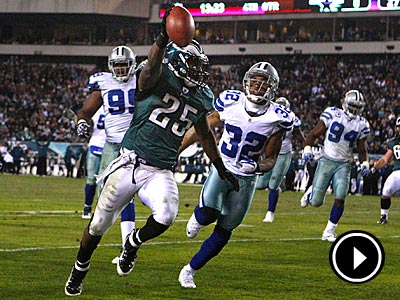 The Eagles know to beat the Dallas Cowboys, they must run the ball effectively and stop Tony Romo. The Daily News' Les Bowen and CineSport's Noah Coslov dive into the three keys to victory.
Les Bowen, Daily News Staff Writer
Apologies to Joni Mitchell for the blog post title.
Hey, before we get down to business here, the Eagles just declared Asante Samuel (hamstring) out for tomorrow's game, which was not a huge surprise. Dominque Rodgers-Cromartie will play outside and Joselio Hanson will play the slot.
Today's post is from last weekend's Sportsweek. Those of you who invested the buck and read it last weekend, feel free to go ahead with your last-minute holiday shopping.
Daily News staff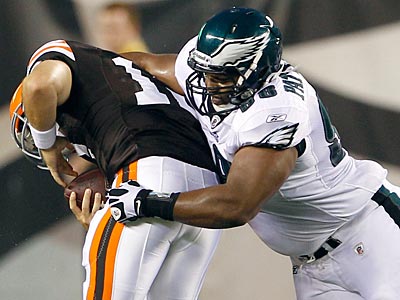 Eagles defensive tackle Mike Patterson, who returned to the field 17 days after suffering a seizure during training camp, has been named the team's recipient of the Ed Block Courage Award.
The award honors those National Football League players who exemplify commitment to the principles of sportsmanship and courage. They are selected in a vote by their teammates for team effort as well as individual performance.
During a training camp practice on August 3, Patterson suffered a seizure and was taken to the hospital. He was later diagnosed with an arteriovenous malformation (AVM) on his brain – a tangle of blood vessels. He visited with four doctors who specialize in AVM cases and also visited with a seizure specialist. All of the doctors cleared him to return to the field. Patterson decided to delay any procedures to fix the AVM until after the season.