Archive: November, 2012
Les Bowen, Daily News Staff Writer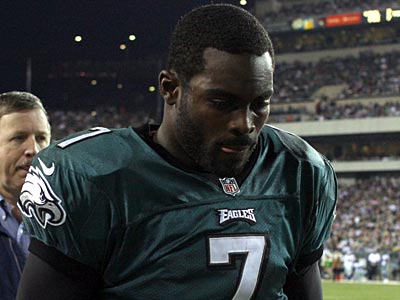 Michael Vick had high hopes for the imPACT concussion test he took Wednesday, but when the results came in, Vick still had not reached his normal baseline, the Eagles said.
This stalls Vick's attempt to return to the practice field. It's unclear when he will take the test again. Vick also failed to test normally on Monday. Eagles head athletic trainer Rick Burkholder is expected to update reporters on Vick and LeSean McCoy Friday.
Les Bowen, Daily News Staff Writer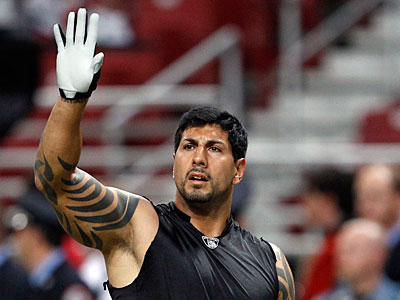 The Eagles' locker room reacted to the release of Pro Bowl defensive end Jason Babin Wednesday the way you would expect -- younger players seemed shocked, older ones said they've seen such things before.
DE Trent Cole, Babin's hunting buddy, said Babin was in Cole's garage, getting ready to head home, when the call came from Eagles coach Andy Reid.
"He said, 'yeah, they just released me.' I thought he was playing at first ... he wasn't," Cole said. "It was shocking to him ... He's got a family to take care of."

"We're going to move on ... I know Jason's going to find a great home, he's going to be successful. He's going to make somebody happy."
Paul Domowitch, Daily News NFL Columnist
Surveying the wreckage of yet another Eagles loss while wondering whether Rich Kotite is going to send a box of cigars to the newest member of the Seven Straight Losses Club:

TODD V. JUAN

The before-and-after numbers get more gruesome every week. In the five games since Andy Reid saw fit to relieve defensive coordinator Juan Castillo of his command and replace him with Todd Bowles, the Eagles' pass defense has gone to hell in a very big way.

Poll: If Vick is healthy, who should be starter?

(5653 votes)
Les Bowen, Daily News Staff Writer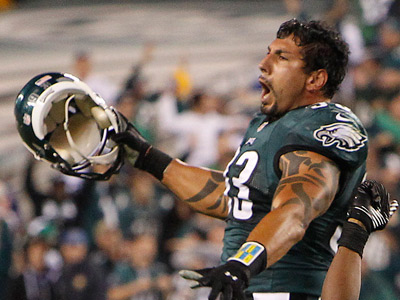 For fans wondering when some of the underperforming stars that have helped doom this Eagles season might be held accountable, there was an answer Tuesday, too little, too late, but better than nothing.
Preening defensive end Jason Babin was released. In a statement, Eagles coach Andy Reid said he appreciated Babin's contributions -- which included making the Pro Bowl last year -- but that cutting him "gives us an opportunity to give more playing time to some of the younger guys in the defensive line rotation." -- Such as rookie Vinny Curry, who saw his first action of the season Monday and led the DL with five tackles in just 21 snaps.
Babin, who had 18 sacks last year, has 5.5 this season. He has rarely made a play other than a sack.
Les Bowen, Daily News Staff Writer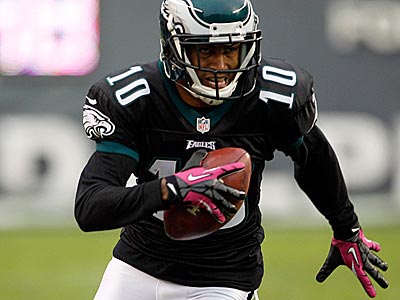 The Eagles' unfolding disaster got a little worse Tuesday when Andy Reid announced wide receiver DeSean Jackson suffered multiple fractures of his ribs and upper chest in Monday night's loss to Carolina.
Reid said Jackson will go on injured reserve, ending his season. he also indicated concussion victims Michael Vick and LeSean McCoy are unlikely to play this weekend at Dallas.
Reid, who does not seem in danger of being replaced during the season, answered a series of questions about his defense's ineptitude. He didn't have any answers.
Poll: If Vick is healthy, who should be starter?

(5653 votes)
Les Bowen, Daily News Staff Writer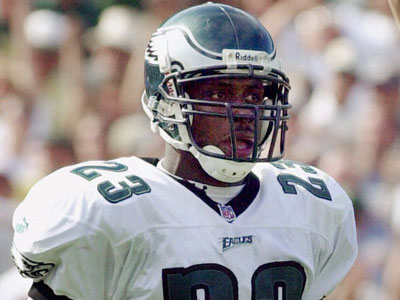 There was a rare Jeffrey Lurie sighting Monday night, as the team chairman emerged to laud former Pro Bowl cornerback Troy Vincent and longtime ticket manager Leo Carlin, who are being inducted into the Eagles' Hall of Fame.
Lurie took no questions and disappeared through a side door just before the news conference ended.
Vincent and Carlin answered several questions where they were asked to compare the current tough times with the past. For Carlin, there was no real comparison, given that many years ago, he had to bargain with local TV stations to avoid blackouts.
Les Bowen, Daily News Staff Writer
On the day former Eagles defensive coordinator Sean McDermott is scheduled to lead the Carolina Panthers' defense against the Birds, the team announced the departure of McDermott's brother, marketing vice president Tim McDermott.
The team released a statement confirming McDermott's departure, not giving any cause. The team also released a statement from McDermott calling the split "amicable," a word also used in the team statement.
Tim McDermott, who grew up in Lansdale, was hired in 2010, and has been credited with helping make the organizational image less remote and disconnected from the fan base. One of the first things he was involved with was the celebration of the 50th anniversary of the 1960 NFL championship team, which several alumni said marked a distinct change in the Eagles' attitude toward figures from its past.
Les Bowen, Daily News Staff Writer
Tonight's game is huge for Nick Foles, and by extension, for Eagles fans.
Whether Foles is a potential franchise quarterback or just a guy is the key question that will determine how far away from contending the Eagles are, under whatever coach Jeff Lurie hires in January or February. (Please, God, let it be January. Early January would be best.)
This is pretty obvious stuff, but I feel the need to restate it after listening to a lot of people hypothesize over the past week or so about picking up some fill-in quarterback from somewhere for 2013. (Matt Flynn, etc.) I don't see the point.