Archive: November, 2008
Daily News staff
Eagles cornerback Asante Samuel was listed as doubtful for Thursday night's game against Arizona because of a neck stinger.
Samuel was injured in the Eagles' loss to Baltimore last Sunday and has not practiced this week.
That is bad news for a secondary that has just one interception in its last four games and is facing a high-powered Cardinals offense led by Kurt Warner with a deep passing game that features Anquan Boldin, Larry Fitzgerald, Steve Breaston and Jerheme Urban.
Paul Domowitch, Daily News NFL Columnist
Here is our weekly look at what we'll be watching during the Eagles game ...
1. Hitting Warner. The Giants only sacked Kurt Warner once last week, but they got several good licks on him and it affected both his comfort level in the pocket and his performance. His .615 completion percentage was his lowest since Week 3. His 6.75 yards-per-attempt average was his lowest since Week 5. Eagles need to put him on the ground early and often.
2. Slumping McNabb. Andy Reid is giving the ball back to Donovan McNabb this week; a ball he's turned over seven times in his last six quarters. He's not seeing open receivers and missing them by entire area codes when he does spot them. In the last five games, he has a .526 completion percentage and has averaged just 6.3 yards per attempt. Another first half like he had against Baltimore and he could be back on the bench.
Poll: Will you watch the Birds?

(689 votes)
Les Bowen and Daily News staff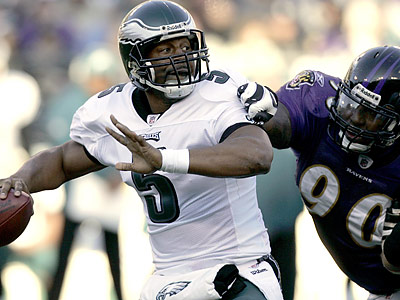 Donovan McNabb obviously could feel the love in the NovaCare auditorium, as he ascended the podium on his 32nd birthday, for a very special episode of the weekly quarterback news conference.
As you might have heard, McNabb was benched for the second half last Sunday in what turned out to be an ugly loss to Baltimore. Then, Monday, he was named the starter for Thursday's game against Arizona.
After thanking reporters for their birthday wishes yesterday, McNabb was asked how he found out he was again the starter. Of course, the subtext here was that Andy Reid sent quarterbacks coach Pat Shurmur to tell McNabb he was being benched in Baltimore.
Daily News staff
With all the appropriate attention on the Eagles quarterback situation, the news on the running backs fell a bit under the radar.
Correll Buckhalter (medial collateral ligament) said he would not be able to play Thursday but hopes to be ready for the next game, Dec. 7 at the Giants.
Brian Westbrook (knee and ankle) also sat out Monday's practice. It's clear Westbrook is limited, but Andy Reid said Westbrook can't make his injuries worse by playing on them, and can still be useful.
Paul Domowitch, Daily News NFL Columnist
On whether the short week between games played into his decision to start McNabb against Arizona:
What Andy said: ``No.''
What Andy meant: ``Yes.''

On why he thinks McNabb will snap out of the five-game funk he's been in:
What Andy said: ``I think I know Donovan probably better than anybody in this room. And I know 6 turnovers, that's not Donovan McNabb. That's not him. That's not his game. That's no part of his game. You back up an inch and evaluate it and you should be able to step forward a mile after that.''
What Andy meant: ``I told him that if he doesn't start playing better, I'm trading him to Detroit.''

On why he had quarterbacks coach Pat Shurmur tell McNabb at halftime he was being benched instead of telling him himself:
What Andy said: ``That's how we do it. The coach coaches that player and he tells him and I address it afterwards. That's how it goes.''
What Andy meant: ``I was gonna tell him. Honest. But I had to pee like a racehorse and those halftimes are only 14 minutes and I had a weak stream. Forgot to take my Flomax yesterday.''
Daily News staff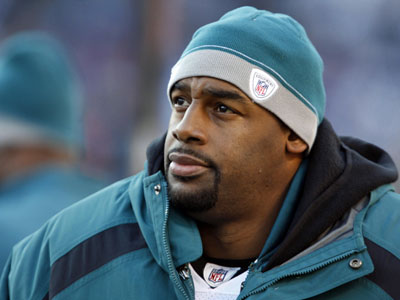 Donovan McNabb will be the starting quarterback on Thursday night against Arizona, coach Andy Reid announced.
"Donovan is the quarterback for this football team," Reid said toward the end of his Monday news conference. "I don't want to leave here until you understand that."
Then Reid got up and abruptly left the NovaCare auditorium.
Les Bowen, Daily News Staff Writer
There is nothing like a hearty postgame meal at the Chesapeake House I-95 rest stop, late on a Sunday night, with the pungent fumes from the cleaning crew wafting past, to clarify one's thinking.
What your Eageltarian is thinking is that Andy Reid is going to try to unring the bell.
Reid is expected to announce at noon whether Donovan McNabb or Kevin Kolb will start Thursday against the Cardinals. The more I think about it, the more I'm pretty sure Reid was laying the groundwork after the game to go back to McNabb. There was that Reid quote about a player sometimes needing to step back in order to go ahead. Before that, there was the mere fact that Reid said he had a decision to make, that he didn't come out and say he was sticking with the decision he made at halftime Sunday, to go with Kolb. Then there is the nearly unprecedented situation of having two real preparation days -- today and tomorrow - before Wednesday's walk-trough and Thursday's game. That would be almost as impossible a situation for Kolb as Sunday was, against a defense that had allowed 43 points in four previous home games.
Daily News staff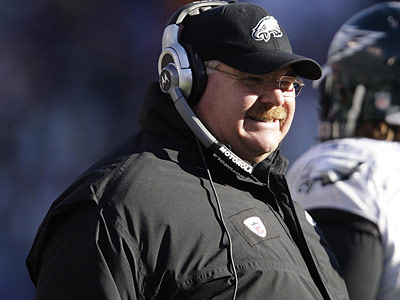 After benching Donovan McNabb at halftime and watching Kevin Kolb suffer through a rough second half, Eagles coach Andy Reid now must decide who starts in four days, Thursday night against Arizona.
McNabb finished 8-for-18 for 73 yards with two interceptions and a fumble. Kevin Kolb was 10-for-23 for 59 yards with two interceptions.
The Eagles offense has now gone 99 minutes, 29 seconds since their last offensive touchdown, during the third quarter of last week's game against Cincinnati. They have now scored one offensive TD in 140:30.