Archive: October, 2012
Philly.com sports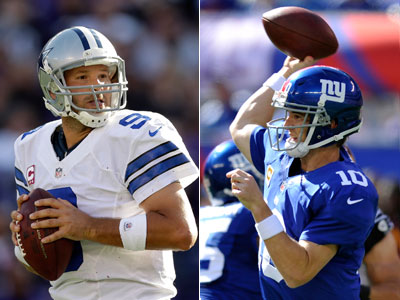 Vegas Vic drops by to talk about this weekend's football action in a live chat, beginning Friday at 2 p.m.
On a mobile phone? Click HERE to join the chat!
Paul Domowitch, Daily News NFL Columnist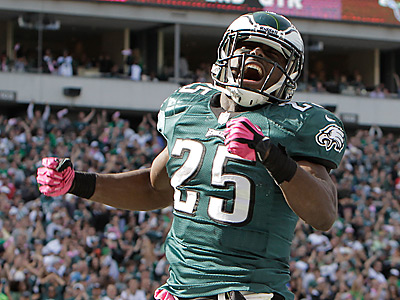 Run, Shady, Run: Yeah, yeah, I know. Andy likes to throw the ball and the Eagles haven't been all that effective running it lately. And the re-insertion of King Dunlap at left tackle probably won't help that. McCoy has averaged just 2.5 yards per carry the last two games. But the thing is, the Falcons are really, really bad against the run. They're 28th in rushing yards allowed (143.8 per game) and 31st in yards allowed per attempt (5.1).
Oh Those Turnovers: The numbers don't bode well for the Eagles. The Falcons are third in the league in turnover differential (plus-10) and the Birds are tied for 30th (minus-9). The Falcons already have forced 17 turnovers in their first six games, which is the same number of times the Eagles have coughed it up (8 interceptions, 9 lost fumbles). The Eagles have won just one turnover battle this season and their defense has just two takeaways in the last four games.
Shorten The Field: Thanks to an unproductive return game and a defense that isn't forcing turnovers, the Eagles' offense has spent most of the season playing on a long field. Their average starting field position is the 24.7 yard line. They've started at their own 40 or better just twice in the last 43 possessions. They haven't started a drive in their opponent's territory since Week 2. Of their 10 touchdown drives, just two have covered less than 70 yards.
Les Bowen, Daily News Staff Writer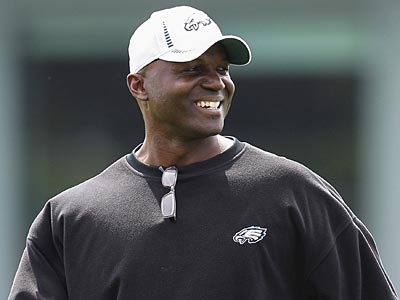 In his first Thursday media session since being named Eagles defensive coordinator last week, Todd Bowles was asked about the Falcons saying they don't know what to expect from him this weekend, since there is no film of a Bowles-coached defense. Bowles last called defensive signals at Grambling more than a decade ago.
"I'm not gonna reinvent the game," Bowles said. He said he sees his task as tweaking what the Eagles were doing under Juan Castillo, fixing things other teams were taking advantage of -- a rewording of what Eagles players have said about Bowles wanting to make the defense less predictable.
Bowles softened that implied criticism of Castillo, noting that teams always find predictable tendencies when they self-review during the bye week, and then they set out to correct that.
Philly.com Sports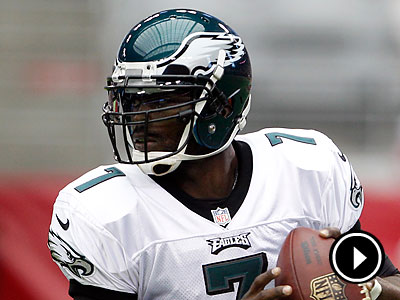 Michael Vick and Jermey Maclin both spoke to the media ahead of the Eagles' game against the Falcons this coming Sunday at Lincoln Financial Field. The Daily News' Les Bowen reports from Wednesday's practice session at the NovaCare Complex.
Paul Domowitch, Daily News NFL Columnist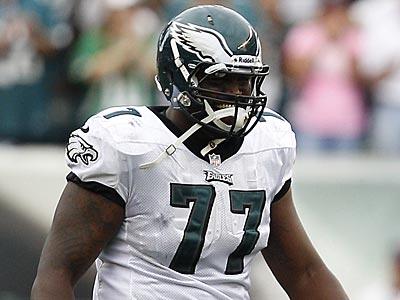 Pro Football Focus just came out with its NFL offensive line ratings. You probably won't be surprised to learn that the Eagles' line didn't make its top five. But it's not in the bottom five either.
The website has the Eagles ranked 20th, behind the Giants (14th) and Redskins (15th), but ahead of the Cowboys (24th).
The Eagles are ranked 28th in pass-blocking, a surpringly-high fourth in run-blocking and 25th in penalties, per PFF.
Les Bowen, Daily News Staff Writer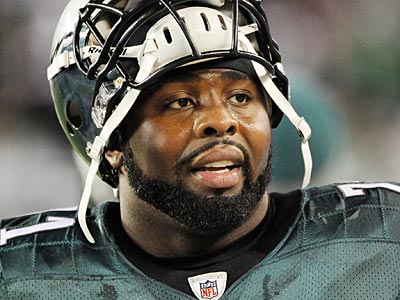 Among the subjects Andy Reid updated Wednesday in his first media session since the bye week was the status of All-Pro left tackle Jason Peters, who is recovering from two Achilles' tendon surgeries. Peters must be placed on a practice-eligible list by Nov. 6, and join the roster three weeks after that, in order to avoid being placed on IR.
"Jason Peters is making progress, moving around, running, doing some agility things," Reid said, echoing what Peters told the Daily News two weeks ago. "Not ready to go, and he's got time, here."
Asked if he thinks Peters will play this season, Reid said: "There's a chance. You saw (Baltimore's Terrell) Suggs go through his thing," Suggs returning to the Ravens' lineup last week after suffering an Achilles' tear in May. "The difference is, Jason's had two of these. We're not going to put him at risk … we're going to make sure the doctors are on board, Jason's on board, then we go from there.
Les Bowen, Daily News Staff Writer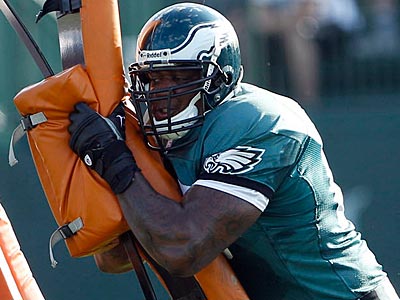 So, despite what we were led to believe after the Monday practice, King Dunlap is back in at left tackle for the Eagles and Demetress Bell is out. If Bell is to be measured by the Oct. 14 performance against the Lions, this is good news -- Dunlap can't possibly do worse than that. But as we've said before in this space, Dunlap has been around here since 2008, the rookie season he spent on IR. He's served three seasons on the active roster before this one, without ever earning more than a brief stint as a starter.
There are good reasons for this. One is that while Dunlap is 6-9, 330, and can be hard for a pass rusher to get around when he extends his arms and moves his feet, he often plays without great leverage. In the run game, he is a liability. Also, anytime Dunlap plays more than a game or two, he suffers some sort of injury -- concussion, back trouble, the hamstring he pulled in Game 3 this year. Dunlap is a useful plug-in sort of guy, a fifth starter, in baseball parlance.
It's hard to see the King as the answer to straightening out the Eagles' offensive line. Maybe he can hold down the fort for a month or a litle more, and Jason Peters' miraculous recovery from two Achilles' tears really can come to fruition. That's probably the Eagles' best hope at left tackle.
Les Bowen, Daily News Staff Writer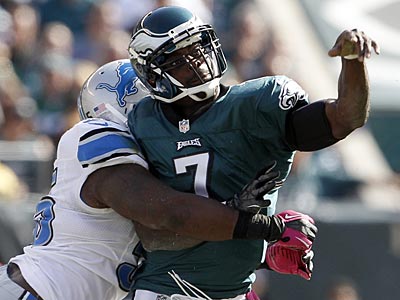 The Eagles reconvened from their bye week Monday, and though practice was closed, indications are nothing changed on the team's offensive line, which is a mild surprise, in the wake of a dreadful performance against the Lions in the last outing.
Eagles quarterback Michael Vick, who remains the starter despite 13 turnovers in six games, said he never thought he might be replaced by rookie Nick Foles during Eagles coach Andy Reid's bye week review.
"It was never a time when I didn't know exactly if I was going to be the starter or not," said Vick, who said he neither expected nor got a call from Reid affirming he remained in that role. "Quite frankly, I know what I can do when I'm out there and I know what has to happen when I'm out there on the football field. That's just my approach now, to go out and get the job done, and we'll see what happens."