Archive: January, 2012
Les Bowen, Daily News Staff Writer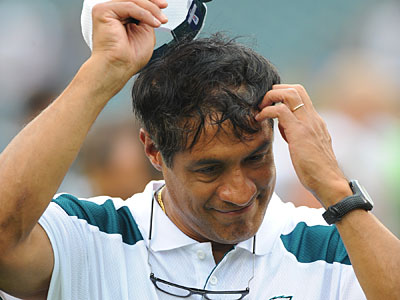 I've gotten some emails and tweets from people who say they will be just fine, if the Eagles decide to do nothing to shake up their defensive decision-making hierarchy, in the wake of Steve Spagnuolo signing on with the Saints. Their thinking, of course, is that Juan Castillo's defense improved dramatically down the stretch, that players talked of having needed time to come together and grasp their roles, get a sense of one another, so on and so forth.
No question, the Eagles' defense improved, allowing no more than one touchdown in each of its last four outings, yes, against subpar quarterbacks, but looking much better than it had looked against equally subpar quarterbacks earlier in the season. (Ryan Fitzpatrick? Tavaris Jackson?)
Castillo is an earnest, decent man who doesn't deserve to be cast aside summarily. And if you're going to retain Jim Washburn and the Wide 9, which seems advisable, the easiest way to do that is to keep Castillo in place. Still, I want to see a prominent, experienced voice given a position of power on the defensive side, with Juan, in place of Juan, whatever.
Daily News staff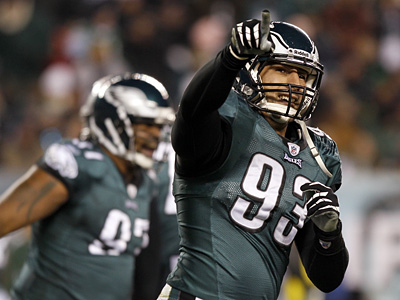 Eagles defensive end Jason Babin, on his way to his second consecutive Pro Bowl, weighed in on the Juan Castillo situation during an interview with Yahoo's Shutdown Corner.
Like many around the Eagles, he pointed to the improvement at the end of the season rather than the hole that the team dug for itself by blowing those fourth-quarter leads.
"Early on, Castillo was more or less a transition, when you go from offensive line coach to coordinator, you're doing more than just coaching; you're creating a style, a system," Babin said. "So that can take time. It took a little longer to work out than we would have liked and I'm sure he would have liked. I think there was a lot of growing going on and that's what makes him good as a coach. He listened, we listened — we all learned."
Les Bowen, Daily News Staff Writer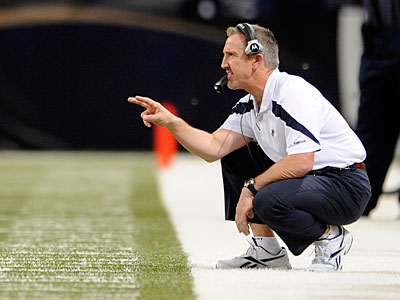 When it finally happened, it wasn't a big surprise. Fox's Jay Glazer reported this evening that Steve Spagnuolo is going to be the new defensive coordinator of the New Orleans Saints.
It was apparent several days ago that Spagnuolo was in no hurry to return to the Eagles, for whom he was a defensive assistant from 1999-2006. The Eagles have never disclosed whether they wanted Spagnuolo back or not -- and now that he has signed somewhere else, expect word to filter out that they really didn't, regardless of whether that is the truth.
Apparently, Juan Castillo will go to Mobile for Senior Biowl practices next week as the Eagles' defensive coordinator. Will that be the case for the 2012 season? We don't know. We do know Eagles coach Andy Reid STILL hasn't done his season wrapup news conference. Reid might or might not go to Mobile, an Eagles source said today.
Poll: What does Spags' decision mean for the Eagles?

(1404 votes)
Les Bowen & DN staff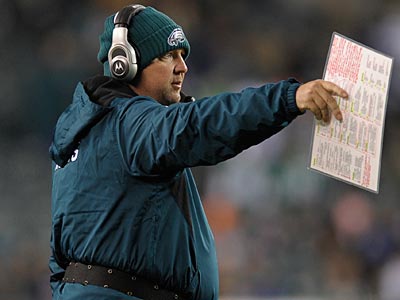 The Indianapolis Colts have not requested permission to interview Eagles offensive coordinator Marty Mornhinweg for their head coaching position, the Eagles said.
Mornhinweg is expected to interview this weekend with the Oakland Raiders in their seemingly ever-widening search for a coach.
That they have not done so yet does not necessarily mean the Colts are not interested. Mornhinweg's name surfaced when the Colts hired former Eagles director of player personnel Ryan Grigson as general manager last week. Grigson had been with the Eagles since 2004; Mornhinweg has been with the Birds since 2006.
Les Bowen, Daily News Staff Writer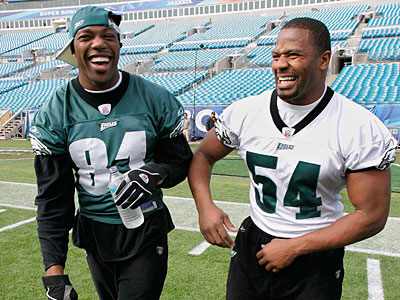 In 2005, when I was covering the implosion of the Eagles' Super Bowl team, directed by veteran demolition expert Terrell Owens, one of my biggest frustrations was that it seemed Jeremiah Trotter didn't quite get what T.O. was about.
Owens spent the spring and summer trying to sow discord and rancor, because he was unhappy with the contract he had signed a year earlier. He was sent home from training camp after admonishing offensive coordinator Brad Childress not to speak to him until spoken to. He carried on a bizarre, onesided war with quarterback Donovan McNabb, who had done nothing to Owens, other than failing to win the Super Bowl.
Finally, in November, when Owens granted an interview in which he faulted the Eagles for not recognizing his 100th career touchdown during the game and agreed with the interviewer's observation that the Eagles would be undefeated if Brett Favre were their QB, Eagles coach Andy Reid realized this mess had gone on long enough and suspended T.O.
Les Bowen, Daily News Staff Writer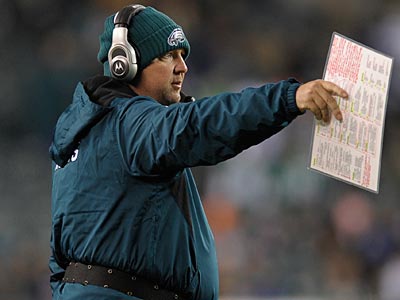 I'm seeing all kinds of speculation erupting from the fact that Eagles offensive coordinator Marty Mornhinweg is scheduled to interview for the Oakland Raiders' head coaching position this weekend, and might be in the Indianapolis picture as well.
First, for the hard-core Andy Reid haters who want to spin that Andy's assistants are fleeing because he's in such a dire spot -- no. Marty came here in 2003 after being fired from the head coaching spot in Detroit. He has always wanted to get another chance, to change history's judgment of him as the guy who kicked off to start overtime. Andy has tried to help Marty in that effort, to the extent that he really pushed Mike Holmgren and Tom Heckert to interview Marty last year for the job that went to Pat Shurmur, and was ticked when they didn't.
Second, I've said in the past that I don't necessarily see Marty as a head coach, a face-and-voice-of-the-franchise guy. Marty tends to wander off on tangents, as a public speaker. What results from that can be a fun and informative journey, but sound bites are not his specialty. In Oakland, though, it sure seems new GM Reggie McKenzie is going to be the face and voice of the franchise. Because the 49ers dominate the market, I'm not sure the Raiders' coach is really that high profile. And heaven knows, the Raiders have had their share of eccentric coaching personalities in recent years. (Tom Cable?)
Les Bowen, Daily News Staff Writer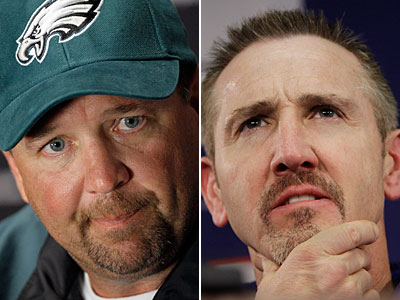 Interesting developments today that could affect the Eagles, none of them originating from One NovaCare Way.
The Falcons hired former 49ers head coach Mike Nolan as their defensive coordinator, eliminating them from the Steve Spagnuolo sweepstakes. So the Spagnuolo picture is clearer? Ahh - not so fast! Turns out Spagnuolo interviewed Monday in Indianapolis for the d-coordinator spot there, with new GM Ryan Grigson, who left the Eagles for that job last week. Today, Grigson and owner Jim Irsay fired their head coach, Jim Caldwell, who participated in the Spagnuolo interview, Grigson confirmed at a press conference announcing Caldwell's departure.
So, is Spagnulo still a candidate for D-coordinator in Indy, despite the fact that there is no head coach, and a head coach normally hires his coordinators? Or is he now a head-coaching candidate in Indy, given his connection with Grigson, and despite his 10-38 record in St. Louis? OR, could Grigson be looking at Eagles offensive coordinator Marty Mornhinweg as his head coach, who also has a deep connection with Spags, who then could become d-coordinator? Or could Mornhinweg be heading to the Oakland Raiders as their head coach. The NFL Network's Jason LaCanfora is reporting that Mornhinweg will be interviewed by the Raiders.
Daily News staff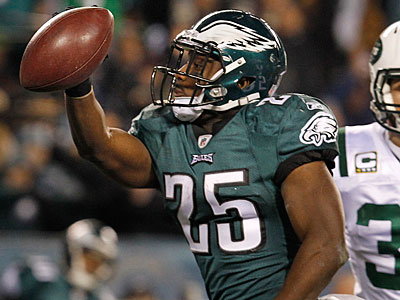 Eagles running back LeSean McCoy and left tackle Jason Peters were named to the Pro Football Weekly/Professional Football Writers of America All-NFL team.
Right guard Danny Watkins, the Eagles' first round pick, was named to the All-Rookie team.
Here are the individual award winners, the All-NFL team and the All-Rookie team: