Archive: June, 2011
Daily News staff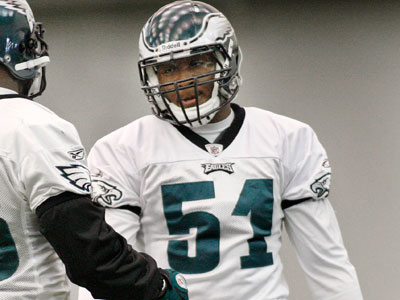 Twitter can be a dangerous thing. See LeSean McCoy vs. Osi Umenyiora, Justin Tuck and seemingly all the New York Giants.
However, you have to give Eagles middle linebacker Jamar Chaney credit for this one. Definitely worth a good laugh, and pretty clever too.
Chaney tweeted this afternoon: Im engaged to this chick named Lombardi. She w/ this dude name Packer now, but I plan on marring her sometime next February.
Daily News staff
If there was any doubt as to how highly Michael Vick's athletic ability is regarded, take a look at this week's Players Poll in Sports Illustrated.
The question, asked of 269 major league baseball players, is which athlete in another sport would make the best baseball player.
The top answer, with 16 percent of the vote, was Vick.
Daily News staff
The nominations for the ESPY awards came out this morning, with Philadelphia represented in several categories.
The Eagles' fantastic come-from-behind victory over the Giants, capped by DeSean Jackson's punt return, is among the nominees for Best Game.
Auburn over Alabama in the Iron Bowl, Butler over top-seed Pittsburgh in the NCAA Tournament and Oklahoma City's 3-overtime epic over Memphis in the NBA playoffs are the other nominees.
Daily News staff
A quick scan of the calendar shows that the Eagles' season opener is 75 days from today, on Sept. 11 at St. Louis.
Of course, every day that goes by potentially puts the start of training camp in jeopardy. As the NFL lockout continues into its fourth month, the traveling road show of negotiations hits Minneapolis today, according to the NFL Network.
Talks have previously been held outside Chicago, New York, Maryland and Boston. At least the officials, owners and players are collecting the frequent flyer miles.
Daily News staff
We have written a few times here on Eagletarian about the NFL Network's countdown of the top 100 best players of 2010, as voted by the players themselves.
Tonight's edition featured the countdown from No. 20, and it began with Eagles quarterback Michael Vick.
So, the question on the table is whether that is too low? Hard to see how folks might view that as too high.
Chuck Bausman
Look who is back in town, working out with his former teammates and maybe even tossing one or two at their feet.
It's Donovan McNabb.
If you're too young to remember, McNabb was an Eagles quarterback of some note. He led the team to its second Super Bowl after the 2004 season. He was steeped in various dramas along the way, much of it his own doing. He also is, like him or not, the greatest quarterback in Eagles' history.
Daily News staff
As we inch closer to the possibility of actual football news, the run of lists and rankings continues this offseason.
The New York Times' Andy Benoit, citing film study from last season and not stats, ranks the Eagles' Trent Cole as the seventh-best defensive end in the NFL. Cole also was seventh in last year's rankings.
Writes Benoit: "Not in the first tier of pass rushers, but has a motor that warrants a stale Energizer Bunny joke (you can insert your own). Uses his tremendous initial quickness to fire in any direction off the snap, making him nearly impossible to contain against the run."
Daily News staff
Eagles linebacker Akeem Jordan was arrested in connection with an incident in Harrisonburg, Va., early Sunday and charged with misdemeanor assault and battery, according to the Harrisonburg Police Department.
Jordan, 25, is a Harrisonburg native and played at James Madison University.
The incident occurred in the parking lot of the Firetap Bar and Grill on Evelyn Byrd Avenue at 2 a.m.
Daily News staff
Plaxico Burress has gone Phillies again.
On his Twitter feed over the weekend, Buress posted a picture of him and his son, and Burress is wearing a current style Phillies hat.
You might recall when he left prison in Upstate New York, he was wearing an old-school Phillies hat in a move many thought orchestrated by his agent, Drew Rosenhaus.