Archive: February, 2012
Les Bowen, Daily News Staff Writer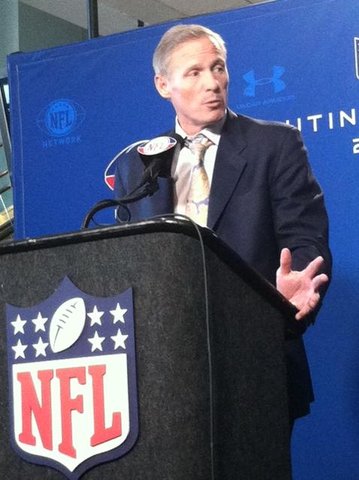 INDIANAPOLIS -- NFL Network draft analyst Mike Mayock wrapped up the media portion of the 2012 Scouting Combine with a news conference Sunday evening. Mayock was asked about several prospects who brought off-the-field baggage to Indianapolis - most prominently, North Alabama corner Janoris Jenkins, who confessed to having four children, an arrest record and a failed drug test.
As Mayock noted, the prospects have all been coached to say the right thing to teams interviewing them - they talk about having grown up. But he went on to say, the nub of the issue is how much you "buy into" their explanations and apologies.
"There's all kinds of different red flags - medical, off-the-field. What's interesting to me is how different teams treat those red flags. There's no one uniform way ... for the next two months (such players) are going to get asked 90 gazillion questions. It's all public, it's all out there, teams know more than we do. You've gotta look these guys in the eye and have all the right answers. Most importantly, convince them it's not gonna happen again," Mayock said.
Les Bowen, Daily News Staff Writer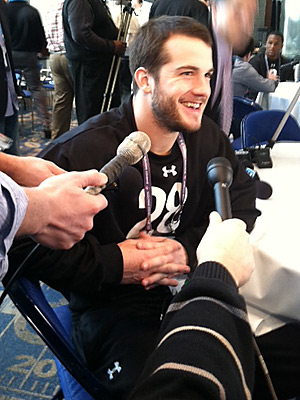 INDIANAPOLIS -- There are six former Penn State Nittany Lions attending the NFL Scouting Combine. In the media interview session for each of them, sooner or later the questions turn to the amazing cascade of events of the past four months -- the Jerry Sandusky scandal, Joe Paterno's firing, the news that Paterno had lung cancer, followed quickly by Paterno's death from complications arising from his treatment.
"Things just happened so fast," Penn State linebacker Nate Stupar said today. "You've just got to keep on going. You can't let it get to you, bother you ... We'll probably be remembered for the year Joe Pa got fired, the year he passed away, the Jerry Sandusky scandal, but also the team that fought through adversity and proved to the nation that we still stuck together as a team."
"When I went to Penn State, I never would have thought I'd have (Paterno) for all five years," Stupar said. "I feel blessed to have had him as a coach. He taught me a lot of valuable lessons about becoming a man, being a guy with morals and obligations. I know he's not alive to hear it, but I thank him with all my heart for everything he's given me."
Les Bowen, Daily News Staff Writer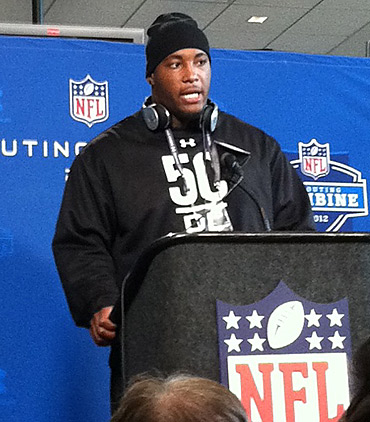 INDIANAPOLIS -- Penn State defensive tackle Devon Still, who probably figures to be drafted somewhere around the Eagles' 15th overall slot in April, is not soft-peddling his skills.
"I think hands-down I'm the best defensive tackle in this draft," Still said in a session with the media Saturday at the NFL Scouting Combine. NFL Network draft analyst Mike Mayock says he has first-round grades on five to seven d-tackles this year, so Still's claim is a bold one.
Still, a Camden native who grew up in Wilmington, said he clocked in at 6-5, 303. He will begin interviews with NFL teams tonight, he said, and doesn't know which teams have requested his presence.
Les Bowen, Daily News Staff Writer
INDIANAPOLIS -- Not surprisingly, Asante Samuel's agent thinks the Eagles ought to just keep their expensive triumvirate of cornerbacks and pay his client the $9.4 million Samuel is due to receive in 2012.
Alonzo Shavers, attending the NFLPA agents' meeting at the NFL Scouting Combine, said "a trade is not imminent, by any stretch," which is technically true, since NFL teams are not allowed to trade players right now. "I don't think his number is going to affect the scenario," Shavers said. "Philly's got money. Did they change owners?"
No, but they do have a salary cap to fit under, and they found trying to meld Samuel, Nnamdi Asomugha and Dominique Rodgers-Cromartie an impossible task last season. The assumption is the Birds will try to trade Samuel to get out from under the final two years of his contract, and to clarify their corner situation.
Les Bowen, Daily News Staff Writer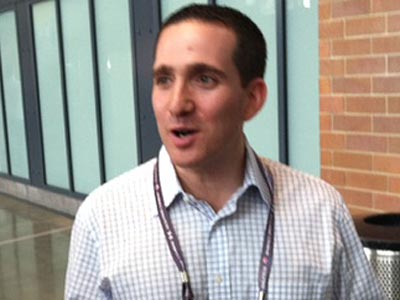 INDIANAPOLIS -- Eagles general manager Howie Roseman didn't say he expects to apply the franchise tag or reach contract agreement on a long-term deal with wideout DeSean Jackson, but Roseman did indicate optimism today, when he was asked about Jackson's situation during a media session at the NFL Scouting Combine.
"We're excited about the future of DeSean Jackson in Philadelphia," Roseman said.
Later, when Roseman met with Philadelphia-area reporters off to the side, Roseman was told that his words from the podium probably were going to be viewed as optimistic.
Les Bowen, Daily News Staff Writer
INDIANAPOLIS -- A "combine" is a machine that both gathers and threshes grain.
Seems about right to me.
Not much has happened so far on a warm, gray morning in Indy. Eagles general manager Howie Roseman is scheduled to ascend the podium this afternoon at 2:30 for a media session. An hour later, Colts GM and former Eagles personnel VP Ryan Grigson will talk to reporters. None of the position groupings coming in for interviews today will be very exciting for Eagles fans -- offensive linemen, tight ends, kickers, punters, longsnappers. (Has anybody ever actually drafted a longsnapper? And what kind of predraft questions do you ask of one? "So, what was your most memorable snap?" "Does the blood ever rush to your head and make you dizzy?")
Les Bowen, Daily News Staff Writer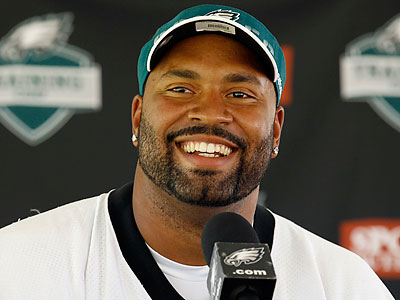 I never thought the Eagles were going to let Cullen Jenkins go, and sure enough, the team announced today a restructuring of Jenkins' contract that will keep Jenkins here through 2012, at least.
Even though Jenkins is 31 and might not be a long-term starter, his return, along with the return from injury of Antonio Dixon, might mean the Eagles don't target a defensive tackle with the 15th overall selection in the April entry draft. If they re-sign pending free agent Derek Landri, that will become even less likely.
Last week, NFL Network draft analyst Mike Mayock identified d-tackle as the deepest position at the top of this draft. There's a good chance a solid one will still be there if the Birds choose to use one of their two second-round picks at that spot. The Eagles have other pressing needs, such as linebacker, and wideout, if they don't franchise and keep DeSean Jackson.
Zach Berman
Eagles general manager Howie Roseman spoke today on a panel at Widener Law School in Wilmington.
He addressed several issues, including:
** Similar to coach Andy Reid and defensive coordinator Juan Castillo, Roseman's job security came under scrutiny during the Eagles' 8-8 season. Roseman acknowledged it's part of the business, although he said he doesn't spend much time listening to or reading the criticism.
Les Bowen, Daily News Staff Writer
If Boston College linebacker Luke Kuechly is there when the Eagles make the 15th overall selection in the 2012 entry draft, "that might be a slam-dunk for me" NFL Network draft analyst Mike Mayock said on a conference call with reporters today. If Kuechly, Mayock's top-ranked linebacker in the draft, isn't still around at 15, he thinks the Eagles' picture gets more complicated.
Mayock said he doesn't see another inside linebacker he would take in the first round. (Middle linebacker seems to be the Birds' biggest need.) He particularly doesn't like Arizona State's Vontaze Burfict, a legendary hitter whose consistency, anger management and work ethic have been questioned. Mayock said even putting aside the issue of costly penalties, Burfict "gets enveloped," by bigger bodies, shows poor instincts. Eagles fans, who have been known to like big hitters, seem fixated on Burfict; maybe their team can get him after the first round. "I'm not a fan at all," Mayock said. "For a big, strong guy, he's nowhere near as strong at the point of attack as I thought he would be."
"(Kuechly's) playmaking and instincts are so good, think about Sean Lee. I think that's the best comparison for him. Sean Lee went in the second round to Dallas (from Penn State, two years ago), but has become a Pro Bowl inside linebacker, and I think this kid is very similar. He doesn't have the knee issues Sean had, and I think he's a slightly better athlete," Mayock said.
Daily News staff
Former Eagles quarterback Ron Jaworski has signed a five-year extension with ESPN for an expanded multiplatform NFL analyst role, but will no longer be a part of the broadcast booth for "Monday Night Football," ESPN announced.
His new role will include appearances on Sunday NFL Countdown, Monday Night Countdown, NFL Matchup, NFL-branded specials, Mike & Mike in the Morning, Pardon the Interruption, and other platforms and shows throughout the year. The network said Jaworski will have a "greater year-round presence on ESPN" in his new role. Jaworski also will appear on SportsCenter regularly, primarily Sundays and Monday.
Monday Night Football will have a new two-person commentator team for the first time during the 2012 NFL season with Mike Tirico and analyst Jon Gruden.