Archive: December, 2008
Les Bowen, Daily News Staff Writer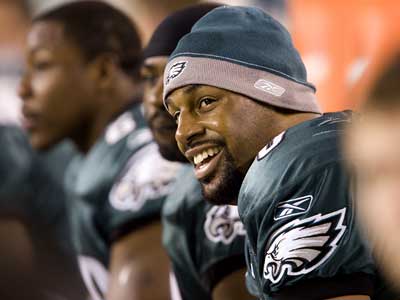 Details are sketchy, but it seems that perhaps the last time Donovan McNabb played a postseason game, there was some sort of time-management issue in the final minutes, and perhaps the Birds might have lost.
"It's just like riding a bike," the Eagles' quarterback assured reporters Wednesday, as the team began preparing in
earnest for Sunday's wild card playoff round visit with the Minnesota Vikings. McNabb said he won't be thinking about the fact that he hasn't appeared in the postseason since Super Bowl XXXIX, almost four years ago. "I don't look at it in that way -- as a player, you're focusing on the wrong thing ... It's no different than it was in 2004. Any time you have an opportunity to continue on with your season and play in playoff play, you just want to relish the moment, and continue it on."
"Yeah, you miss it," said McNabb, who was sidelined by an ACL tear in 2006, the only time since the Super Bowl the Birds have played in the postseason. "It wouldn't take three or four years for me to say I miss it. You miss it after a year."
Daily News staff
Here at Eagletarian, we devote our time to discussing the finer points of the Eagles and football, with a mix of references to music and pop culture, of course.
Unfortunately, every now and again, serious issues from the real world intervene.
A report out of Cordova, Md., indicates that some football fans took the game too far. Two men are being held without bond for a shooting steeming from an argument about the Eagles-Dallas game.
Daily News staff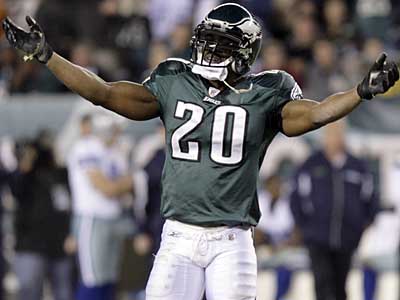 It was a December for milestones for Brian Dawkins and his efforts have been rewarded with the NFC Defensive Player of the Month award.
Dawkins closed the month by forcing two fumbles against Dallas, both of which were returned for touchdowns, the first time in NFL history that a team has scored on two 70-plus-yard return touchdowns in the same quarter. He also had nine tackles and a sack.
Earlier in the month, Dawkins also set the franchise record for games played, which now stands at 183, and was voted to his seventh Pro Bowl. He also holds a share of the franchise record with 34 interceptions.
Les Bowen, Daily News Staff Writer
It was pretty clear after the game Sunday that Donovan McNabb considered himself ill-used, yet again last week. This time it was the flap over McNabb evaluating his season's play as "great," while acknowledging that getting a new contract will be on his mind when he sits down with management in the offseason.
Given some sympathetic coaxing by national media members in attendance at his postgame news conference (including one guy who had been among McNabb's harshest critics in the Terrell Owens debacle of 2005), McNabb made several interesting statements.
He reiterated his "Big Yellow Taxi" refrain of last week, while making it clear that he doesn't want this to all be about him: "You never get enough credit until you're gone, and I'm not looking for any credit right now," McNabb said.
Paul Domowitch, Daily News NFL Columnist
On the Cowboys' collapse Sunday:
What Andy said: ``Sometimes things snowball on you in the National Football League. That's what happened with Dallas. They're not as bad as the score showed, obviously.''
What Andy meant: ``Thank God for Wade Phillips. As long as that guy continues to have a job, I won't have to worry about people calling me the worst coach in the league.''

On whether he would like to thumb his nose at all of his critics now that the Eagles have made the playoffs:
What Andy said: ``Not at all. Hey, we're all trying to make a living. We're blessed to be here in Philadelphia with a great fan base that is knowledgable about the game. In a lot of cities, it's game-to-game. In Philadelphia, it's play-to-play. You've got to love that.''
What Andy meant: ``Huh. I guess none of you noticed Tammy giving you the finger in the back of the room at my post-game news conference.''

On the fact that his team has struggled on the road this season, winning just 3 of 8 games:
What Andy said: ``We've always done well on the road here. But this year it's been a little bit of a struggle. It's important we focus in during the week and eliminate any distractions, which there can be at playoff time.''
What Andy meant: ``I'm thinking about taking the guys ice fishing on Lake Minnetonka Saturday for some pre-game bonding. Temperature is supposed to be in the single digits. Maybe pick up some cheeseburgers on the way back. That should get us in the right frame of mind.''
Daily News staff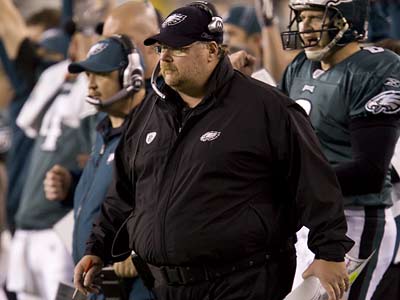 Given the chance to gloat with a playoff berth in hand, Eagles coach Andy Reid declined. Reid's good-luck beard was the only bristly thing about the 10th-year coach when he met with the media Monday.
"That's not how I operate," Reid said. "I know it's crazy, but we're all in this together. We're all doing what we're doing, trying to make a living, and blessed to be in Philadelphia with a great fan base. In a lot of cities, it's game to game. In Philadelphia, it's play to play. You have to love that. You are criticized for the bad and praised for the good."
Reid, of course, has been heavily criticized from his playcalling to his personnel decisions; fired in the media; and derided.
Daily News staff
Sunday capped a regular season filled with ups and downs for Vikings quarterback Tarvaris Jackson.
Jackson started the first two games of the year and then was benched in favor of Gus Frerotte. He only regained his starting job because of Frerotte's back injury after sitting for 10 games. Jackson now has started the last three games, including the Vikings' 20-19 win over the Giants on Sunday that clinched the NFC North title.
His next start will come against the Eagles in Sunday's NFC wild-card playoff game at the Metrodome, coach Brad Childress confirmed.
Daily News staff
The Eagles, who had just 24 takeways in their first 15 games, forced five Cowboys turnovers and converted them into 27 points. Two of them were returned for third-quarter touchdowns by defensive end Chris Clemons and cornerback Joselio Hanson, which put away the Cowboys.
The Eagles posted 29 total takeaways in 2008 vs. just 19 in 2007. It was the second-best improvement in the NFL (Baltimore had 34 this year after posting just 23 a year ago)
The last time the Eagles recorded that many takeaways in a game was on Oct. 8, 2006 vs. Dallas.