Archive: November, 2010
DAILY NEWS STAFF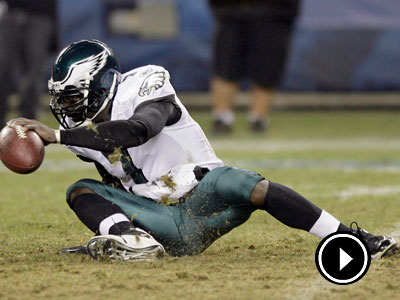 Video: Will the Eagles bounce back from last week's loss when they take on the Texans at the Linc Friday night? Marcus Hayes and John Smallwood of the Daily News report from today's practice.
Daily News staff and Les Bowen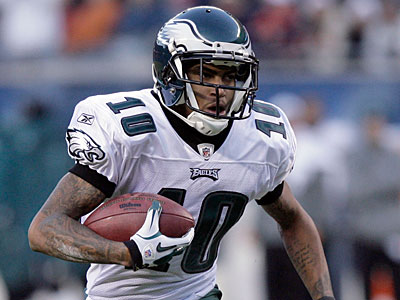 Update: Asante Samuel was again a "limited" practice participant in the Eagles' final substantive workout before Thursay night's meeting with the Houston Texans.
Afterward, Samuel was noncommital about whether he will be able to play.
"Getting better," he said. "Working hard to get better. Working every day to get better."
Daily News staff
The Chicago Bears limited the Eagles big plays down the field, in part by playing their safeties much deeper than the Eagles anticipated, quarterback Michael Vick said.
"I've never seen them play that deep.," Vick said on his weekly radio show on ESPN Radio 94.1 in Virginia Beach. "That was very surprising to us. If we would have game-planned for that, we would have had a good strategy to take advantage of that. We still had a good game plan and we still put ourselves in position to go up in the football game. We just didn't capitalize."
The Bears also tried to limit Vick's opportunity to run and when he did run force him to move to his right.
Daily News staff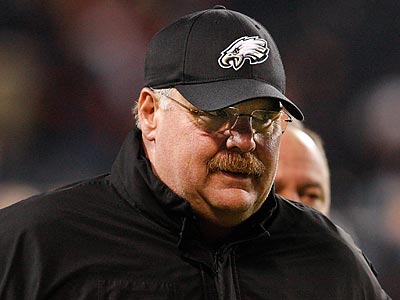 Andy Reid said on his radio show tonight on WIP (610-AM) that he didn't know where reports of Reid clashing with DeSean Jackson after Sunday's game were coming from. Jackson was visibly upset in the Eagles' locker room after he had two catches for 26 yards in the 31-26 loss to the Bears. Reid upbraided the team after the loss, and reportedly he criticized Jackson's demeanor.
"I don't know where that comes from," Reid said. "This guy is one of the top players in the National Football League. When it's clutch time, he wants the football."
Reid then was asked if he had to get Jackson's attention after the game: "If I have a problem with any players, we talk about it. I'm not agreeing with you at all here (about having to do that). If anything happens, I address it as a football team. He's a phenomenal player and defensive coordinators pay attention to him. If they're going to double him, it's going to give Jeremy [Maclin] a chance to make plays, it's going to give Brent Celek a chance to make plays."
Les Bowen, Daily News Staff Writer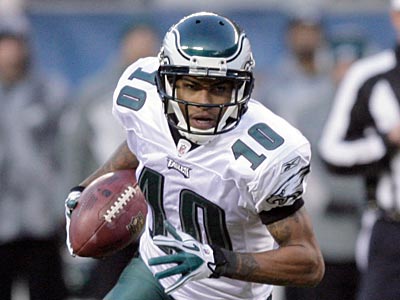 UPDATED: Michael Vick said DeSean Jackson "is going to be fine," after the Eagles held a brief practice to prepare for their Thursday game against Houston.
"DeSean, that's my guy -- he's my right-hand man," Vick said the day after Jackson was openly upset in the visiting locker room, following a 31-26 loss to the Bears. Apparently, Eagles coach Andy Reid specifically criticized Jackson's demeanor when he admonished the team after the loss.
Jackson did not speak with reporters Sunday and ignored their questions as he left the NovaCare locker room yesterday.
Daily News staff
A week after two Giants accused the Eagles' Todd Herremans of dirty play, a Chicago Bears player says the Eagles were "doing dirty stuff all game."
Rashied Davis, a backup receiver and special teams star, said the Eagles crossed the line after they fell behind in the third quarter, according to the Chicago Sun-Times.
Daily News Staff
RUSHING OFFENSE: LeSean McCoy only had 10 carries, but had a pair of double-digit runs and averaged 5.3 yards per carry. Bears did a good job of neutralizing Vick's running ability, holding him to 44 yards on 9 carries. Twice, defensive end Julius Peppers caught Vick from behind.
Grade: B-minus
PASSING OFFENSE: Michael Vick threw his first interception of the season and it was a killer, a momentum-swinger on a second-and-goal at the Chicago 4 in the second quarter. There were numerous protection breakdowns by Vick's line all day. DeSean Jackson was a non-factor, catching just 2 passes for 26 yards.
Daily News staff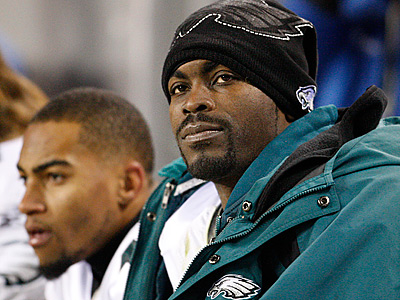 Michael Vick knew the opportunities were there and knew the Eagles did not capitalize.
"We just beat ourselves," he said. "Plays that we can make, we just didn't make them. When we go back and watch the film, we will see so many opportunities we had. We just need to get better, starting with me."
The Eagles lost for the first time in a game that Vick started and finished.