Archive: October, 2010
Les Bowen, Daily News Staff Writer
The Eagles return to practice with a light session Monday, have Tuesday off and then return to regular schedule Wednesday in advance of Sunday's game with Indianapolis.
When Sean McDermott was asked in the wake of the Tennessee meltdown if he anticipated making any changes in his secondary, McDermott demurred.
But we can be pretty sure he isn't benching rookie free safety Nate Allen, who had been a tremendous success story before last week.
Daily News staff
If you are an Eagles fan and watching the scores roll in today during the Birds' bye week, you had to be pretty happy.
Things went from bad to really bad for the Cowboys with a 35-17 loss to Jacksonville. David Garrard, whose passer rating was virtually non-existent against the Eagles, equaled a team record with four TD passes and ran for another, along with posting a nearly perfect passer rating.
Dallas is 1-5, its worst start since 1989 and is also 0-4 at home. Quarterback Tony Romo was on the sideline with a broken clavicle. Jon Kitna was 34-for-49 for 379, but threw four interceptions.
Paul Domowitch, Daily News NFL Columnist
Here are our weekly NFL Power Rankings:
1. Steelers, 5-1 (1)
2. Colts, 4-2 (2)
Les Bowen, Daily News Staff Writer
Eagles wideout DeSean Jackson said his collision with Atlanta's Dunta Robinson felt "like a car accident" and that he lost consciousness for a few minutes.
Jackson, speaking for the first time since suffering a concussion Oct.17, said in his weekly appearance via Skype on Comcast SportsNet's Daily News Live that he is hopeful of returning when the Eagles come back from the bye against the Colts but is "taking it day-by-day." The Eagles said Monday Jackson has passed head athletic trainer Rick Burkholder's concussion tests and now will be evaluated by an independent neurologist, the last step toward being cleared to practice and play.
"Day-by-day I'm getting a lot better," Jackson said. He said he is lifting weights but has not tried to run yet.
Daily News staff
Eagles quarterback Michael Vick said he is at 90-95 percent right now and will be at 100 percent for the game against Indianapolis on Nov. 7.
"Throwing the ball has been the toughest thing," Vick said during his weekly radio appearance with Tony Mercurio on ESPN 94.1-FM in Virginia. "I think I made great strides last week, just getting my range of motion back and working on my accuracy. Things have finally come back full circle. I feel good again and am ready to play some football."
Vick said he and Andy Reid spoke yesterday afternoon about him starting against the Colts.
Paul Domowitch, Daily News NFL Columnist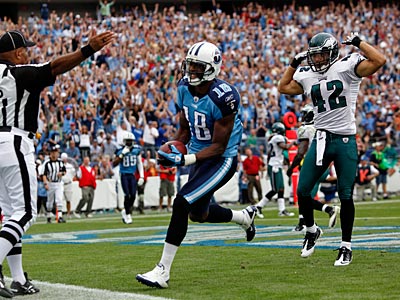 Some incoherent thoughts, some off-the-mark conclusions and one or two astute observations as we mourn the passing of Week 7 of the NFL season:
* Right here, right now, here's how I see the final 9 games shaking out – a home loss to the Colts coming out of the bye despite Andy Reid's 11-0 record in post-bye week games, a road win over the Redskins, a split with the Giants, a road win over the Bears followed by a short-week Thursday night loss at home to the Texans, a split with the Cowboys and a home win over the Vikings. If my math is correct, that's 9-7.
* With the exception of those 13 touchdowns they've given up, including 8 in the last 3 games, the Eagles' numbers against the pass are fairly respectable. They're fourth in the league in opponent completion percentage (54.9), third in interception percentage (4.6) and 13th in yards allowed per pass attempt (6.70).
Daily News staff
Despite a fourth-quarter collapse in the loss to Tennessee, Eagles coach Andy Reid was looking on the bright side as he met with the media today.
"It's a crazy league," Reid said. "We're sitting there 4-3 and we're right there in the hunt in a good way. I know I've got a good football team.
"We have to knock a couple of things out here and get it straight. I'm looking forward to the week off and getting the guys a little bit of rest, the scouts doing evaluations and coming back for 9 games of good football. That is where I'm at right now."
Daily News
Daily News executive sports editor Josh Barnett chats live about the Eagles on Monday, October 25 from 1 to 2 p.m.
On a mobile device? Click HERE.
Paul Domowitch, Daily News NFL Columnist
Here are our grades for the Eagles-Atlanta game. You can make your grade by clicking here. We will publish the reader report card in the Tuesday Daily News.
RUSHING OFFENSE: For the first time since Week 1, LeSean McCoy was held to fewer than 50 rushing yards. He had just 48 yards on 16 carries vs. Titans. The turning point in the game came on a botched third-quarter run play at the Tennessee 3-yard line when Titans DT Jason Jones broke through the Eagles' line and forced a fumble by Kevin Kolb as he was trying to hand the ball off to McCoy.
Grade: D