Jim Johnson, looking gaunt and sallow, leaned heavily on a cane to cover the few steps across the NovaCare stage to the seat behind the podium.
Clearly, Johnson's fight against metastasized cancer discovered on his spine during the Eagles' playoff run is taking a lot out of the defensive coordinator, who turns 68 on May 26. But just as clearly, Johnson is committed to doing his job as long as he can.
"I feel good," Johnson said today, in his first remarks to the media since his diagnosis was made public, the week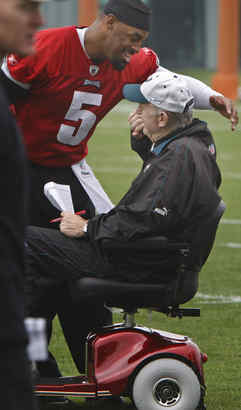 of the Super bowl. "I appreciate all the concern about my injury, I really do, from the fans and you guys. I feel good. I'm still going through treatment. The biggest thing I'm trying to get now is some pain out of my back. I've got some broken bones in the lower part. It (doesn't allow) me to be on my feet quite as much. But everything else, I feel fine, and I just keep working at it."
Johnson said activities like this weekend's minicamp, arduous as they might be, are "a big part of my life. It keeps me going."
Johnson lauded his assistants. Secondary coach Sean McDermott was the de facto coordinator when Johnson took leave for surgery and treatment earlier in the offseason.
"It's something you deal with every day," Johnson acknowledged. "Sure it affects your life ... pain a little bit, here and there ... When I come here to work, it feels good. Hopefully, it's not going to be like this all the time."
Johnson said he hopes the fractures will heal and allow him to walk more easily. He is coaching minicamp from a red motorized wheelchari/scooter.
"Right now I'm on that cart, and it helps out quite a bit," he said.
Johnson said he isn't thinking yet about how he will navigate the season. "I'm taking it one day at a time, one camp at a time," he said.
He acknowledged that having gotten the diagnosis just before the NFC Championship Game, seeing his defense play poorly in a 32-25 loss to Arizona, missing the chance to go to the Super Bowl again, stung more than it might have normally.
A lot of disappointment," he said. "Losing that game, and then, of course, I knew we were going to have to go in and see what was happening with me, that was tough. It wasn't easy."
Johnson said his initial treatment prevented him from reviewing the loss right away.
"When you play a championship game like that, you've just got to play your best football," he said. "It was one of those games, we didn't (force) a lot of turnovers, we were so close -- turnovers could have turned that game around. They did a good job. They're a good football team. We're a good football team, too, but we didn't play our best game."
He said that though he has a lot of faith in Quintin Demps as the successor to Brian Dawkins at free safety, in retrospect, he feels he put too much pressure on Demps, gave him too many different things to do, in the championship game.
"