Archive: February, 2013
Police are investigating the death of a man whose body was found Thursday afternoon in the woods of Cobbs Creek Park in West Philadelphia.
Cops said the decaying body was found in the woods off of Race Street near Daggett shortly before 2:30 p.m. The man remains unidentified, and preliminarily, police are unsure of his age.
So far, it's unclear how the man died or how long he's been dead. No weapons were found in the area, and the death remains under investigation.
Gregory Scott spent his life helping those less fortunate, from recovering addicts to troubled children. But Wednesday night, someone gunned down the West Philadelphia father and grandfather outside his home, and police now are hunting his killer.
Scott, 55, of Millick Street near Walnut, was returning home from work when someone opened fire on him about 11:20 p.m., police said. Paramedics declared him dead on the scene at 11:31 p.m. of gunshot wounds to head, said Officer Christine O'Brien, a police spokeswoman. No motive or suspects are known, O'Brien said.
Scott was a drill master for the Goldcoast Buccaneers Drill Team, a community effort to mentor children and teach them "leadership skills, cultural awareness, discipline, sister/brotherhood, and community service," according to the team's website.
The 23-year-old man shot to death on a North Philadelphia street corner Tuesday night was identified by police Wednesday as Miguel Gonzalez.
Gonzalez, who lived on Lawrence Street near York a few blocks from where he was fatally shot at Dauphin and Hancock streets, was shot twice in the chest just before 8 p.m. Tuesday, according to police. He was rushed in critical condition to Temple University Hospital, where he succumbed to his wounds around 8:30 p.m.
Police have not made any arrests in the homicide, which, according to published police statistics, is the 31st murder of the year. At this time last year, the city had 50 murders.
Police have charged a South Philadelphia man with murder and related offenses after he allegedly shot his estranged girlfriend to death outside her West Philadelphia home Tuesday morning.
Anthony G. Alexander, whose 62nd birthday is today, allegedly shot Jennifer Fitzpatrick, 37, in the chest just after 8 a.m. outside her home on Yewdall Street near Larchwood Avenue, police said. Paramedics declared her dead on the scene. Police arrested Alexander minutes later on Brown Street near 47th, outside an auto-repair business he owns.
Fitzpatrick had a restraining order against Alexander, of Carpenter Street near 53rd, court records show. He is being held without bail. A preliminary hearing is set for March 13. He has no previous criminal arrests, court records show.
A 23-year-old man is clinging to life after police say he was shot twice in the chest on a street corner in North Philadelphia Tuesday night.
The victim was at Dauphin and Hancock streets when he was shot twice at 7:52 p.m., according to investigators. He was rushed by medics to Temple University Hospital, where he was listed in critical condition.
Police said no arrests have been made in the shooting, and it was still under investigation around 8:30 p.m. Tuesday.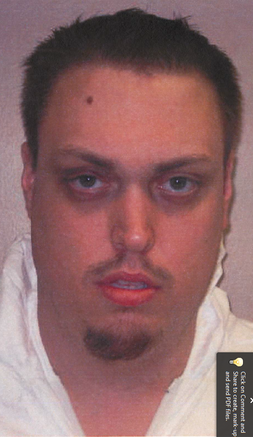 This post was updated at 1:20 p.m. to include autopsy information.
A Hatboro man who claims he accidentally killed his infant daughter when he got so drunk he fell on her Sunday was charged with murder today.
Edward James Doyle, 28, already has been charged with child endangerment in the death of 2-month-old Makayla Doyle, police said. But a pathologist on Monday ruled the death a homicide, concluding that the baby had so many injuries - multiple broken ribs, a fractured skull and nasal injuries suggesting Doyle pinched her nasal airway - that she couldn't have died the way Doyle claimed, District Attorney Risa Vetri Ferman said Tuesday.
A 12-year-old boy is recovering from minor injuries after police say he was grazed by what they believe was a bullet fragment during a shooting in Logan late Monday afternoon.
Shots rang out on Duncannon Avenue near 9th Street shortly after 4:30 p.m., police said. A 20-year-old man was hit once in the left leg and walked to Albert Einstein Medical Center, where he was placed in stable condition.
A woman later showed up at Einstein with her 12-year-old son, who was suffering a minor graze wound to the stomach, police said. Cops believe he was struck by a bullet fragment during the shooting. He suffered only minor injuries, according to police, and was in stable condition.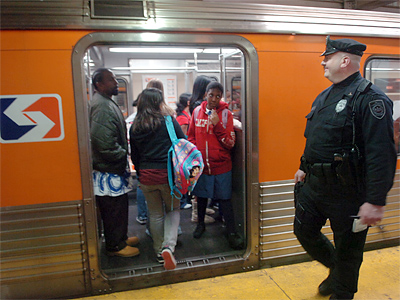 A fugitive wanted for rape and strangulation was arrested in Center City, authorities said.
Marvin Holmes, 42, was wanted on a warrant in Delaware for escape after conviction and violation of probation. Holmes had been charged with rape and strangulation stemming from an investigation by Newark police in November 2011, according to U.S. Marshals.
A SEPTA police officer spotted Holmes at 10th and Filbert streets Monday afternoon and recognized him an alert flyer circulated by authorities last week, SEPTA said. Holmes was arrested and placed in custody of the Marshals.