Archive: February, 2012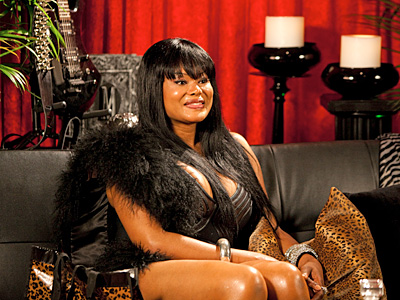 Police arrested Padge Victoria Windslowe, better known as the "Black Madam," at a house in East Germantown Wednesday night.
Transgender singer Windslowe made news last year after 20-year-old Claudia Seye Aderotimi, a British tourist, died at an airport hotel after Windslowe allegedly administered an illegal silicone injection into her buttocks. Windslowe remained free after Aderotimi's death, as police awaited autopsy results.
Officers from the Southwest Detective Division arrested Windslowe on Pastorius Street near Baynton around 8 p.m.
A serial-robbery suspect who allegedly made off with $200,000 in merchandise after a November jewelry-store heist and committed a string of other robberies before cops nabbed him earlier this month probably could've used a lesson on quitting while you're ahead.
But it's too late for that. Cops announced Wednesday that they arrested Jeffery Harrison, 56, who they say committed at least two robberies on his own and several others with two different accomplices. In addition to Harrison, cops said they locked up his partner in crime in the robbery of Belaggio Jewelers in Rhawnhurst and another man who allegedly helped him out in five other robberies during December and February.
Harrison and Daniel Watson, 44, are the thugs who stormed into the Cottman Avenue jewelry store Nov. 14, forced employees into a back room at gunpoint and zip-tied their hands while they made off with about $200,000 worth of merchandise, according to police.
A 16-year-old boy was hospitalized after he was shot twice in Northwood Tuesday night, police said.
Shots rang out at Large and Arrott streets at 9:19 p.m., cops said, and the boy was hit once in the back and once in the neck. He was driven to Albert Einstein Medical Center by a private vehicle and listed in stable condition.
Cops weren't sure what led to the shooting, and they hadn't made any arrests late Tuesday night.
A 16-year-old boy was hospitalized after he was stabbed in West Philadelphia Tuesday night.
Cops said the teen was outside on 65th Street near Media when he was stabbed in the left side of his torso at 7:10 p.m. The suspect was described as a short, thin black man between 18 and 20 who wore a black hooded sweatshirt. Police said they knew the suspect by his nickname, but no arrest had been made shortly before 9 p.m.
The victim was taken to Lankenau Medical Center, where he was listed in stable condition.
A 49-year-old woman is dead after her husband assaulted her during a domestic dispute in the city's Wissinoming section Tuesday afternoon, police said.
The woman was knocked unconscious during the altercation inside an apartment on Torresdale Avenue near Howell Street shortly before 4 p.m., said Officer Christine O'Brien, a police spokeswoman. Medics rushed her to Aria Health's Frankford Campus, where she was pronounced dead at 3:48 p.m.
Police arrested the woman's husband at the scene.
This post has been updated.
A 19-year-old man was hospitalized after a neighbor shot him on an Olney street early Monday evening, police said, and his alleged shooter surrendered to cops a little more than an hour after the incident.
Cops said the victim was on Rubicam Street near 2nd when the neighbor, who they said is in his 30s, opened fire around 6:30 p.m., striking him once in the left thigh.
This post has been updated.
A fifth-grader at a North Philadelphia elementary school was suspended Monday after he shot a classmate with a BB gun and threatened another student, district officials said.
A teacher at John Whittier School, at 27th and Clearfield streets, was alerted that a student had a weapon after the boy threatened to shoot another student, district spokesman Fernando Gallard said.
A man was hospitalized after a shooting in East Frankford, and two others were taken into police custody after a car chase and crash Friday night, police said.
A 26-year-old man was shot once in the right side of his chest and in his right leg after he left a Chinese carryout restaurant on Tackawana Street near Foulkrod about 7 p.m., said Officer Christine O'Brien, a police spokeswoman.
The man was dropped off by a private vehicle at Aria-Frankford Hospital, where he was listed in stable condition as of 8 p.m.