Archive: October, 2009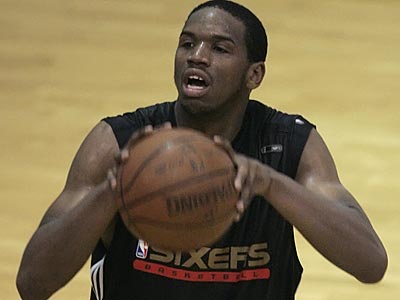 Dionte Christmas, the former Temple University basketball star whom the 76ers cut from their roster Wednesday, was arrested in North Philadelphia tonight, police officials told the Daily News.
Christmas was stopped by Highway Patrol Officers Dave Marcellino and Ivan Rosado on Nedro Avenue near Broad Street about 7:30 p.m. for driving erratically in a car with heavily tinted windows, said Highway Patrol Capt. Michael Cochrane.
Things got worse from there.
Christmas was driving without a license, and the officers found a Hi-Point 9mm semiautomatic handgun tucked under the driver's seat, Cochrane said. The weapon was loaded with seven rounds.
Christmas was taken to the 35th District's headquarters, at Broad and Champlost streets in Ogontz, where he was expected to be charged tonight with a felony weapons offense, police spokesman Lt. Frank Vanore said.
Police later learned that the car Christmas was driving belonged to Sixer forward/center Marreese Speights, Cochrane said. The 9mm apparently also was registered to Speights, he said.
Christmas had a passenger in the car, who was not identified by police or charged with any wrongdoing.
Michael Preston, a spokesman for the 76ers, said the team was aware of the situation but didn't have a comment.
Christmas' agent, Andre Buck, could not be reached for comment, nor could Speights' agent, Andy Miller.
Christmas, a Philadelphia native who starred at Temple after playing at Fels High and Philadelphia Lutheran Christian, was invited to the Sixers' camp after he went undrafted in the June NBA draft. He played in four preseason games, averaging 1.8 points and 1.3 rebounds in 7.5 minutes per outing.
The 6-foot-5 shooting guard impressed the team with his work ethic, but not enough to make the final roster.
In a recent interview, Temple coach Fran Dunphy told the Daily News that Christmas is a "terrific guy."
"His desire is critical to any success I hope he achieves in the NBA," said Dunphy. "He wants to be coached, he wants to learn, he wants to be part of the team. He realizes how much hard work he has to put in to attain his goal and he's willing to do that."
Homicide investigators had the grim task today of investigating the death of a 10-year-old girl from Feltonville.
The girl, identified as Charlenni Ferreira, was found unconscious on a bathroom floor by her stepmother about 10:30 a.m., said police spokesman Lt. Frank Vanore.
Ferreira was taken to St. Christopher's Hospital for Children, where she died a short while later.
Vanore said the cause and manner of the girl's death had not yet been determined.
A medical examiner did, however, tell investigators that the girl had suffered trauma and bore evidence of pre-exisiting injuries, a police source said.
The girl lived with her father, step-mother and two step-brothers inside a house on C Street near Wyoming Avenue, the source said.
Her family, including her father, mother and step-mother, were all questioned by homicide detectives at Police Headquarters yesterday. No charges have been filed against the girl's relatives.
Alicia Taylor, a spokeswoman for the Department of Human Services, declined to verify if DHS had any prior dealings with Ferreira or her family.
.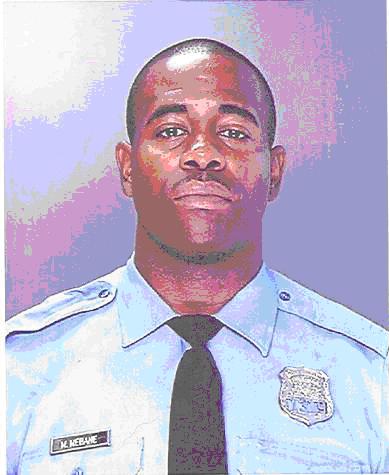 A veteran Philadelphia police officer was charged earlier today with allegedly trying to get a female prisoner to perform oral sex on him, police officials said.
Early this morning, another cop spotted Officer Malaika T. Mebane, 38, standing in a jail cell with a female prisoner inside the 35th District's headquarters, at Broad and Champlost streets, authorities said. The officer reported the situation to a supervisor, who later contacted Internal Affairs investigators.
The cell was held as a possible crime scene. Police said the prisoner later told investigators that Mebane, a 17-year veteran, had asked her to perform oral sex on him. Mebane was charged with attempted sexual assault and related offenses. Police Commissioner Charles Ramsey suspended Mebane for 30 days with the intent to dismiss.
For about two hours tonight, it seemed like all hell had broken loose in the city.
During that short time span, police were called to the scenes of two separate murder-suicides and a pair of unrelated shootings that left two men fighting for their lives.
The spurt of violence started shortly after 7 p.m., when a 60-year-old Ukranian woman fatally shot her 90-year-old mother and then turned the gun on herself in East Mount Airy, said Chief Inspector Scott Small.
The murder-suicide occurred inside the victims' home, on Gowen Avenue near Stenton. Both victims, whose names weren't released, died at the scene.
Several neighbors who were out walking their dogs stopped when they saw yellow crime scene tape stretched around the handsome single home.
Small said the elderly woman's husband had recently died, but it was unclear if that played any role in the murder-suicide.
About 8:30 p.m., an 18-year-old man was shot in the head on Duval Street near Germantown Avenue in East Germantown, Small said.
The victim, whose name wasn't released, was admitted to Albert Einstein Medical Center in "extremely critical condition," Small said.
Police arrested the shooter a few blocks from the scene, with the help of witnesses who identified him, he said. It was unclear, however, what motivated the shooting.
About fifteen minutes later, a man in his early 40s riddled his estranged wife with bullets and then fatally shot himself inside their home on Maple Avenue near Trevose in Somerton, Small said. Neither victim was identified by police.
"The wife had recently gotten a protection from abuse order, but that didn't stop him from calling her or showing up," Small said.
The man and his estranged wife were both pronounced dead inside at the scene, he added.
Finally, about 9 p.m., a robber shot and critically wounded a 52-year-old man inside a pizza shop on Cottman Avenue near Castor.
"He robbed the cashier and four patrons, and then for some reason, shot one patron in the chest," Small said.
The victim was listed in critical condition at Aria Health-Torresdale.
Police arrested the gunman a short while later, with the help of the patrons, who all positively identified him, Small said.
A man was shot and critically wounded in Olney earlier tonight, police said.
The victim, whose name wasn't released, was wounded in the back about 7:45 p.m., following an argument that unfolded in a parking lot near the Banana Lounge, on Rising Sun Avenue near Clarkson Avenue, an investigator said. The victim was admitted to Albert Einstein Medical Center in critical condition.
The gunman fled in a white car, possibly a newer Lexus or Toyota, with chrome rims, the investigator said. Tipsters can contact Northwest Detectives at 215-686-3353.
A man was fatally shot in West Oak Lane earlier tonight. Police said the victim, who is believed to be about 40, was wounded numerous times in the torso on Ogontz Avenue near 77th at 6:07 p.m. He died at the Albert Einstein Medical Center at 7:25 p.m. Investigators had no suspects or motives.
As of yesterday, the city's murder count stood at 230, compared to 251 at this point a year ago and 312 in 2007.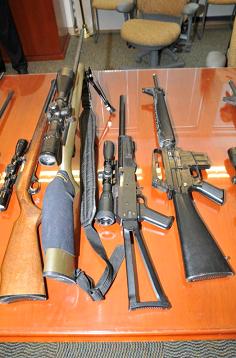 It all started with a simple arrest.
Narcotics cops stopped Deborah Flemming, 53, in Port Richmond on Sunday, only to find that she was carrying some crystal methamphetamine, police said. She was arrested, and investigators quickly turned their attention to the place where she had allegedly just purchased the crystal meth: A rowhouse on Salmon Street near Clearfield.
Cops served a search warrant on the property about 6:20 p.m., and found about $17,000 worth of crystal meth, as well as a small amount of marijuana, said Narcotics Capt. Debra Frazier. During a search of a shed behind the house, police found nine pistols and 17 shotguns and rifles, including one rifle that was "homemade," Frazier said.
A female bicyclist was critically injured in a hit-and-run accident in Center City earlier tonight. The victim, whose age wasn't available, was struck by a pick-up truck at 22nd and Market streets about 7:20 p.m., police said. She was admitted to the Hospital of the University of Pennsylvania in critical condition, although the extent of her injuries was unclear.
Police arrested the motorist a short while later near 22nd Street and Ben Franklin Parkway, said an investigator from the police Accident Investigation Division. The driver, who wasn't identified, might have been drunk, the investigator said.
Update: An investigator said part of the accident was witnessed by a SEPTA police officer, who followed the fleeing driver with another witness. The driver is "an elderly man, who pulled over because he realized he was being followed," the investigator said.