Archive: September, 2012
A shooting in North Philadelphia left a 32-year-old man hospitalized Sunday night, cops said.
The man was at 10th and Ontario streets shortly before 8 p.m. when he was shot once in the hip, according to police. He was taken to Temple University Hospital in stable condition.
Cops are unsure what motivated the shooting, and it remained under investigation later Sunday night.
A Philadelphia police officer accidentally discharged a revolver found in a flight attendant's handbag at Philadelphia International Airport early Sunday morning, police said.
Police spokesman Lt. Ray Evers said the flight attendant was stopped just before 7 a.m. while going through security at Terminal C when Transportation Security Administration agents spotted what appeared to be a gun in her purse. Upon a search, they found a revolver in the bag, Evers said.
Per protocol, police were called, Evers said, and when a responding officer was attempting to render the firearm safe, she accidentally fired it once. The bullet struck the floor, Evers said, and no one was injured.
Two men were wounded in a shooting in the city's Feltonville section late Thursday night, police said.
Chief Inspector Scott Small said the victims, who are brothers ages 29 and 30, were on Gransback Street near Rockland at 11 p.m. when someone fired at least nine shots from a 9mm handgun at them. The younger brother was wounded in the right arm, and the older suffered a gunshot wound to the right leg, Small said.
Both men were taken to Albert Einstein Medical Center and listed in stable condition. Investigators said the men told police they did not know who shot them, and cops are unsure what motivated the shooting. The victims do not live in the neighborhood where they were shot, police said.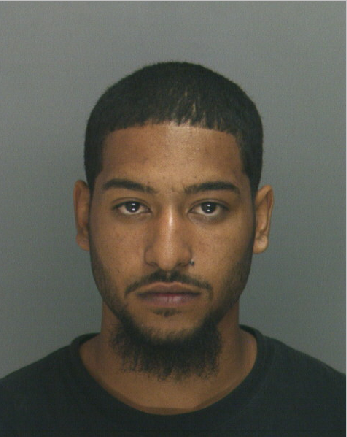 Police are on the hunt for a 21-year-old man who escaped from their custody at the 24th and 25th police district headquarters on Whitaker Avenue near Erie Thursday morning.
Felix Gonzalez, who was arrested Wednesday on drug charges, swapped arm bands with another prisoner at the district and escaped, cops said. The man, whose last known address is on Kip Street near Westmoreland, is a repeat drug offender, according to court documents, and was being held on $50,000 bail.
Anyone who knows his whereabouts is asked to call 911 or the East Detective Division at 215-686-3243.
A 24-year-old man was hospitalized in critical condition Thursday after police say he was shot in the groin in North Philadelphia's Hartranft neighborhood.
The man was at 12th and Cumberland streets when shots rang out just before 12:30 a.m., police said. He was taken to Temple University Hospital, where a police department spokeswoman remained in critical condition late Thursday afternoon.
No arrests were made in the shooting, and investigators were unsure what motivated it.
As if anyone needs more proof that criminals are stupid, the West Philly Local has this gem about two teens who snatched a lady's purse Monday.
Turns out the victim was community activist Fran Byers, who organizes monthly meetings of residents and 18th district police officers - and was even handing out fliers for the next meeting when she was attacked.
Police nabbed the bad guys, and Byers, who the West Philly Local says suffered a dislocated shoulder, is recovering.
Three unidentified boys were cited for disorderly conduct after SEPTA police caught them urinating from an elevated train platform onto the sidewalk below the station in West Philadelphia Wednesday night.
Andrew Busch, a SEPTA spokesman, said the boys, who range from 11 to 13-years-old, were spotted at the 52nd and Market Street station around 8:45 p.m. He said the trio was not taken into police custody.
About 15 minutes later, a westbound Market-Frankford line train was stopped at 15th Street in Center City after a woman called police saying a man on the train was carrying a gun.
Seven men from Kensington, Fairhill, Hunting Park and North Philadelphia are each facing 17 drug and conspiracy charges after police, the DEA and the District Attorney's Dangerous Drug Offenders Unit busted them running a heroin distribution ring Tuesday.
The bust was a result of Attorney General Eric Holder sending 50 officers to Philadelphia as part of a surge in federal law enforcement helping the city address violent and drug-related crime, said Tasha Jamerson, spokeswoman for the District Attorney's office.
After two teenagers were gunned down March 12 by a man using an AK-47 on 9th Street near Indiana Avenue, authorities identified the 25th police district in North Philadelphia as a target area to closely monitor.