Archive: September, 2010
Daily News reporter Jan Ransom got her first taste of the controversy surrounding Mumia Abu-Jamal this week. Here's her report from the Tuesday night screenings of two documentaries about the convicted cop-killer:
The case against Mumia Abu-Jamal — one of the most debated and controversial cases in American history — was resurrected in the city once again this week with the screening Tuesday night of two markedly different documentaries about the case.
Johanna Fernandez, a Baruch College professor said she sought to articulate the argument of both sides in "Justice on Trial," but the film became a reflection of the side she and filmmaker Kouross Esmaeli had access to.
A routine traffic stop took a dramatic turn in Center City tonight when a passerby stole a police cruiser and crashed into a cab.
The surprising scene started to unfold at 5:17 p.m., when a patrol cop got out of his cruiser after stopping a taxi for a traffic violation at 12th and Market streets, said police spokesman Lt. Frank Vanore.
The passerby, identified by cops as Derrick Taylor, 28, darted into the empty cruiser and sped towards the officer, Vanore said. The cop moved out of the way, and Taylor plowed into the same cab that had been stopped by the officer.
Police released surveillance images earlier today of an armed thug who pulled seven robberies of local 7-Eleven stores earlier this year.
Though his attire changed from time to time, the robber was consistently described as a white guy in his 20s, about 5-feet-8 or 5-feet-9, who often favored a black-hooded sweatshirt with a grey or silver design on the front, along with sweatpants and a black face mask. He brandished a handgun in every robbery; in one photo released by police, he was also shown in a t-shirt and shorts.
The thief has also been linked to a string of robberies in Bensalem Township that occurred between Sept. 21, 2009 and Feb. 18, police said.Tipsters can contact Northeast Detectives at 215-686-3153.
A 16-year-old boy was shot and killed in Summerdale earlier tonight.
Chief Inspector Scott Small said the victim, whose name was not released, was wounded once in chest shortly after 9 p.m. on Anchor Street near Summerdale Avenue. He was admitted to Albert Einstein Medical Center in critical condition but died a short while later. Small said the motive for the shooting was unclear. Little else was known, other than that three young men, ages 16 or 17, fled the crime scene on foot. Tipsters can contact Northeast Detectives at 2156-686-3153
A police officer shot and killed a man who was armed with a handgun in Northeast Philadelphia about 10:20 tonight, police said.
The officer and his partner responded to a police radio call about a person with gun on Charles Street near Bridge and ended up chasing the man down the block, said police spokesman Lt. Frank Vanore. The cop caught up with the man, Vanore said, but he refused to show his hands to the officers. One of the cops opened fire, wounding the man twice in the chest.
He died at Aria Health-Torresdale at 10:36 p.m., Vanore said. A firearm was found at the scene.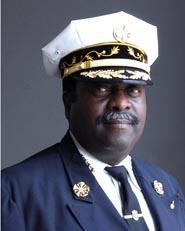 Need a smoke alarm? There are more freebies for Philly households to go around, and they'll last longer, thanks to a FEMA grant.
Philadelphia Fire Commissioner Lloyd Ayers announced today that FEMA will give the city nearly $100,000 worth of smoke alarms for firefighters to install in "high-risk areas." That adds up to about 7,000 smoke alarms — on top of the 8,000 firefighters typically install yearly in financially needy homes, Ayers said. The department also has switched to lithium batteries, which can last up to 10 years, to power the alarms instead of 9-volt batteries, which must be changed annually.
City neighborhoods with the most fires and fire-related injuries and deaths are North Philly, South Philly, Southwest Philly, parts of West Philly and Kensington, Ayers said.
Cracked-up boyfriend accused of stabbing his sweetie 59 times gets held for trial.
Slur-shouting white guys beat black guys, but the bigger drama happens during sentencing.
Convicted cop killer Mumia Abu-Jamal's death sentence is up for another review.
A Frankford man died early this morning after a gunman pedaling a bicycle shot him two blocks from his home.
Seth Johnson, 29, of Frankford Avenue near Unity Street, was shot once in the back about 11:50 p.m. last night on Church Street near Penn, police spokesman Sgt. Ray Evers said. He was conscious and talking when police arrived, and told them a bearded black man on a bike shot him, Evers said. But he died at 12:44 a.m. at Temple University Hospital. The motive is unknown, and police have no suspects. Tipsters can call homicide detectives at (215) 686-3334 or -3335.