Archive: September, 2008
Not a whole lot to post on these cases yet, but here's what we have so far. Homicide detectives are investigating two murders tonight that occurred in separate parts of the city.
The first came in at about 8:40 p.m., when investigators said a 25-year-old man -- whose name was not released -- was found fatally shot on Bouvier Street near Jefferson in North Philly. About two hours later, an unidentified man was found shot dead on Thayer Street near G in Kensington. Police had no motives or suspects in either slaying.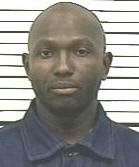 This one will leave you reaching for the Advil.
Taariq Ali is a 43-year-old inmate who was sentenced to life in prison in Delaware back in 1995 for attempted murder. He was sent out to a prison in California to serve a portion of his sentence as part of a cost-saving, inmate sharing program called the Interstate Corrections Compact.
On Friday, Taariq was on his way back to Delaware to serve out the rest of his sentence. He got off a flight at Philly International just before midnight with an escort guard from Prisoner Transport Services of America (PTSA). Taariq's wrists were handcuffed to his waist. This, of course, is where it got tricky.
Investigators with the court system's bench warrant unit got a two-for-one deal Saturday when serving a warrant on a woman led them to one of the three men allegedly responsible for Wednesday's beating of 83-year-old John Gabel inside the men's room in the Gallery.

Lt. Sam Turner and his team converged on a notorious drug lair on Simpson Street near Pearl, in West Philadelphia, about 1:30 a.m. Saturday to serve a warrant on a woman wanted for a probation violation.

"The female who was the target of our investigation and another male tried to flee out the back," Turner said.
Double shot of bad news today involving SEPTA buses and pedestrians.
At 74, Angelina Conti was as spry as ever, hurrying around her South Philly neighborhood every day to buy lotto tickets and chat with friends over coffee.
On Monday, she left her home on Porter Street near 16th to take a late afternoon busride to Center City to run a few errands.
The grandmother of six never made it to her destination. Police said she was struck by a SEPTA bus at Broad Street and Oregon Avenue and rushed to Thomas Jefferson University Hospital with severe head trauma.
Conti died of her injuries at about 4 p.m. today — just three hours after police said a SEPTA bus struck and seriously injured a man in a wheelchair on 8th Street near Girard Avenue.
While both incidents are still under investigation, SEPTA officials noted one similarity: both victims had the right of way when they were hit.
"It's just so sad," said Denise Mezicco, Conti's daughter. "My mother was a kind person who was still active and full of life."
Mezicco recently convinced her mother, a lifelong South Philly resident, to move into a new house with her outside the area.
"We wanted to get a big place together so I could help take care of my dad, who is 86 and not very well," Mezicco said.
"He can't handle this. He was crying earlier, saying he wanted to call his sister to tell her his wife of 50 years has died."
SEPTA spokesman Richard Maloney said Conti, whose son Robert Conti is an Inquirer delivery driver, was walking across Broad Street when she was hit by the bus as it turned north onto Broad. "She was well within the crosswalk. We just don't know what occurred," Maloney said.
In the other incident, police said the Route 47 bus turned onto 8th Street from Girard Avenue about 1 p.m. today, just as a man in his 40s rolled his wheelchair into the crosswalk.
The footrest of the chair caught under the bus' left front tire and dragged him five or 10 feet down the block. Police said he was treated for a fractured foot at Hahnemann University Hospital. SEPTA officials said neither the driver nor the victim saw each other because of trucks parked near the corner.
Donald Jones, 47, watched in horror as the wheelchair-bound man was dragged screaming down the street. He looked away, but not before seeing the man's leg and wheelchair crushed under the weight of the bus. "It sounded terrible," he said of the man's screams. "I never witnessed anything like that before. There was a lot of blood."
An 84-year-old man was beaten and robbed at about 4 p.m. today inside a Popeye's Restaurant men's room located in the Gallery.
Police spokesman Lt. Frank Vanore said the victim turned to leave the men's room and found one of the two attackers blocking the doorway. He didn't remember any threats being made but was struck several times in the head and robbed of $50.
Vanore said the elderly man next remembered firefighters and cops helping him off the floor. The victim was treated at Thomas Jefferson University Hospital for a laceration on the back of his head and bruises and scratches on his face. The victim apparently remembered little about his attackers, other than that both were white men, one of whom was about 5-foot-7. Tipsters can call 215-686-TIPS.
Sorry, folks -- meant to post this up earlier.
Police earlier today identified Thomas Scantling, 26, as the infamous SEPTA subway attacker. Scantling was charged with attempted murder, aggravated assault and related offenses for bludgeoning Dewayne Taylor, 20, with a hammer on the Broad Street line last week, police said.
"I thought it was possible, very possible, that he was trying to kill me," Taylor said during a phone interview last night. The University of Pennsylvania lab technician needed eight staples on his head and six stitches on his neck after the brutal five minute beating.
I did promise an update, so here goes. The man who bludgeoned 20-year-old Dewayne Taylor on a SEPTA subway train last Thursday surrendered to a city mental institution earlier today, police sources told the Daily News.
The attacker will be released to police pending a psychiatric evaluation. Once the cops have him, the man -- whose name has not yet been released -- will be charged with attempted murder, aggravated assault and related offenses.
Dewayne and his mom spoke with us earlier tonight. Their story will be in tomorrow's Daily News.
An arrest could be coming as soon as tonight in the disturbing case of the SEPTA subway hammer attack, police said.
Tips and interviews with witnesses have led investigators to develop a suspect, Capt. Sharon Seaborough said. While Seaborough declined to identify the suspect, she said investigators are waiting for an arrest warrant and will hopefully have the attacker in custody later tonight.
Police officials showed video footage yesterday of the brutal attack, which occurred on the Broad Street subway line shortly after midnight last Thursday. The claw hammer-wielding attacker bludgeoned a 20-year-old sleeping passenger for five minutes when the train reached the Fairmount Avenue attack. The victim miraculously survived the brutal assault, which investigators said appeared to be random and unmotivated. See the video and read the original story here.