Archive: August, 2012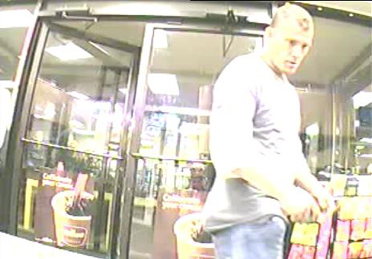 Police are searching for a man who was caught on surveillance camera burglarizing two stores in Bustleton and Rhawnhurst. Cops said the man is also wanted for at least one burglary in Bensalem.
On Aug. 2, the suspect used a cinderblock to break the front door of Krewstown Beverage, on Krewstown Road near Bloomfield Avenue around 12:50 a.m. Police said the man stole an undisclosed amount of cigarettes. The suspect was also recorded inside of a nearby Wawa around the time of the incident.
On Aug. 8, a man was recorded using a brick to break through the door of the Pennypack Beer Distributor on Roosevelt Boulevard near Solly Avenue around 4:35 a.m.
Two men are sought by police in connection with a sexual assault at the White Hall Commons in East Frankford on Thursday.
Around 1:30 a.m., two men riding bicycles approached a 24-year-old woman from behind, police said. When the woman turned around, one of the men grabbed her by her neck and she eventually lost consciousness.
When the woman regained consciousness, she realized that she had been sexually assaulted and that her money was missing.
A man climbed up on the bleachers at a playground in East Germantown Thursday night and opened fire, wounding three people, police said.
Cops were called to the playground at Wister Recreation Center, on Baynton Street near Wister Avenue, at 9:45 p.m., Chief Inspector Scott Small said. There, they found three men suffering gunshot wounds.
The first, an 18-year-old, was hit once in the upper right leg, the second, a 23-year-old, was wounded in the left calf and left foot and the third, 29, was hit in the left shoulder, Small said. All were taken to Albert Einstein Medical Center in stable condition.
This post has been updated
A 48-year-old man is in stable condition after being shot in the left side of his abdomen in Logan Thursday, police said.
The man was shot once by a 12-gauge shotgun just before 9 p.m. on 13th Street near Courtland, said Chief Inspector Scott Small.
Police are searching for a pair of men in connection with an armed robbery and assault at a convenience store in Frankford Wednesday night.
The men walked into Torresdale Mart and Pizza on Torresdale Avenue near Kennedy around 8 p.m., police said.
One man assaulted a store employee while the other stole money, cigarettes and other items.
This post has been updated:
A violent one-on-one struggle in a narrow alleyway between a cop and a man who fled a car stop in West Philadelphia Thursday night led the officer to shoot and kill the man, police said.
Police spokesman Lt. Ray Evers gave the following account of how the events unfolded:
This post has been updated:
Police are investigating a shooting in West Philadelphia that left a 23-year-old man hospitalized Wednesday night.
The victim was shot in his left leg and his buttocks on Gross Street near Girard Avenue around 10:08 p.m., police said.
Updated at 9:30 a.m. Thursday
Family members sobbed Wedneday at the scene where a 52-year-old man was shot dead in broad daylight in Southwest Philadelphia.