Archive: August, 2012
An 11-year-old girl was raped by two men in the Belmont section of West Philadelphia last night, according to police.
The girl was assaulted by the two men in the rear of an abandoned property on Cambridge Street near 41st around 8:34 p.m., police said. She was taken to the Children's Hospital of Philadelphia for treatment.
The suspects are described as two short, dark-complexioned men between 20 and 30 years old. The first was wearing a white t-shirt and the second a yellow t-shirt, police said.
Police are asking for help from the public to locate a missing woman — and her three sons — who have not been seen since Aug. 10.
Jennifer Garay-Colon, 25, was last seen with her children, Saleem, 4, Johnny, 3, and Adal, 1, at her home on Hurley Street near Courtland in Feltonville.
Garay-Colon suffers from Bipolar Disorder and requires medication, police said. The woman is known to frequent West Philadelphia and may be staying with friends, police said.
This post has been updated:
A 55-year-old man started his weekend off with a bang by shooting himself in the leg in Center City Friday night, police said.
The unidentified man accidentally shot himself around 9:35 p.m. on Latimer Street near 15th, said Officer Christine O'Brien, a police department spokeswoman. The man was walking when he adjusted his holster and shot himself in his left ankle, she said.
Police are investigating a shooting in Tacony that left a 15-year-old boy hospitalized Friday night.
Shots rang out about 8:15 p.m. on Vandike Street near Unruh Avenue and the boy was wounded in his right elbow, police said.
He was taken to Aria Hospital and was listed in stable condition.
Police are searching for a man who broke into Northeast High School on Cottman Avenue near Algon in mid-July and ran off empty handed.
The man was recorded on a surveillance camera about 3:15 p.m. on July 17 breaking a window on the roof of the gymnasium. Cops said the man broke another window to gain entry to the main section of the school and fled the scene.
The alleged burglar is described as a white man in his mid-teens to early 20s. He is thin, about 5 feet 11 inches tall, and was wearing a black "NIKE" shirt, dark pants and a yellow backpack, police said.
A 29-year-old man is fighting for his life after he was shot eight times in South Philly Thursday night, police said.
Chief Inspector Scott Small said that just before 8 p.m., four or five men shot 28 9mm bullets into the victim's Chevy Impala as he was traveling eastbound on Snyder Avenue near Croskey.
Small said that police found the victim slumped over in his car after hitting a house and a telephone pole on Croskey. Police rushed the victim to the the Hospital of the University of Pennsylvania where he is in extremely critical condition. The victim was shot twice in the head, twice in the back, twice in the right arm, once in the leg and once in the groin.
Two men were in police custody after a shooting in Hunting Park Thursday evening, cops said.
Chief Inspector Scott Small said at 6:21 p.m., a 29-year-old man was shot twice in the leg at the corner of Delhi and Butler streets. He was taken to Temple University Hospital in stable condition.
Small said cops found 12 .380-caliber shell casings and two .45-caliber casings at the scene, indicating that there were two shooters.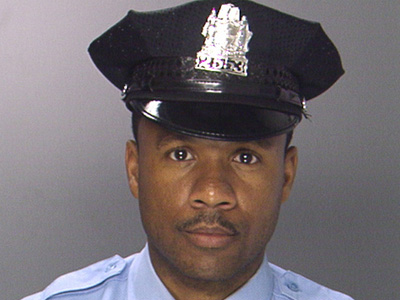 Police know the identity of the second person they're looking for in connection to the murder of Officer Moses Walker and are still asking for the public's help to find him.
City police and federal law-enforcement authorities are searching for the suspect Thursday, according to Homicide Capt. James Clark, who declined to release the suspect's name.