Archive: August, 2009
Two teens were wounded in separate shootings by the same gunman in Southwest Philly earlier tonight, police said.
The first incident occurred about 8:20 p.m., when a 17-year-old boy was shot in the leg on a playground at 61st Street and Baltimore Avenue, said Lt. John Walker of Southwest Detectives. The victim had argued with the shooter, who is believed to be 16, about a basketball game, Walker said.
About an hour later, the same triggerman shot an 18-year-old boy in the leg at 53rd and Hadfield streets. Both victims, who are friends, were listed in stable condition at the Hospital of the University of Pennsylvania. Walker said the shooter is a light-skinned black teen, 5-foot-7 to 5-foot-9, and used a bicycle to escape the crime scenes. Tipsters can call 215-686-3183.
The Philly Confidential comments section lit up last month when I posted a blurb about a balding, hefty, 30-something white guy who robbed a South Philly Rite Aid of $3,000. (Readers seemed evenly divided between Homer Simpson and Peter Griffin comparions. Tough call.)
Earlier today, police officials said a tipster helped investigators identify the crook as Alan Pierce, 39, of Tudor Street near Crispin in Northeast Philadelphia. Cops say surveillance footage shows Pierce wandering around the Rite Aid on Snyder Avenue near Swanson Street for about 30 minutes on July 20. Pierce, who's about 5-foot-11, 300 pounds, then allegedly followed a female employee to the store's office, pulled out a handgun and demanded money from the store's safe. He fled on foot.
Anyone with information can contact South Detectives at 215-686-3013.
Countless joggers trot along the picturesque paths of Forbidden Drive in Fairmount Park every day.
But many are likely unaware that their favorite jogging spot is the one of last places they would want to become a crime victim, a fact that was underscored when a 34-year-old woman was raped at Bells Mills Road near Forbidden Drive on Tuesday night.
The area, part of the Wissahickon Creek Valley section of Fairmount Park, is a dead zone for cell phones and police radios, police officials said yesterday.
It is also an area of the park that sees little in the way of patrols from police officers or Fairmount Park rangers, the Daily News has learned.
When the first seeds of the city's budget crisis began sprouting in December, Mayor Nutter nixed a plan to add 200 extra cops to the Police Department.
Police Commissioner Charles H. Ramsey was forced to fill the void from within, so he shuttered the 92nd District, formerly headquartered at Lincoln Drive and Gypsy Lane, which oversaw Fairmount Park.
The task of policing the 9,200-acre park was divided between the 14th, 16th and 19th districts, said police spokesman Lt. Frank Vanore.
But police apparently don't regularly patrol the area where the woman was raped on Tuesday. Her attacker -- who she has not described in detail to police -- is still on the loose.
"We can't get our vehicles back there," said Capt. Winton Singletary, commander of the 14th District, on Haines Street near Germantown Avenue.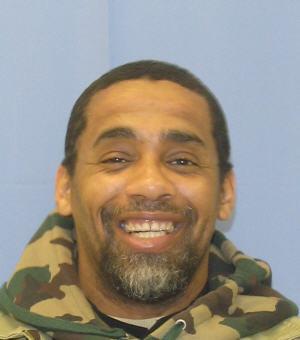 Who's ready for another daily crime roundup? Here goes:
* A 32-year-old man was fatally stabbed by his stepson in North Philadelphia yesterday, police said. The victim, whose name wasn't released, suffered several chest wounds inside an apartment on Allegheny Avenue near Broad about 2 p.m., said Sgt. Ray Evers, a police spokesman. The man died at Temple University Hospital a short while later. Evers said investigators took the victim's 17-year-old stepson into custody, but criminal charges weren't immediately filed. The motive was unknown.
* The reward for information leading to an arrest and conviction in the slaying of Philadelphia Housing Authority worker Rodney Barnes has increased to $53,000, PHA officials said earlier today in a news release, reports the DN's Christine Olley. Barnes, 46, was shot once in the back of the head July 25 while working at the Raymond Rosen Manor Housing Projects at 23rd and Norris streets in North Philadelphia. He died Aug. 5. Tipsters can contact the Citizens Crime Commission at 215-546-TIPS.
Officer Milord Celce hit the streets of North Philly on Wednesday, hunting for a thug who had recently shot at two fellow cops.
After banging on residents' doors for a few hours, Celce found several people who said they saw the gunman fire at the two officers at 12th and Hazzard streets on Aug. 6.
Celce even convinced the witnesses to travel to Central Detectives, at 21st and Hamilton streets, where they identified the triggerman as career-criminal Donald Tillman, police officials said.
Happy with his contribution to the case, Celce returned to finish his shift in the 22nd District at about 11 p.m. — and promptly crossed paths with Tillman, said police spokesman Lt. Frank Vanore.
Tillman, 24, bolted when he saw Celce, Vanore said. But the 27-year-old cop gave chase, and captured Tillman on 11th Street near Cumberland.
Tillman, who has 16 prior arrests, was charged with attempted murder, aggravated assault, weapons violations and related offenses, Vanore said.
"It's a good story," Vanore said.
"You have a conscientious officer who's out there pounding the pavement, trying to develop information, and he ends up catching the bad guy."
According to court records, Tillman's criminal history includes convictions on drug-possession charges in 2003 and 2007.
Tillman allegedly fired one shot when two cops approached him for acting suspiciously about 8:20 p.m. on Aug. 6.
One cop fired back at Tillman, who dropped a .40-caliber Glock semiautomatic at the scene and ran, Vanore said.
Celce, a 2-year veteran, works a regular foot beat in the 22nd District, headquartered at 17th Street and Montgomery Avenue.
"He has a good rapport with the residents, and that probably helped in this situation," said Capt. Branville Bard, the district's commander.
"Seconds after he made that arrest, I told him he did a fantastic job. You could tell he was proud of himself."
File this under "Other things I forgot to mention today:"
* A 26-year-old man was shot and killed in South Philadelphia earlier tonight. Police said the victim, whose name was not released, was wounded several times on 7th street near Mckean at about 7 p.m. He died at Thomas Jefferson University Hospital less than a half-hour later. Police had no suspects or motives.
* Murder charges have been filed against Hector Soto, 16, who was involved in a fatal fistfight in Fairhill on Friday. Police said Soto knocked Eric Dixon, 16, unconscious when the two fought on a playground at Fairhill Square Park shortly after 3:30 p.m. Dixon died less than an hour later at Temple University Hospital from head trauma caused by the fight, police said. Soto, of Huntingdon Street near 4th, was arrested at the park that day.
* A Brinks truck driver taught a swift lesson to a knuckleheaded thief who grabbed a box of change earlier today in the Bella Vista section of South Philly.
Law enforcement officials said the gun-toting crook tried to ambush the driver, who was about to make a delivery to the Conestoga Bank, at 10th and Catharine streets, shortly after 11:30 a.m.
The quick-thinking driver turned the tables on the bandit, however, when he pulled out his handgun and opened fire.
Investigators said the startled thief darted down 10th Street with his take: a box of change, some of which was left scattered on the ground.
It was unclear if the crook — described as a bearded, 5-foot-9 black man in his 20s, who wore a black and red cap, and a dark long-sleeved shirt with a patch on the left shoulder — was injured.
Investigators said he fled in a burgundy-colored SUV, believed to be a Chevrolet Suburban or GMC Denali.
Tipsters can contact the FBI at 215-418-4000.
Earlier today, police officials released surveillance images that they say show a teenage boy who shot at two cops in North Philadelphia last Thursday.
The blurry image shows the teen, who's wearing a white t-shirt and blue jeans, running from Hazzard Street near 12th. He fired one shot when the two officers approached him because they believed he was acting suspiciously, police said last week.
One officer returned fire, but apparently did not wound the teen. The young gunman's .40 caliber Glock was found at the scene. Click here to read the original account of the incident by the Daily News' Christine Olley.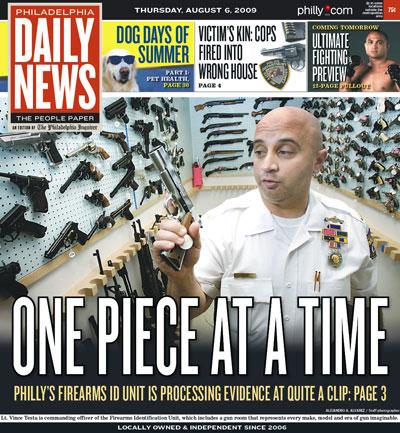 This is a bit belated, but I'm posting it now in case you guys missed this story last week.
The Police Department's top brass often call news conferences to show off a haul of weapons that were confiscated during drug busts and other get-a-bunch-of-bad-guys efforts. The weapons -- handguns, sawed off shotguns, rifles and so forth -- usually cover the length of two or three tables. The displays make for a great picture, or B-roll footage for the top of the news.
I always wonder what happens to the firearms -- and the ammo, for that matter -- after the reporters leave the room. Do they all get melted down? Shoved into an industrial-sized closet, maybe?